How Much It Really Costs To Have A Dog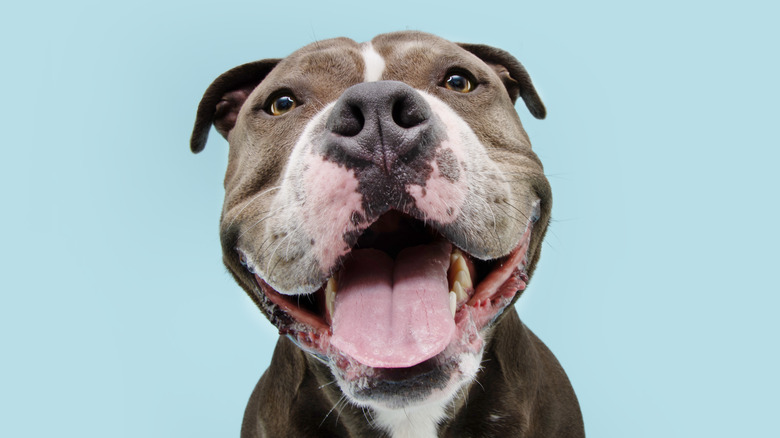 smrm1977/Shutterstock
Americans spent a whopping $103.6 billion on their pets in 2020. That includes $42 billion on food and treats and over $31 billion in vet care and product sales. Dogs are the most popular companion, with 69 million households in the U.S. owning at least one dog (via American Pet Products Association).
When caught up in the joy of bringing home a new ball of adorable fur, it's easy to forget that it will cost money to keep that animal happy and healthy. Owning a dog is a big financial commitment that can easily extend for 15 years or more. According to Rover, the average pet parent spends $650 to $2,000 a year on their dogs, with about half of dog owners polled spending over $3,400. This includes the costs of food and treats, toys, and vet care. The flipside? Most pet parents greatly underestimate the cost of owning a dog, and 32% budget $100 or less a month for the related expenses.
Over the average lifespan of a dog, the costs can be staggering. According to a 2017 article from the American Kennel Club, a small dog might cost you more than $15,000 over 15 years, while a large dog with a life expectancy of just 10 years will be a little cheaper, at $14,480. Dogs also get more expensive as they get older and need more medical care, but younger dogs might cost you more for things like training and dog walks. Forbes estimated in 2011 that pet parents who use dog walkers daily could end up spending over $80,000 on that alone over the dog's lifetime.
All the basic costs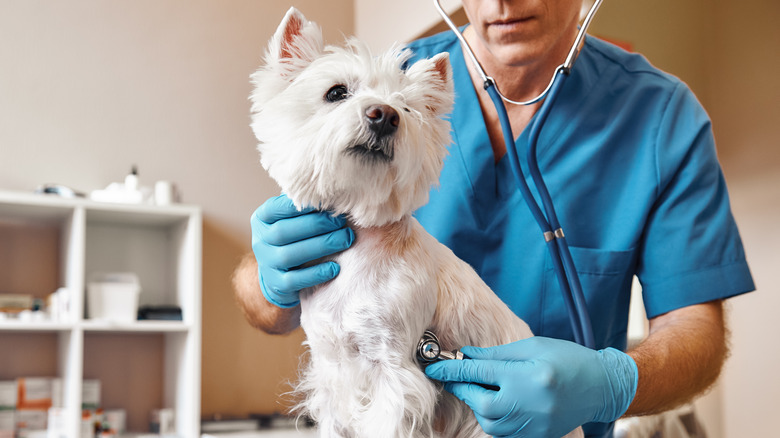 Friends Stock/Shutterstock
Starting costs can make the first year of owning a dog particularly expensive. Buying a puppy from a reputable breeder can cost you several thousand dollars, with AKC registered breeders charging around $5,000 for a puppy, according to PetBudget. In contrast, adoption costs can run from $0 to over $600 (via Money Under 30).
Add to that startup supplies such as bowls, leashes and collars, a bed or crate, and even ID tags, and you're looking to expenses of up to $300. Adult dogs might be fully vaccinated by the shelter or rescue, but puppies will likely need booster shots soon after adoption at a cost of up to $300. Then there's food, preventive meds for ticks and heartworm, and potential licensing fees or the cost of a microchip. Overall, Money Under 30 estimates you could be looking at one-time initial costs of up to $1,700 just to get Fido home. 
Estimating annual costs for basic needs is a little harder. For example, Rover points out that feeding your dog can cost as little as $200 or as much as $1,000 per year, depending on the size of the dog and what brands you buy. Providing fresh food bought through a home delivery service can set you back close to $5,000 annually. Then there's the cost of routine vet visits, vaccinations, toys, poop bags, and preventives like flea and tick medication. According to Money Under 30, annual pet expenses can easily add up to $1,200 a year.
Additional expenses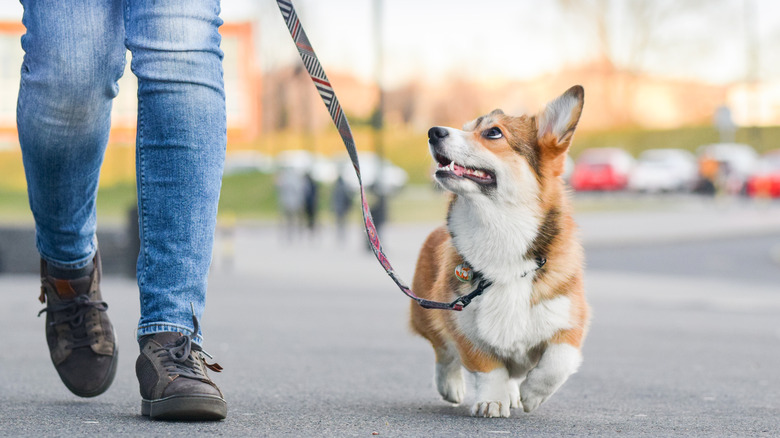 Jus_Ol/Shutterstock
There are plenty of other expenses beyond the basics, depending on your lifestyle or particular needs your dog might have. For example, some breeds might need regular, professional grooming, which AKC estimates can add up to as much as $1,400 a year.
Emergency vet visits can set you back an average of between $1,600-$4,300. If that sounds scary, there's always pet insurance, which Rover says cost an average of $51 per month. Dog training comes to an average of $90 per session, a significant investment if you have a dog that requires long-term help for behavioral issues.
There's a bunch of other extras to consider, depending on your lifestyle — boarding when you travel (an average of $35 a night, according to Rover); paying a pet deposit when you rent a new apartment. Teeth cleaning is often not covered by insurance and some dogs might need it more regularly than others, at a cost of $100-300 per single treatment.
If your pooch ends up suffering from a chronic medical condition, the medical costs will skyrocket as well. Treating heart disease in dogs costs about $2,000 a year, while osteoarthritis will add about $1,600 to your vet bills. Canine diabetes will set you back about $1,100 (per DVM360).