What Robert Downey Jr.'s Life In Prison Was Really Like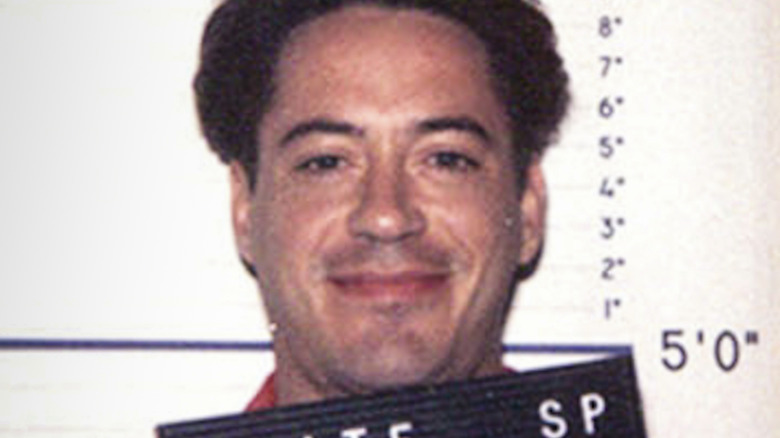 Kypros/Getty Images
Before he became Marvel Cinematic Universe's Tony Stark — or the overall beloved superhero character that is Iron Man — Robert Downey Jr. was considered a Hollywood bad boy in his own right. But it was for very concerning reasons. The actor suffered from addiction and it often interfered with his work. Despite there being growing awareness about what addiction was in the '90s, the understanding didn't fully translate into what it is today. The consequences were often different.
In the mid-'90s Downey had several run-ins with the police for being in possession of illegal drugs. He eventually ended up with a drug conviction as a result. Rehabilitation, counseling, and mandatory drug testing was required for his release, but of course with the type of illness he was suffering from, he couldn't fully commit. It first started in 1996, when he was stopped and found with drugs while under the influence; authorities also uncovered a gun (via Associated Press). It wasn't too long after that incident before he was arrested, again under the influence, and also for trespassing. Being in possession of a weapon violated the terms from his previous conviction and that came with a more serious punishment: prison time. In 1999, a California judge would sentence Downey to three years in prison, the Los Angeles Times reported. But he would serve just about a year (via CNN). What was that year like?
Downey's time in prison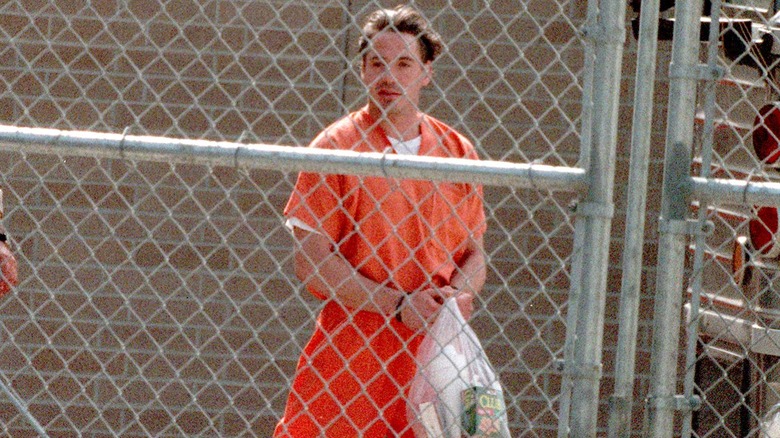 James Peterson/Getty Images
Just a day before his release in August 2000, Vanity Fair published a piece comprised of several interviews with Downey conducted while he was behind bars. He had already served some of his three-year sentence, and before that he spent time in jail for another offense. During his year at the California Substance Abuse Treatment Facility (now the Corcoran State Prison), via [Laws], Downey Jr. was fully-immersed in the life of a prison inmate. And since it was not a maximum security prison, and meant to rehabilitate the men it housed, there were several liberties that Downey was able to enjoy, such as wearing designer underclothes.
According to the profile, in prison Downey often played racquetball in the mornings. If he had a visitor, he likely would require them to get a few rounds of coffee and some foods with mandatory condiments from the visitation room's vending machine. 
An inmate who spent time with Downey at the facility told Vanity Fair that the actor initially came in as a recluse. But it wasn't too long before he finally started to open up and befriend the other inmates. He eventually became a joker and their go-to person for crazy Hollywood stories. And come Christmas 1999, Downey was heading the prison's holiday chorus group.
From inmate to Iron Man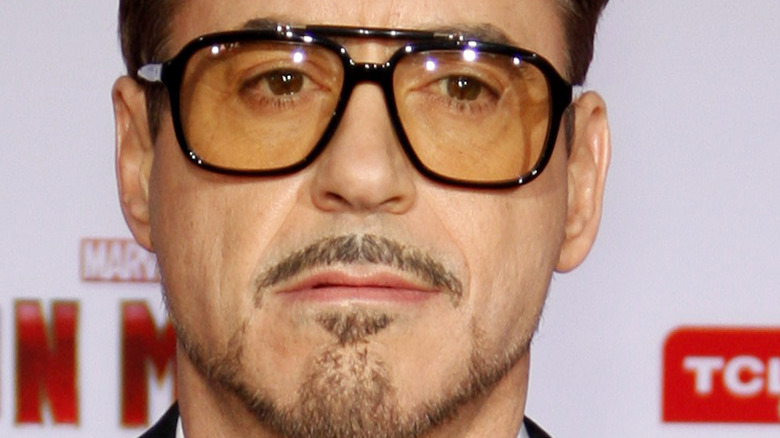 Tinseltown/Shutterstock
Life in prison wasn't always fun. Downey had the top bunk — an undesirable prison bed — and even had a kitchen job, where he would make a huge mess on Thanksgiving Day, of all days. But his time there likely gave him a lot of opportunities to reflect. He told the Vanity Fair reporter about feeling sad that he couldn't provide for his only child at the time, his son Indio, from prison. Downey also wrote letters during his stint and even remembered things like his sister Allyson's birthday — something he never could recall, she said.
On August 2, 2000, Downey was released from prison after a successful appeal. It would be a rocky recovery, but the actor managed to get his career going again, and today is one of the most famous actors in Hollywood.
It would take two decades for his 1996 conviction to be expunged. In 2015, the California governor pardoned him for his past transgression, per CNN.