Who Is Dolly Parton's Husband?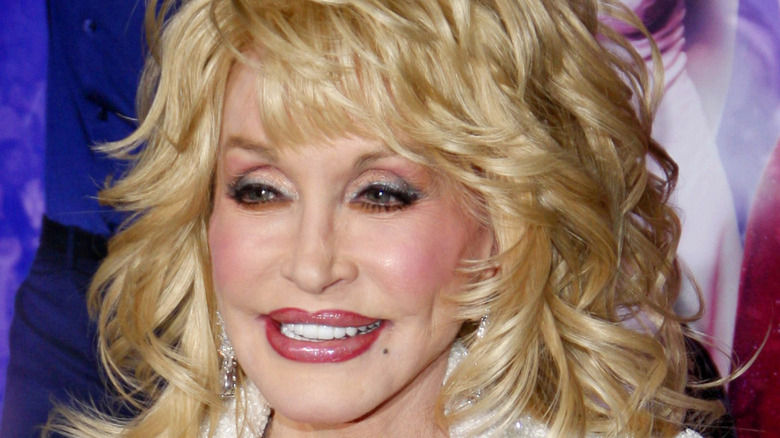 Tinseltown/Shutterstock
The iconic singer that gave the classic and quotable country hit, "Jolene," has wowed the music industry with her voice for more than a half-century. Songstress Dolly Parton is one of the most celebrated women in country music — and music in general. She started her music career in the late '60s by singing on "The Porter Wagoner Show" — a series she would appear on from 1967 to 1975, shows IMDb. By the time she left the show, she already earned herself four No. 1 hit songs on her own, per Country Music Hall of Fame.
Her career would only take off from there. Parton regularly appeared and dominated the country music charts into the mid-'90s (via Billboard). She also took her shot at acting and starred in a lot of films, most notably the classic '80s workplace comedy "9 to 5," for which she would earn an Oscar for writing the film's theme song. Her success behind the mic and on the screen is immeasurable, and while she's not as active as she once was, she still makes music. Behind her success for more than 50 years has been a solid (if nearly invisible) foundation — her husband.
Mr. Dolly Parton
Before Parton even started singing on television, she was already married. On May 30, 1966, Dolly Parton married Carl Thomas Dean. They had met a few years before when the couple encountered each other in a Nashville laundromat (via Biography). Despite a marriage as long as her career, Parton is never seen with her spouse of five decades. She often makes her social appearances alone. So much so that a lot of her fans can't always recall what he looks like.
But on November 3, the singer gave fans a refresher of what he looks like when she posted an old photo of him and herself on her Instagram account. The undated photo shows Dean and Parton, hand in hand, posing for the flick.
Not much is known about Dean other than what Parton has said about him in interviews. She's often maintained that he is private and doesn't want to be in the spotlight. He has appeared in a few documentaries about Parton as part of old footage, per his IMDb. And Dean has just one acting credit, a 2003 short film titled, "Vigorish."