The Famous Musician Who Nearly Joined The Beatles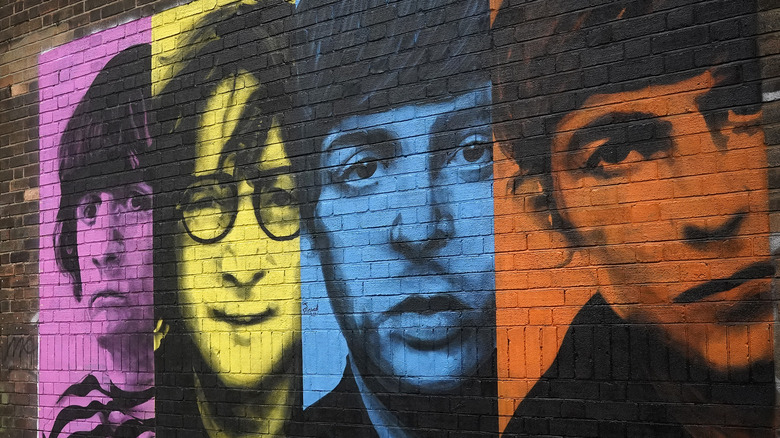 Christopher Furlong/Getty Images
If any band can be considered to sit at the very top of the musical totem pole, it would probably have to be the Beatles. As CBS News reported in 2014, they sold more than 600 million albums around the world, shifted 1.6 billion singles in the United States alone, and hit the coveted No. 1 spot of the Billboard Hot 100 a record 21 times.
The band really couldn't have been any bigger. Yet, there's something else incredible. Near the end of their reign, another megastar musician almost joined the Beatles.
Being the phenomenon they were, the Beatles kept some impressive company. Far Out Magazine reports that guitar legend Eric Clapton worked with the Liverpudlian quartet in 1968, during some Abbey Road recording sessions. Playing together on "While My Guitar Gently Weeps," they went on to perform at the Rolling Stones' Rock and Roll Circus. Clapton performed separately from the Beatles there, but he left such an impression on the band that he almost became George Harrison's replacement.
Per The Beatles Bible, Harrison quit the Beatles on January 10, 1969. Tension had been simmering away, but the band was rehearsing at Twickenham Film Studios, every action captured by cameras, when everything came to a head. "They were filming us having a row... I thought, 'What's the point of this? I'm quite capable of being relatively happy on my own... I'm getting out of here,'" Harrison said in "Anthology" (via The Beatles Bible).
John Lennon suggested Eric Clapton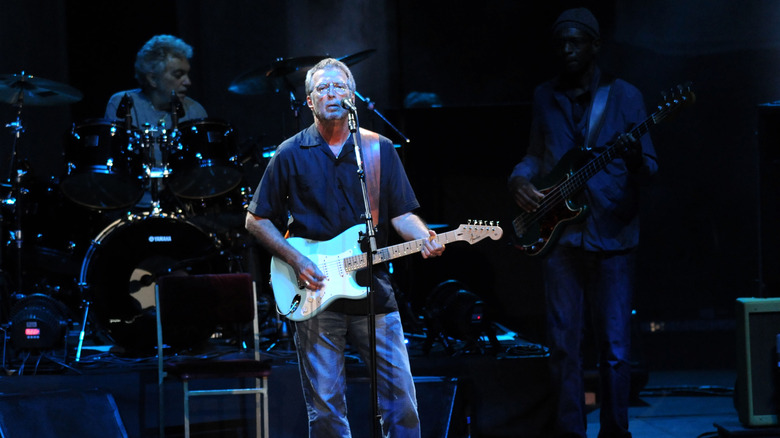 A.RICARDO/Shutterstock
The remaining three members and Yoko Ono continued as best they could, according to The Beatles Bible, but Harrison had simply walked away during a lunch break and nobody was quite sure how to proceed. The band seemed rattled, but John Lennon offered a practical solution. "I think if George doesn't come back by (next week) we ask Eric Clapton to play," he said, per the Daily Mail, in some recording footage discovered in October 2021.
As it was, the Daily Mail goes on, Harrison returned just six days after the incident and work on what would be the band's final album resumed. He had been visiting his mother.
It's impossible to say whether approaching Clapton was a serious proposition on Lennon's part, but Clapton himself later said that he wouldn't have joined the band if it had been. "The problem with that was I had bonded or was developing a relationship with George," he said in a 1998 interview, per Where's Eric. "I don't think I could have been brought into the whole thing because I was too much a mate of George's." Nevertheless, he played with all four Beatles at some stage.