What We Know About George Harrison's Experience With The Hells Angels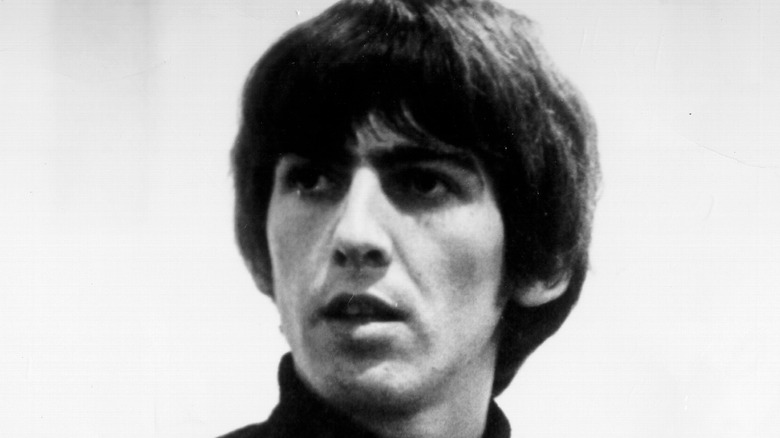 Michael Ochs Archives/Getty Images
If Aunt Martha or Grandpa Joe visiting for the holidays fills you with enough dread and anxiety, imagine having a household full of Hells Angels to contend with over the festive season. According to Dangerous Minds, that's exactly what George Harrison was faced with when, in 1968, members the Hells Angels Motorcycle Club showed up at Apple Records London headquarters for Christmas.
It all began a few years earlier, when the Beatles' guitarist was living in Los Angeles, according to Far Out Magazine. Harrison was in LA producing musician Jackie Lomax's debut record when members of the Hells Angels stopped by for a chat. According to Britannica, the Hells Angels were founded in 1948, but they had yet to earn the truly murderous reputation that came from the Angels-implicated murder at the 1969 Altamont Festival.
For this reason, Harrison was likely more friendly than he would have otherwise been with the members of the gang he met in the studio on that day, telling them something that would return to haunt the musician only a short time later.
George Harrison invited the Hells Angels over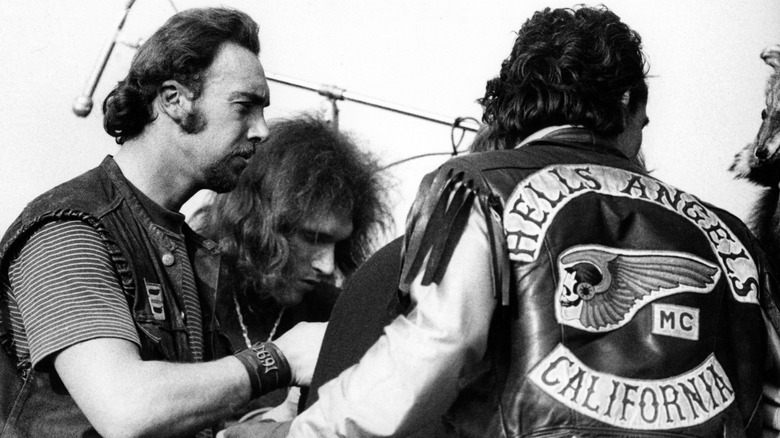 Robert Altman/Getty Images
These unseemly houseguests — or in this instance, office guests — that Harrison and the rest of the staff at Apple Records were faced with in 1968 were invited over by none other than the Quiet Beatle himself. According to Video Muzic, Apple Records president Neil Aspinall later recalled in the Beatles documentary "Anthology" that Harrison mentioned to some Hells Angels "If you ever come to England, look us up."
It's unlikely that Harrison actually meant for members of the notorious club to literally show up at the Apple offices thousands of miles away in London at Christmas time, but sure enough, they did. Members of the Hells Angels justified their imposition, claiming that Harrison told them it would be okay to do so — awkward! 
Needless to say, the visit didn't go well, with inebriated and hungry Hells Angels even screaming at John Lennon. According to Dangerous Minds, the Christmas meal was taking a long time and one Angel yelled at Lennon, What the f*** is going on in this place? We wanna eat!" When a journalist asked them to calm down an Angel punched him in the face. 
Harrison finally told the Hells Angels to "bugger off," which they did without incident, according to Far Out Magazine. Nevertheless, George Harrison was likely never put in charge of the Christmas office party invitations ever again.