How Martin Luther King Jr. May Have Predicted His Own Death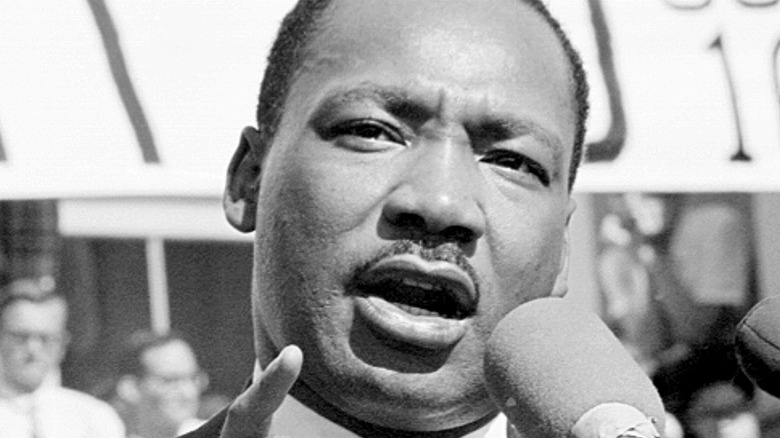 Michael Ochs Archives/Getty Images
Dr. Martin Luther King Jr. is one of the most notable figures of the civil rights movement. Tolerance, respect, and peace were his watchwords, belied by the unrelenting strength and unshakable resolve with which he advocated for his goal: to end discrimination and move toward a United States, and indeed a world, in which equality and liberty were realities for everyone.
As Biography reported, piety was another essential element of King's character. He adopted the name of Martin Luther in deference to German Protestant Martin Luther, as had his father before him. Both father and son were prominent members of the Christian Baptist Church, and King's faith certainly shaped his message. In his iconic speech "I've Been to the Mountaintop," delivered in Memphis, Tennessee, on April 3, 1968, he said, "I just want to do God's will" (per Stanford University).
Did King feel that he had done what he set out to do that day? Did he know that he was soon to meet a violent end? This speech was a poignant and emotional one from an experienced orator, but it also included some very alarming proclamations. Here's how Martin Luther King Jr. may have foreseen his own death.
Martin Luther King Jr. was true to his message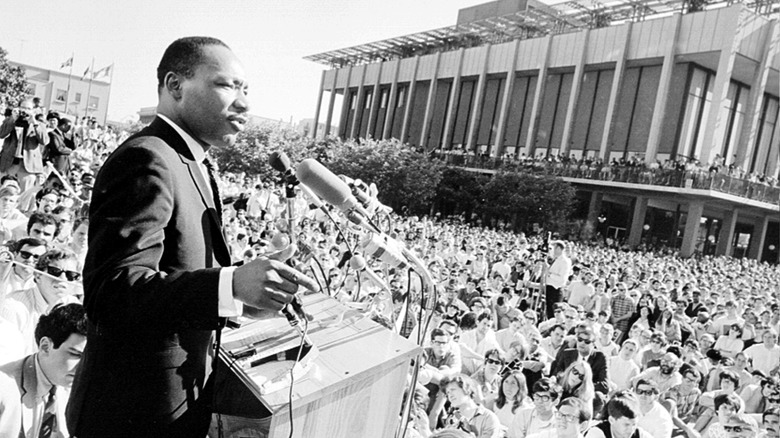 Michael Ochs Archives/Getty Images
Martin Luther King Jr.'s philosophy was not universally adopted. Malcolm X, another prominent figure of the civil rights movement, argued that nonviolence would not lead to positive change. "Be defenseless, that's what you mean by nonviolent," as he put it in one debate (via EastDKTV on YouTube). Both men, tragically, would be killed in the course of their fight. Malcolm X was assassinated in Harlem's Audubon Ballroom on February 21, 1965. Three people of the Nation of Islam were found guilty, per Britannica.
Three years later, Dr. Martin Luther King Jr. drew his "I've Been to the Mountaintop" speech to a close with the lines, "I would like to live a long life — longevity has its place. But I'm not concerned about that ... I'm not worried about anything; I'm not fearing any man" (per Stanford University). Though he'd seen the promised land, he concluded, "I may not get there with you" (per an AFSCME transcript).
Sadly, he was correct. The very next day, History reported, on April 4, 1968, King stood on a balcony at Memphis' Lorraine Hotel, when he was shot by a sniper. He died soon afterward in hospital, aged just 39. Whether King truly predicted his own violent end or he was simply in a particularly pensive mood as he spoke, there's no denying that he brought about a great wave of positive change around the world.