What Happened To Maurizio Gucci's Ex-Wife Patrizia Reggiani?
When Patrizia Reggiani was asked why she didn't merely shoot her ex-husband Maurizio Gucci, heir to the Gucci fortune, herself rather than hire a hitman, she simply replied, "My eyesight is not so good... I didn't want to miss" (per the Guardian). This kind of nonchalant savagery characterized Reggiani in the years leading up to the murder in 1995, her arrest in 1997, and conviction in 1998. "The Black Widow" of Italy (as the press dubbed her), now played by Lady Gaga in Ridley Scott's "House of Gucci," started considering murder after her husband wanted to re-marry and thereby leave her with a mere $860,000 per year in alimony, which she called "a bowl of lentils" (per The Daily Beast). In a very on-brand move for the cutthroat bourgeois, when Reggiani was arrested in 1998, Gucci's flagship store in Florence put a pair of silver handcuffs on display.
Reggiani was originally sentenced to 26 years on appeal. She was offered an early release in 2011 on a work-release parole, but declined, saying, "I've never worked a day in my life; I'm certainly not going to start now." Instead, Reggiani, who once said she'd rather "weep in a Rolls-Royce than be happy on a bicycle," stayed tucked in prison with her plants and pet ferret Bambi. The animal started sharing her cell in 2005 after she convinced the prison warden to bend the rules a bit for one of her stature. In 2014, Reggiani was officially released from San Vittore Prison.
Putzing around Milan with a parrot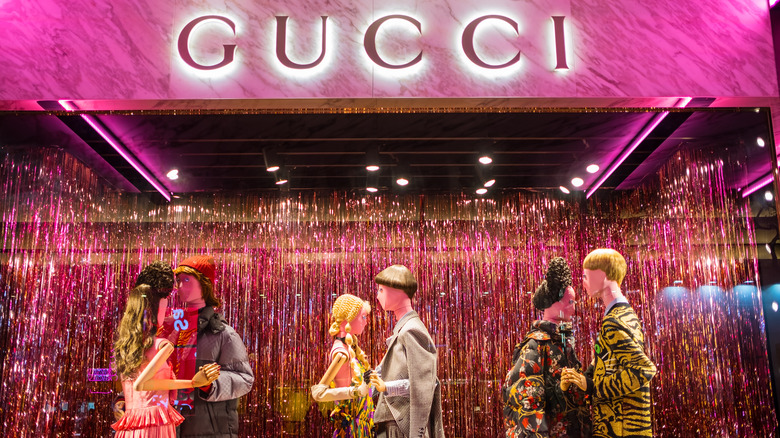 Daniel Fung/Shutterstock
While in prison, Patrizia Reggiani vacillated between hatred and adoration of the "Vittore Residence," as she called it in Vogue. She credits her survival during those years to, well, herself. "I think I am a very strong person because I survived all these years in captivity," she told The Guardian. "I slept a lot." As for the Bambi the ferret, he was killed when another inmate sat on him.
Since being released from prison and receiving scores of renewed attention from the media, Reggiani has somewhat backtracked her earlier statement about work. In 2014, she became a "design consultant" with Bozart, a costume jewelry firm in Milan. We say "somewhat" because when The Guardian went to find her for an interview, she was "off work with a bad back." Bozart also said that they had to revoke Reggiani's internet privileges at work because she accidentally "wiped out the company's entire digital archives." Ideally, Reggiani wants a creative role at Gucci, saying, "I still feel like a Gucci — in fact, the most Gucci of them all."
These days, Reggiani can be spotted around Milan's "more upscale neighborhoods" with a pet parrot on her shoulder and wearing "dark sunglasses and lashings of gold jewelry." As for "House of Gucci," Reggiani expressed unsurprising disapproval, saying on The Daily Beast, "I am rather annoyed at the fact that Lady Gaga is playing me without having had the consideration and sensibility to come and meet me."