The Shrink Next Door: The Real-Life Story Behind It
One of the inexplicable things about cults is how seemingly rational people end up ceding total control of their lives to obvious megalomaniacs. Part of the psychology behind why people join cults is an extreme vulnerability on the part of those who follow the leader. They are often people who feel lost, in search of guidance, and believe they find it in a charismatic leader who offers connection, be it spiritual, human, sexual, or whatever else.
It wasn't a cult per se, but this is pretty much what happened with Martin "Marty" Markowitz and his "therapist" Dr. Isaac "Ike" Herschkopf in the 1980s. The two have become the basis for the new Apple TV series "The Shrink Next Door" — starring the hilarious Paul Rudd and Will Ferrell — which began streaming in November 2021. According to Parade, Markowitz, a millionaire owner of a textile company, was suffering from depression and sought Dr. Ike's help, but what he got was more akin to a cult leader taking advantage of his follower's vulnerability than a mental health professional looking out for the wellbeing of his patient. Let's take a look into the real-life story behind "The Shrink Next Door" to see how this stranger-than-fiction story came to light.
Journalist Joe Nocera noticed something fishy about the shrink next door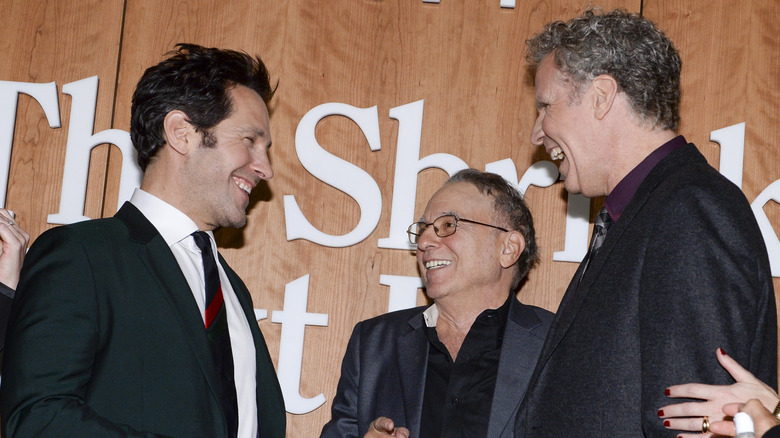 Alexi J. Rosenfeld/Getty Images
Things were going pretty well for Dr. Ike until Bloomberg columnist Joe Nocera bought a house next to his in the Hamptons. Well, it wasn't Dr. Ike's house, but rather Markowitz's. But such was the exploitative nature of their relationship that the man Nocera thought was the gardener was actually Markowitz (pictured above with actors Rudd and Ferrell). He invited Nocera to a party, and the journalist instantly new something was up.
Dr. Ike controlled just about every move Marty made, including what he did at those parties. Markowitz was made to serve the guests like a waiter, rather than entertain like a host. Dr. Ike ended up controlling Marty's life for three decades, living in his house and forcing him to stay in the guest room. He participated in the running of Markowitz's business, hopped on as a co-signer on Marty's million-dollar bank accounts, and even got his patient to put him and his wife in his will. Luckily, Nocera made a podcast about the relationship, and the spell was finally broken after 30 years. Still, the question remains: how in the world did Marty allow Dr. Ike to do this to him for so long? For that, you'll have to watch "The Shrink Next Door" to find out.