The Truth About Nicole Brown Simpson And Ron Goldman's Relationship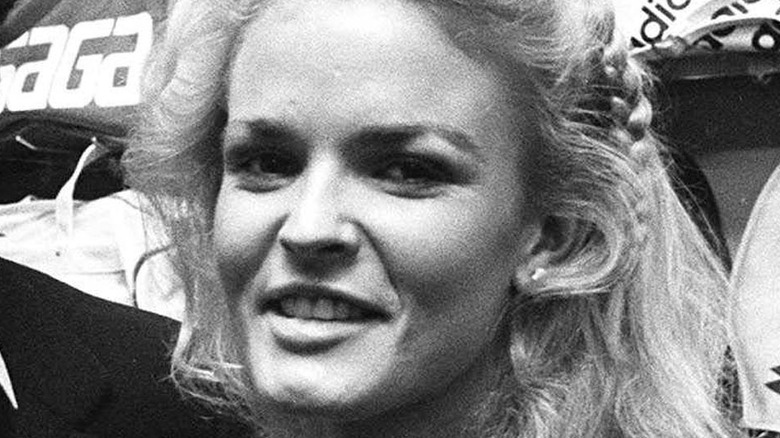 Paul Harris/Getty Images
The O.J. Simpson murder trial in the 1990s was dubbed the Trial of the Century — and it was. The nation was riveted by the case involving the NFL legend's beautiful ex-wife, 34-year-old Nicole Brown Simpson, and her 25-year-old friend Ron Goldman. The pair were found slashed to death outside her condominium in Brentwood, California, in June of 1994. Simpson was charged with the savage murders in what turned out to be a racially charged and emotional criminal trial, but the jury acquitted him on all charges in 1995. In a civil trial in 1997, Simpson was found liable for their deaths and ordered to pay millions to the Goldmans and Browns, according to Biography.
Because Nicole Brown Simpson was with Ron Goldman when they were killed, there was quite a bit of speculation at the time about their relationship. Although The Baltimore Sun described them as in an "increasingly close relationship," by all accounts they were just friends. 
Goldman worked at Mezzaluna, an Italian restaurant in Brentwood where the Simpsons often went. On the night of the murders, Brown Simpson, her mother, and her children ate dinner there. Penn Live reported her mother forgot her glasses at the restaurant and Goldman reportedly dropped by her condo to return them. He may have walked into the attack that was already underway against Brown Simpson.
Nicole Brown Simpson and Ron Goldman did fun things together
Ron Goldman and Nicole Brown Simpson exercised together and met for coffee and dinner in the months preceding the murders, per The Baltimore Sun. The pair also went to dance clubs together. While he told others he was just friends with Brown Simpson, he also bragged about her good looks and talked about how much fun it was when the two of them pulled up at a club in her white Ferrari. 
The Baltimore Sun reported that Goldman's life was "a non-stop merry-go-round" — he was busy waiting tables, hanging out at clubs, and keeping in shape by weight lifting and playing tennis. His friends said he had a magnetic personality, so it would hardly have been a surprise if Brown Simpson fell for him, but it seems that wasn't the case. 
"He definitely would have told me if he was seeing O.J. Simpson's ex-wife," Goldman's childhood friend Mike Pincus told the Sun. "That's just the kind of guy Ron was. Whenever he was dating someone, we all knew about it."