How Thanksgiving Turkey Trots Became So Popular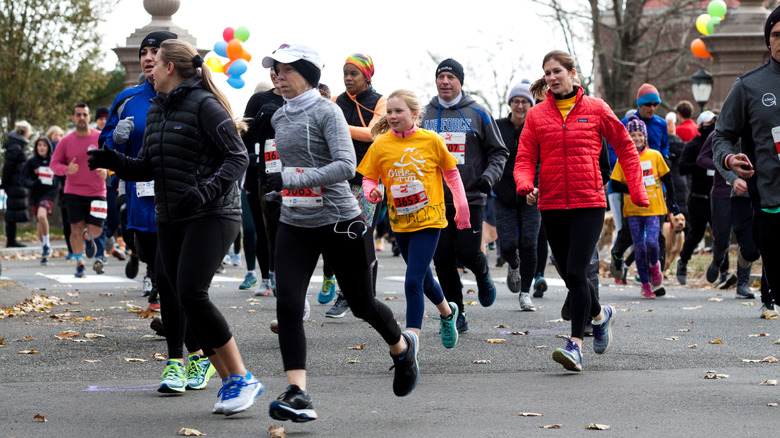 barbsimages/Shutterstock
Carb-heavy feasts and cardio exercise: the pairing just feels natural, right? Working up an appetite at your area's local turkey trot and then treating yourself to a second serving of mashed potatoes at the Thanksgiving table? Perhaps that's why the tradition is a lot older than you'd think — it dates back to 1896, according to Runner's World, when the first-known Thanksgiving Day footrace, in Buffalo, New York, was held 125 years ago.
The event was an 8K hosted by the local YMCA and had only six participants — and only four finishers. Despite that meager turnout, Henry A. Allison, the race's winner, posted a rather good race time of 31 minutes and 12 seconds, or about a six-minute mile pace.
The Buffalo YMCA has hosted an annual Thanksgiving race ever since, through wars, the Great Depression, and two pandemics; last year, the participants were winnowed to 125 runners, one for every race they've held, to maintain social distancing. According to Runner's World, this makes Buffalo's turkey trot the oldest continuously held footrace in America, beating the Boston Marathon by one year.
The biggest race day in America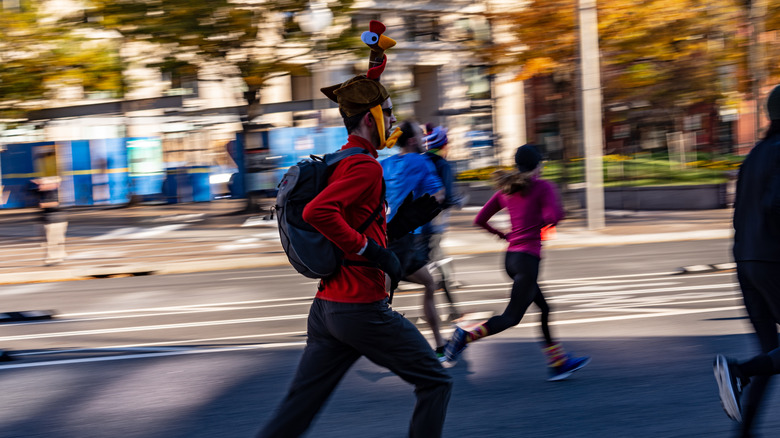 Gaurav Ghosh/Shutterstock
In 2015, Thanksgiving eclipsed the Fourth of July to become the most popular day for Americans to run a race, according to Runner's World — in 2018, there were about 1 million runners participating in Thanksgiving-themed races (via The New York Times).
Though the trend started in Buffalo, the 20th century saw turkey trots popping up all over the country, from early footraces like those in New Orleans and Cincinnati to more recent additions. Today, you can even go to a turkey trot in the birthplace of Thanksgiving — this year, Plymouth, Massachusetts is hosting its 5th Annual Running of the Pilgrims.
Why are they so popular? Besides the calorie-burning potential, race organizers point out that it's a family-friendly way to spend time with loved ones before settling down to eat. "Generations of family and friends come out and it's a reunion of sorts," said Anne Reif, an organizer of the Buffalo YMCA Thanksgiving race, to The New York Times. "It's become the thing to do on Thanksgiving."