Robert Plant's Relationship With Alison Krauss Explained
s_bukley/Shutterstock
One is the English lead singer of one of the most well-known rock bands in history, often credited with the advent of hard rock and heavy metal. The other, an American folk and bluegrass vocalist with many notable accomplishments in her own right, more than two decades his junior. Nevertheless, Robert Plant from Led Zeppelin and acoustic music superstar Alison Krauss, known for her work with the band Union Station, teamed up to release "Raising Sand," in 2007. 
The album would on to sweep the Grammys, and it would peak near the top of the charts, selling more than a million copies, according to The New York Times. Now that the duo has returned with their first new release in 14 years, "Raise the Roof," Robert Plant's relationship with Alison Krauss is again in the headlines. The story behind this pairing is much simpler — and much less romantic — than many might expect.
It's all about the music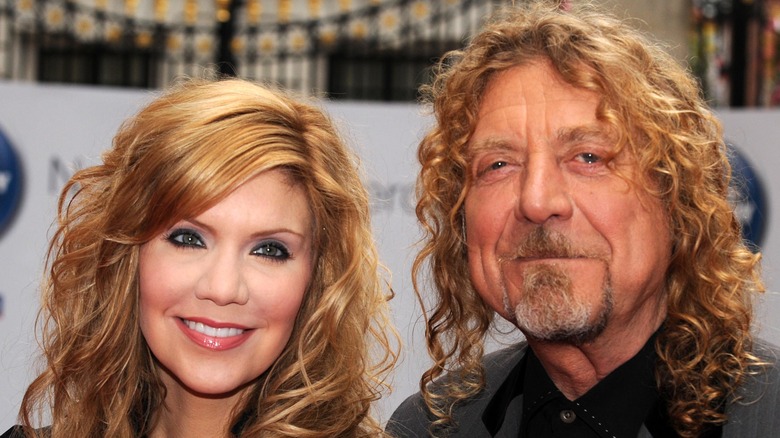 Brian Rasic/Getty Images
From the very beginning of the musical collaboration between Robert Plant and Alison Krauss, many speculated that the chemistry between the two singers could be attributed to a love relationship. According to Country Thang Daily, however, Plant and Krauss were never a couple. Instead, as Plant and Krauss revealed recently to American Songwriter, the two musicians met at a tribute to the legendary blues musician Lead Belly. 
Prior to that they were aware of one another, and fans of each other's work; Krauss, because who doesn't like Led Zeppelin, while Plant especially liked Krauss' work with Union Station. The two became fast friends over a shared interest in classic bluegrass star Ralph Stanley, and the musical partnership only grew from there. As far as anything romantic between the couple, that was put to rest for good through a recent interview conducted by People. When it comes to the chemistry between Plant and Krauss, it's a friendship that's all about the music. Plant even joked that if the two had ever been an item, "We'd be in trouble now. Trouble, party of one," he said.