The Secret Room You Can Find In The Playboy Mansion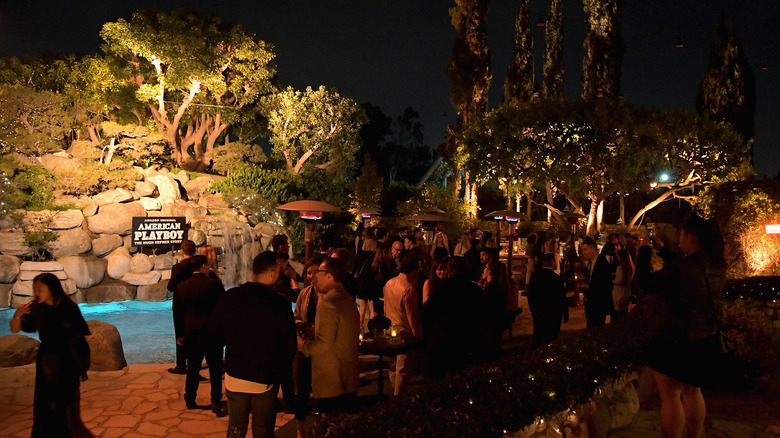 Charley Gallay/Getty Images
The Playboy Mansion, beyond being the famed home of the late media entrepreneur Hugh Hefner, has a fascinating history. Actors like James Caan and Tony Curtis lived there; Shel Silverstein had his own room, according to Hefner, who talked about the Los Angeles residence in a 2012 interview with Vanity Fair. It has an on-property zoo with monkeys and 50 types of exotic birds, and a guest room with a rotating, vibrating bed (via Yahoo! News). And — befitting such a storied estate — it's even rumored to be haunted, according to a former Playboy Bunny (via New York Post).
But the Tudor mansion's coolest feature, according to Hefner in the Vanity Fair interview, might be the secret Prohibition-era room. "The house was built in 1927 during Prohibition, and there is a secret panel that leads to what is now the wine cellar, but it used to be where they stocked the liquor," he claimed to Yahoo! News. It all dates back to what the Playboy mansion was like before Hugh Hefner bought it for $1.05 million in 1971 (via Architectural Digest).
The Playboy mansion before Hef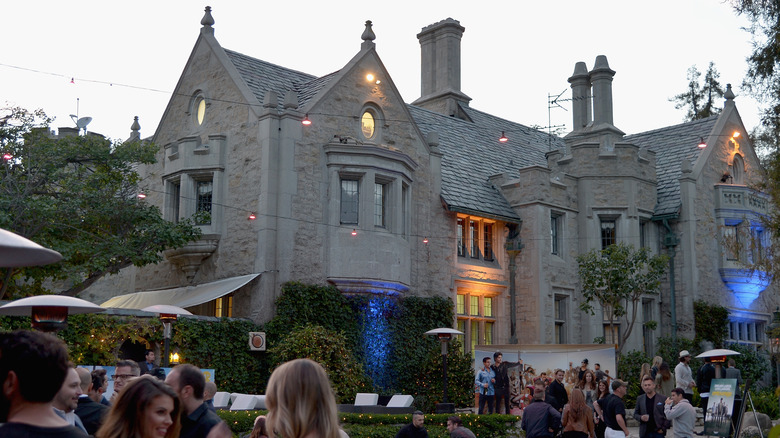 Charley Gallay/Getty Images
The mansion sits in Holmby Hills, a 3,200-acre neighborhood in West Los Angeles, and part of the "Platinum Triangle" along with nearby wealthy enclaves Bel-Air and Beverly Hills (via Curbed). Holmby Hills was developed in part by the early 20th-century department store magnate Arthur Letts (via Old Homes of Los Angeles), who named it for his hometown of Holdenby, England — according to House Digest, he hoped to create a "bit of England in America."
It was Letts' son, Arthur Letts, Jr., who took a 4.5-acre parcel of land in his dad's development and turned it into what we now recognize as the Playboy Mansion (via The Legendary Estates of Beverly Hills). He hired architect Arthur R. Kelly for the English Tudor-style home; he is the one who created the secret store of booze for discreet Prohibition-era ragers.
As you can imagine, the neighborhood wasn't too happy when Playboy moved in and redesigned the place — the grotto wasn't exactly part of the Letts family's original vision. But by 2016, when the mansion was up for sale, a neighbor ended up buying it — for $100 million. No wonder Hefner told CBS News that the mansion was "Playboy's best investment."
And though the city of LA has not designated the former Playboy Mansion as a landmark, the resident's exterior will be permanently preserved as part of a deal between the new owner and the city, according to NBC Los Angeles.