How Many Victims Did Serial Killer Jane Toppan Murder?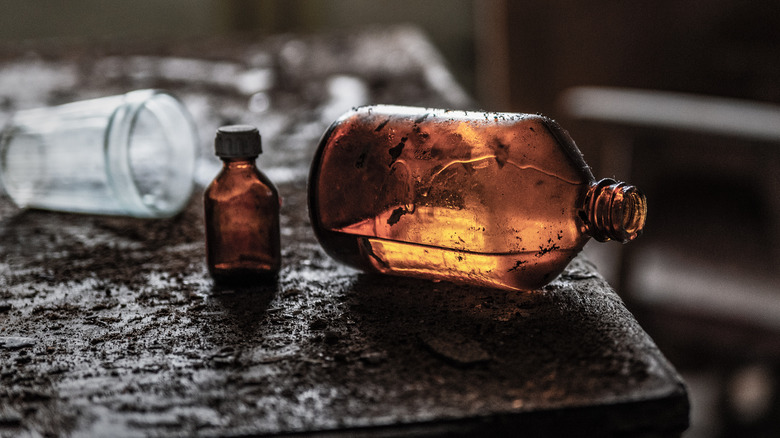 DimSan/Shutterstock
Female serial killers are rare, making up 11% of the population of repeat killers over the past century and just 5% to 7% in more recent years, according to data from Radford University and the Florida Gulf Coast University cited by Discover Magazine. But there's no doubt a female serial killer's crimes are just as heinous as those of her male counterparts. Take Jane Toppan. She was better known as Jolly Jane for her friendly, outgoing personality — a killer nurse whom the New England Historical Society described as "obsessed with death." Between 1880 and 1901, Jolly Jane is credited with killing at least 31 people and, in a twist of irony, the doctors she worked with actually considered her one of the best nurses around (via The New England Historical Society).
Motive is generally the biggest difference between male and female serial killers. When men kill repeatedly it's usually sexual in nature and about control, and for women, it's about money (via Discover Magazine). Not so for Jolly Jane, born Honora Kelley in 1857 in Boston, the youngest of four girls in an Irish immigrant family. Jane's mother died when she was just a baby and her father eventually turned her and one of her sisters over to an orphanage, which adopted them out at the age of 10. Honora became an indentured servant for a well-to-do family in Lowell, Massachusetts, who changed her name to Jane to hide her Irish heritage. 
Jane Toppan killed the elderly, among others
Jane was a good student and was eventually given her freedom, starting her nursing career in Cambridge in 1880 (via The New England Historical Society). She never got her nursing degree after faculty and colleagues became disturbed with her obsession with autopsies. She left without a certificate and forged the paperwork necessary to find work as a private nurse. She worked for dozens of families in several New England states over the next two decades, killing the sick and elderly, predominantly with morphine overdoses. But she didn't limit her victims to the ailing and frail. Her victims ranged from her patients to landlords to her own adopted sister and even friends she grew to dislike.
She was finally caught after poisoning an entire family who hired her to care their elderly mother (via Murderpedia). Jolly Jane's two-decades-long killing spree finally came to end when she was arrested in 1901. The New England Historical Society reported that she confessed to killing 31 people, which was verified, but that she thought she could have murdered as many as 100. She said she started killing after she was dumped by a boyfriend at 16, and that she continued because she got a "powerful erotic charge" from holding and caressing her victims as they lay dying. Unlike most female serial killers, she did it for the sexual thrill. At her trial, she was found not guilty by reason of insanity and committed to the Taunton State Hospital in Massachusetts, until her death in 1938.