Disturbing Details Found In Breonna Taylor's Autopsy Report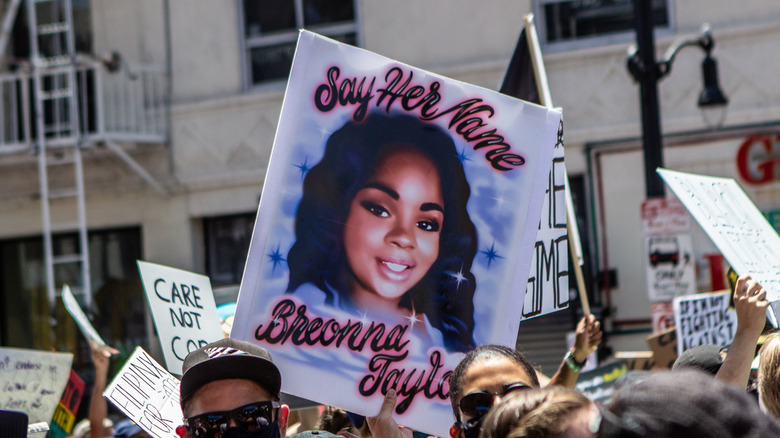 GrandAve/Shutterstock
On March 13, 2020, Breonna Taylor died, and details surrounding her death were initially mysterious — and in some cases conflicting — even as entire city streets brimmed over with civilians demanding justice for Breonna Taylor and her grief-stricken family. History referred to her murder as a "botched raid." Social justice advocates have called it unjustifiable murder.
Shortly after midnight in March 2020, Breonna Taylor, a Black 26-year-old EMT was fatally shot by police. Reports show that 32 bullets ricocheted in the dark when officers Myles Cosgrove, Brett Hankison, and Sgt. Jonathan Mattingly broke into Taylor's home unannounced. Six of those bullets struck and killed her. Yet, according to NPR, no charges directly related to her death have been filed. This is despite the disturbing details her autopsy report has revealed.
Police bullets ravaged Breonna Taylor's body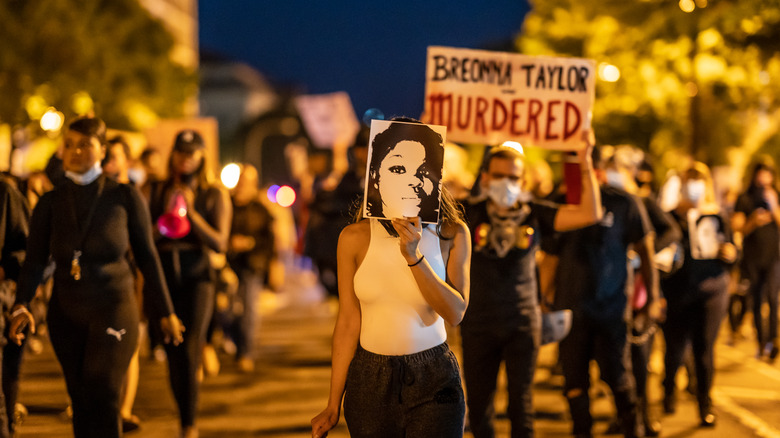 bgrocker/Shutterstock
Post-mortem test results show that Taylor was negative for drugs and alcohol at the time of the police break-in (via Autopsy Files). Careful examination of her body revealed gunshot wounds to her left and right lower extremities, the upper-left extremity, and two separate gunshot wounds of the torso. Massive injuries were sustained to her heart, sternum, skin, soft tissue, and lungs, causing a medical examiner to conclude that her death was "due to multiple gunshot wounds to the body."
According to USA Today, charges were never filed against any of the officers with relation to the bullets that struck and killed Breonna Taylor. Officer Brett Hankison was charged with wanton endangerment for shooting into a neighboring apartment, but no one there was hurt.
Breonna Taylor's mother, Tamika Palmer, is angered but not surprised. In a public 2020 statement published by NPR, she claimed the situation only served to reinforce her fears. "I was reassured Wednesday of why I have no faith in the legal system, in the police, in the law," she explained.