The Untold Truth Of Artie Lange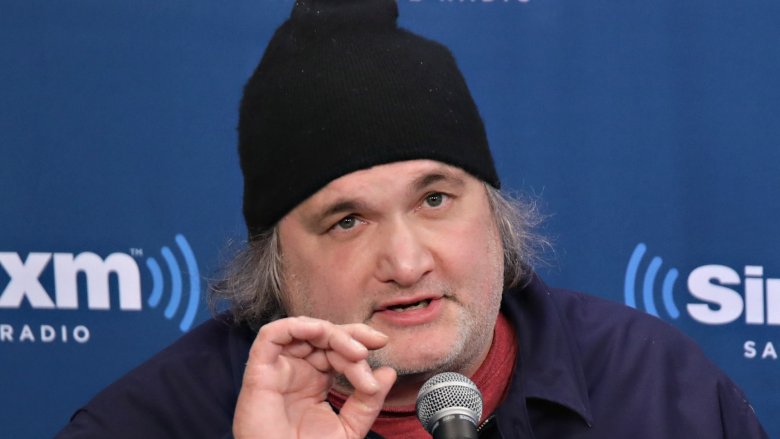 Getty Images
Artie Lange is a very funny guy, but he has led an incredibly tumultuous life. Most fans probably know him from his time on the Howard Stern Show, but Lange has tried several different professions. Despite his success in stand-up comedy, TV, and radio, his battles with addiction and depression have nearly cost him his life on several occasions. Artie Lange has faced a level of tragedy in his personal life that most of us can't even imagine, but no matter how dark things got, he's always found a way to come back. Here are some crazy true stories you might not know about Artie Lange.
His dad became a quadriplegic and died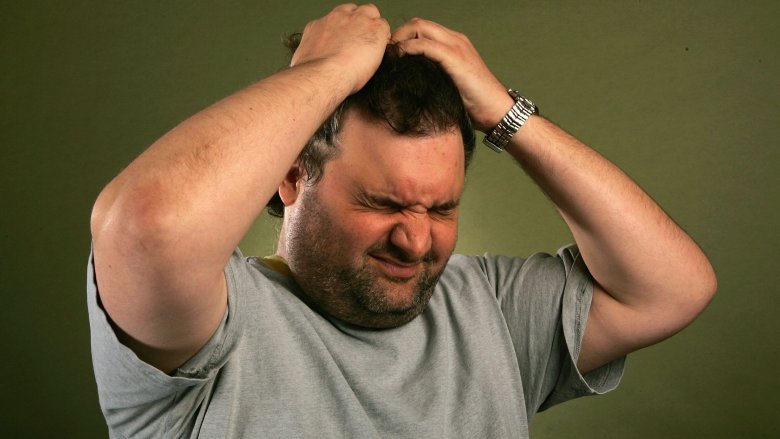 Getty Images
Artie Lange grew up in Union, New Jersey and idolized his father. Though he didn't have a glamorous career (he installed TV-antennas), it gave the family a comfortable life. As a kid, Lange would go to work with his dad and hold the ladder. He compared his father's ability to climb to soaring heights to Superman and Lange felt his father was just as big a hero as the Man of Steel himself.
Right after Lange's 18th birthday, his father fell off a roof and became paralyzed. Because he was attending Seton Hall University, Lange wasn't there to hold the ladder — something he felt guilty about for years afterward. After the accident, his father became a quadriplegic and Lange's month-long college stint ended as he moved back home to help his family. They struggled with money as his mother had to work full time and nurse her husband, leaving Artie feeling utterly helpless. After four and a half years, Lange's father died. An infected bedsore and complications from diabetes technically ended his life, though Lange said to Rolling Stone that his father died because he "lost the will to live." The tragedy of his father's accident and passing seems to have haunted Lange ever since.
When he was 17, he pretended to rob a bank and got arrested
Getty Images
Lange's trouble with the law started early. Lange wasn't the greatest student and always joked around in class. But one joke nearly landed him in jail. When he was 17, he took a trip to the bank with his girlfriend and thought he'd play a prank.
During a 2008 interview with NPR's Terry Gross, Lange explained what happened when he slipped a note to the bank teller — a cute girl he was trying to impress. He told Gross, "It said, I have a gun. Put $50,000 into a bag, turn around and count to a thousand. Act natural, no, act casual. Thank you for your cooperation, Artie Lange Jr. I signed it, and of course, it was a joke, and I thought once the woman saw my signature, she'd figure it was joke."
That's not what happened, of course. Instead, the teller saw "I have a gun," went "white as a ghost," and rang the silent alarm, informing the cops that a bank robbery was in progress. Lange apologized and tried explaining it was just a joke, but he wound up spending a couple nights in jail. He was able to get the charges reduced to disorderly conduct, since the court truly believed he meant the whole thing as a prank gone terribly awry.
He once left the set of MadTV to get coke, while wearing full pig prosthetics
After moving to New York and doing standup for about three and a half years, Lange got a huge break when he was cast on MADtv. The new Fox sketch show would go up against Saturday Night Live and Lange was part of the inaugural cast. By 27, he'd achieved his dream job.
But his time on MADtv wasn't easy. Shoot days were long, the small cast had to cover countless roles, and Lange's growing coke problem didn't help any of it.
According to his memoir, Too Fat to Fish, Lange got to a real low point when filming a sketch called "Babe Watch." A parody of the movie Babe and the hit show Baywatch, Lange has to spend three hours getting into a creepily accurate pig mask. After getting to set at 4 a.m. and having to stare at himself in pig makeup for hours, Lange decided he needed cocaine. After buying coke in a parking lot, he stormed into a restaurant, ran straight to the bathroom and did a bunch of lines while still wearing his full pig regalia. After he got back to set, hours late, with his pig snout ruined, Lange only did more coke, hiding the bag in one of his prosthetic teats. Though he was signed to a five-year contract, Lange was let go after two mainly because of his addiction. (Sadly, nowadays his nose is permanently misshapen after years of drug abuse — more on that later.)
Norm MacDonald revived his career
After being fired from a hit TV show and having a known coke problem, Lange wasn't getting tons of offers thrown his way. But Norm MacDonald was happy to give him a chance and cast him in the film Dirty Work. According to a 2009 Rolling Stone profile, Lange was actually in rehab when he was asked to do the film. And instead of completing the program, he just paid the rehab director to write him a note that allowed him to start filming.
Lange and MacDonald hadn't met before the film, but they instantly became friends during Lange's audition. The night before rehearsals started, they went out to play pool and Lange won $2,000 off MacDonald right away. Though hustling your boss in pool isn't usually a great choice, it made the two great friends.
When MacDonald appeared on Howard Stern in 1998 to promote Dirty Work, he brought Lange along. Though Lange wasn't booked as a guest, but MacDonald told Stern that he'd love him, so Stern invited Lange into the studio. It was Lange's first appearance on the show — and it led to the most successful move of his career.
He became an integral part of the Howard Stern Show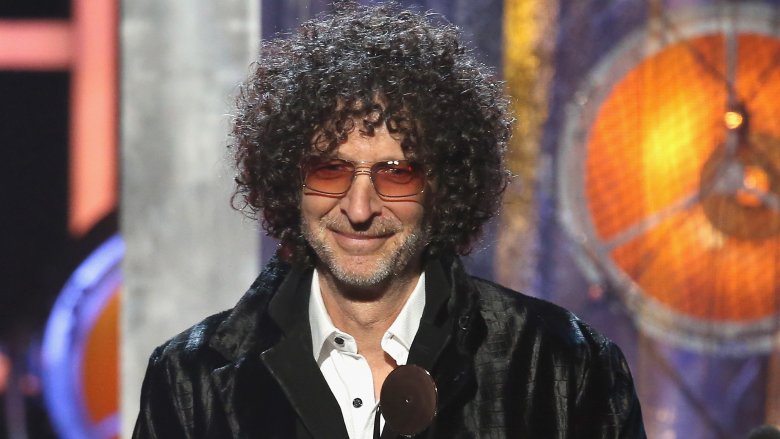 Getty Images
After Lange's first appearance on Howard Stern, he left an impression. So when Stern needed another person in the studio in 2001, Lange was the first person to come to mind. Still, Stern tried out a number of possibilities, but, as Stern later explained on the air, Lange's easy charm made him a perfect fit for the show.
Lange stayed on the show from 2001 to 2009 and Stern loved working with him. Stern wrote that he thought Lange was the "funniest, sweetest" guy around, and that, "Artie has the biggest heart on the planet." 
But while the two loved working together, Lange's drug problem eventually made the collaboration impossible. After falling asleep in the studio and nearly punching his assistant on air, Lange went back to rehab and did his last show December 9, 2009.
Dr. Drew tried to get him on Celebrity Rehab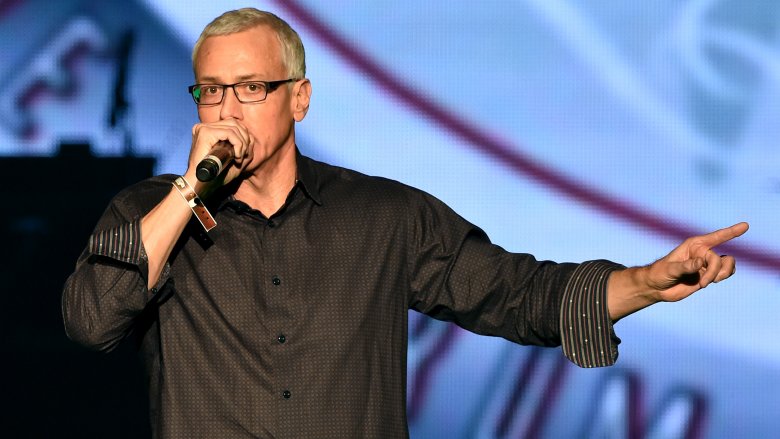 Getty Images
Before Lange left the Howard Stern Show, Dr. Drew Pinsky called in to try to convince him to come on Celebrity Rehab. Dr. Drew didn't know Lange personally, but as a fan of the show, he could tell Lange needed help desperately and wanted to reach out. As he later documented in his second book, Crash and Burn, Lange wasn't interested. 
Though Lange had a few on air tirades about "showbiz whore" Dr. Drew, the call eventually led to another attempt at sobriety. Two drug counselors handcuffed Lange to his bed while he suffered through opiate withdrawal. They brought drug sniffing dogs to his house to make sure there wasn't a trace of drugs on the premises. Though Lange got clean for a bit, it didn't last.
He had a violent suicide attempt in 2010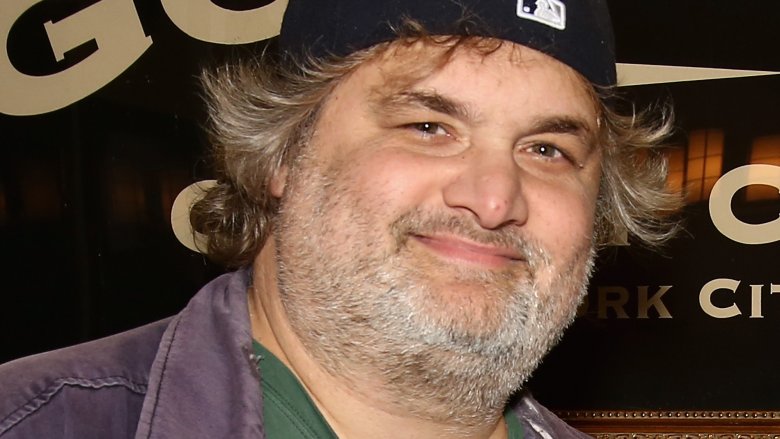 By 2010, Artie Lange had hit bottom. In his darkest moment after a four-day heroin binge, Lange drank bleach, slit his wrists, and stabbed himself in the stomach nine times. During a Rolling Stone interview, Lange explained his addled thought process at the time, saying, "At the time I did that, there was a part of me that just wanted to get that heroin feeling or that opiate feeling or whatever. My logic was, 'If I get bloody, I'll get queasy, and I'll go to sleep.'" 
In the moment, he didn't consider it a suicide attempt, though later he realized it was. Luckily, his mother found him passed out and bleeding in his bedroom and rushed him to the hospital. After a year and eight months in rehab, therapy, and AA, Lange started to work again and wrote his second book, Crash and Burn, about his addiction and suicide attempt.
But 2010 wasn't the first time Lange had attempted suicide. In 1998, after getting on MADtv (his greatest success to that point), he took a bunch of pills and chased them with whiskey hoping to end his life. The stress of the show and his growing cocaine problem later drove him to write a note to his mother and sister and attempt suicide again. Thankfully, he's still around.
If you or anyone you know is having suicidal thoughts, please call the National Suicide Prevention Lifeline at 1-800-273-TALK (8255).
He started a subscription-based podcast after Stern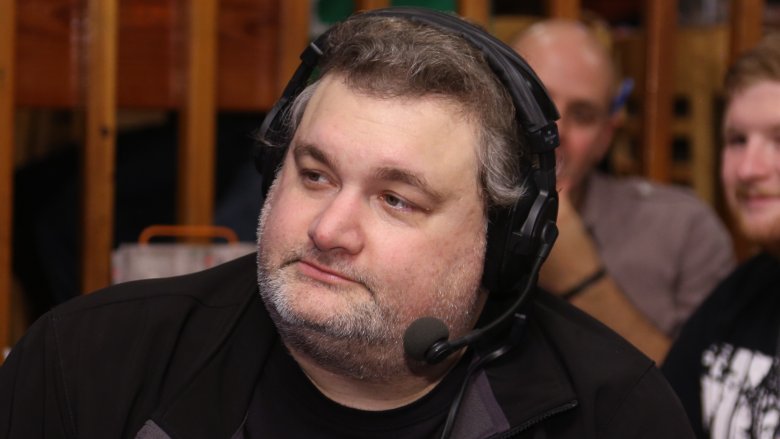 Getty Images
After the 2010 suicide attempt, Lange's time at Stern was definitively over – but he was clean. Luckily, Lange was able to get back on the standup circuit to keep his career going. He wanted to go back to radio, but didn't love the idea of being censored, so he started his own subscription based podcast called Arnie Quitter. His fanbase from Stern was happy to pay $7 a month to hear Lange again. While it might not have been as big as a Sirius Radio show, it earned him a good living and a more relaxed pace of life. Lange told Splitsider, "For me, it's an insane success. I do [the podcast], standup, and some acting work and it's a great life. Very casual. I've never been this relaxed in my life. I've never had a bigger blast and I've never been personally this funny on the radio. The fans love it."
He had a comeback with HBO's Crashing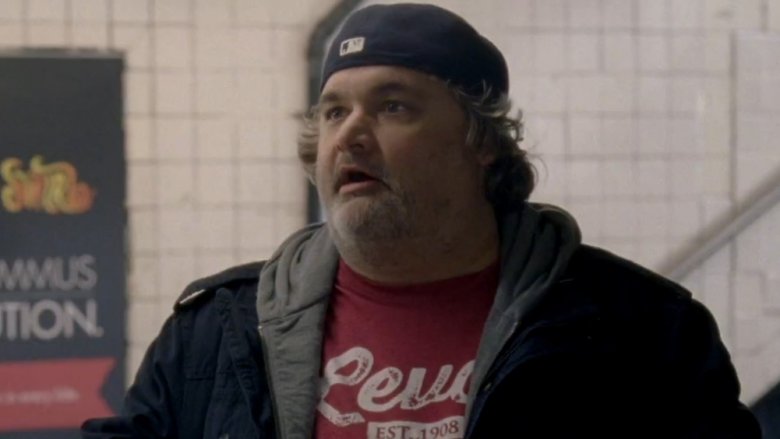 Though Lange has had more than his fair share of troubles, he always seems to get back up. With small roles on Louie and Inside Amy Schumer, Lange slowly made his way back on TV, all while continuing his standup career on the road.
Then in 2016, he appeared on The Jim Gaffigan Show and got a major role in the HBO series Crashing. Playing himself, Lange is a sort-of mentor to the aspiring lead character Pete Holmes. The show got picked up for a second season with the chance of making Lange's role significantly larger.
He was arrested again for drug possession in March 2017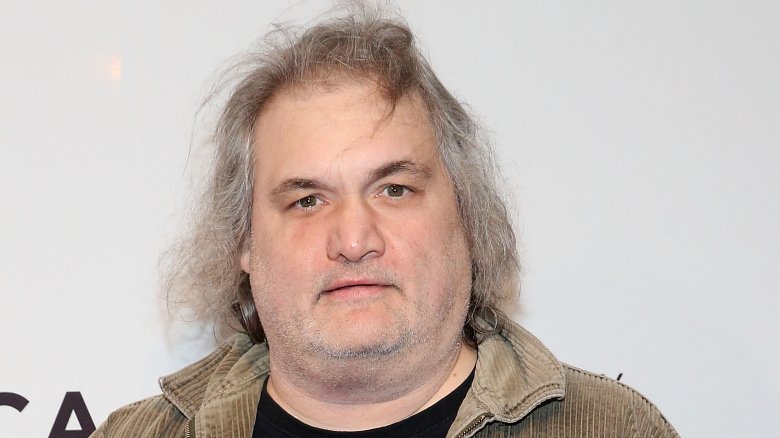 Getty Images
Though he spoke about sobriety after his suicide and got his career back on track, Artie Lange was arrested in March 2017 for possession of cocaine and heroin. After the arrest, Lange tweeted to his fans that he was okay and never wanted to live more, though he warned young people to not follow in his footsteps. Oddly a few days after the incident, Lange said in a radio interview that he was fired from Crashing. HBO and Judd Apatow were quick to publicly state that wasn't true. 
Show creator and star Pete Holmes even said, "Once you meet and know Artie, you're not going to turn your back on him." It's unclear what caused all the confusion about the supposed firing, but Lange did eventually return to the series, even doing an episode that pretty directly addressed his long battle with addiction. Hopefully, he'll find a way to conquer his own demons and truly live up to his tremendous potential.
Leading the charge for the Salems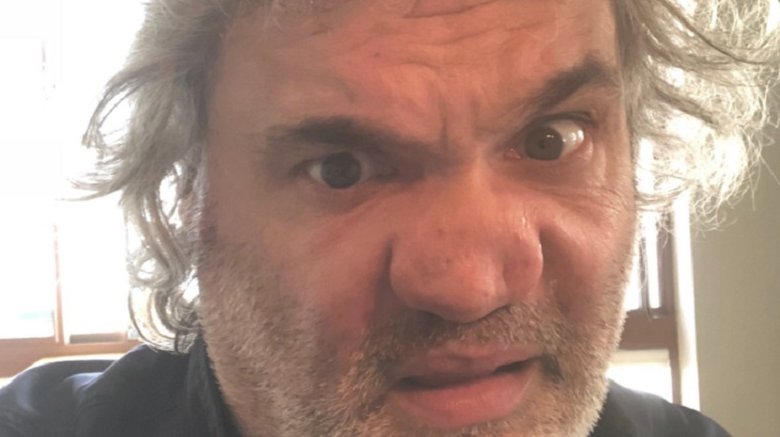 Twitter
Where to even begin? The short version is that Artie Lange became a bit of a hero by doing the decent thing when a loved one needed help. The slightly longer version is really tangled, but in April 2018, long-time Stern Show engineer Scott Salem started a GoFundMe to help pay bills as his wife, Robin, recovered from cancer. Simple enough, right? Artie Lange was right there, donating, encouraging others to donate, and even scheduling a benefit show to help as well. The GoFundMe eventually raised over $73,000 and allowed Robin to spend her last few months in comfort — she sadly passed away soon after.
So what's so controversial? In two words, Howard Stern. Plenty of people were outraged that he never helped plug the fundraiser, and according to some tabloids, the millionaire never donated any money of his own, despite working alongside Scott for years. Some argued that Stern has no obligation to help everyone he knows and pointed out that Stern essentially provided a living for Scott for many years. Can you taste the controversy now?
The nose, man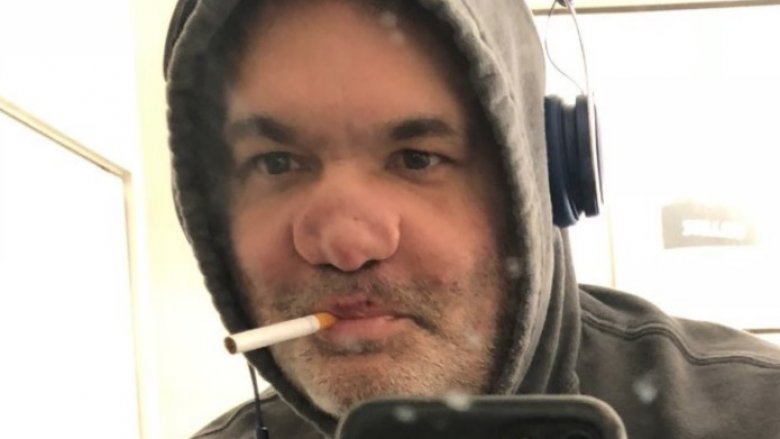 Twitter
Unfortunately, the condition of Artie Lange's nose tells his story. Fans who paid close attention to photos of him could watch the progression through the years, but he addressed it head on in December 2018 by posting several photos to Twitter, including the one above. With this photo, he simply wrote, "Woke up clean! My nose is f*cked. Gotta accept it. But I'm alive and blessed," and went on to plug several upcoming appearances. In another tweet, he wrote this slightly stream-of-consciousness ramble about his schnozz: "My nose looks like it got hit w 32 yrs of gambling drugs booze strippers Whores. Good women Bad women Loved ones dying. Loved ones leaving stand up Comedy The road Movies TV radio books /dreams coming true. Dreams not /anger jails rehabs mental wards detoxes cigarettes & fun."
This all comes amid court appearances as Lange tries to avoid jail time for continued drug convictions. In June 2018 he was sentenced to four years' probation after pleading guilty to heroin possession, but he relapsed while in rehab in the fall. 
The cycle is vicious, the struggle is real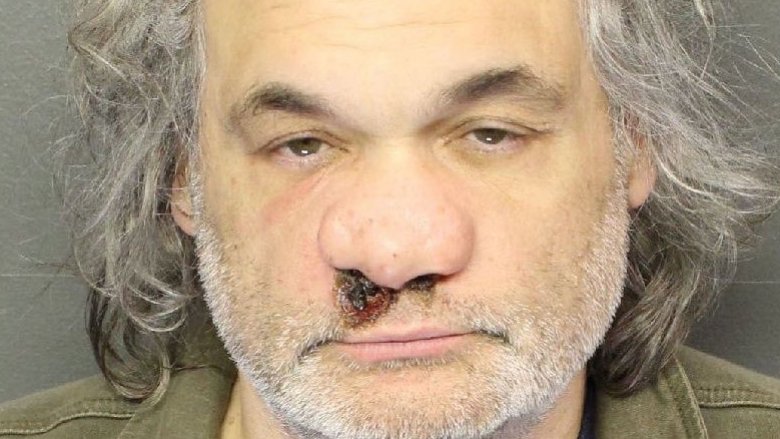 Things seemed to be going all right for Artie Lange after being put on probation in fall 2018, but it didn't take long for the worm to turn. Addiction is a nasty beast, and we're frankly probably fortunate that Lange is still with us. On January 21, 2019, Variety and other outlets reported that Lange had another run-in with the law over drugs. While initial reports said Lange had been arrested, this was disputed by his team, who said instead that New Jersey police were holding him overnight to "help him sober up before being relocated to a long-term treatment program." His Twitter account asked fans to "please excuse" any upcoming shows as he was headed for long-term treatment. The tweet signed off with "it's time." 
Artie Lange is out of rehab
Months later, Mr. Lange popped his head up again, and it's fair to say he looks like he's doing pretty well. On September 10, 2019, Lange tweeted that he was out of rehab after seven months and that he would be announcing shows soon. Support for the comedian poured in from fans, with some congratulating him on his seven months of sobriety and others noting how positively healthy he looks, as he definitely dropped a few pounds while in rehab. Lange sounded excited to be headed back to a more normal life: "Great to be home!" he tweeted, adding "Lots of new stories to tell." 
Addiction is cruel, meaning he certainly has his work cut out for him. Even if Artie Lange's saga of struggle appears to be taking a break on the surface, sobriety is a long-term battle. Here's hoping he gets the help he needs to stay clean.