The Truth About The First Man To Make $1 Million From Spying For The Soviet Union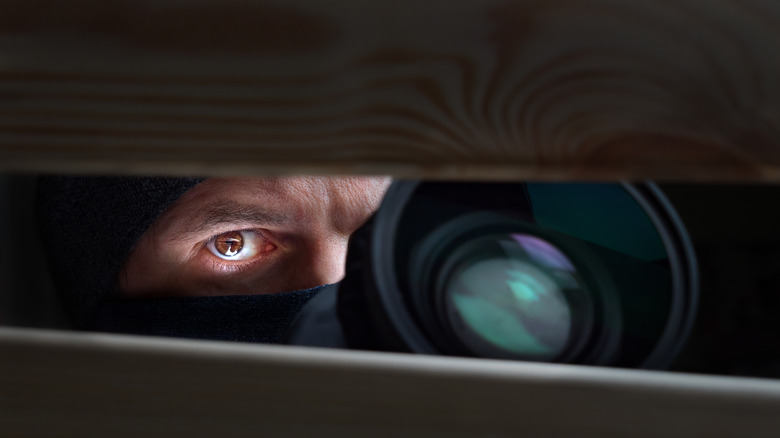 Oleksii Synelnykov/Shutterstock
John Anthony Walker Jr. was born in Washington, D.C. in July of 1987, but by the end of his life, he would be condemned by the capitol in which he was born and by the nation in which he was raised.
Per Britannica, Walker, a one-time U.S. Navy communications specialist, was responsible not only for passing classified documents to the Soviet Union over the course of two decades, but also for pulling a friend, his brother, and his own son into his spiral of espionage.
Signs of Walker's disobedient lifestyle were visible early. As a youth in Scranton, Pennsylvania, Walker was caught during a burglary and was given a choice between jail and the military. Walker joined the Navy, per Britannica, and quickly climbed through the ranks, and he was eventually given access to encrypted U.S. Navy documents.
In 1967, financial challenges led Walker to stride into the Soviet Embassy in Washington D.C., where he sold a top-secret radio cipher card for several thousand dollars, per Crime Library. The profit proved to be too difficult for Walker to resist, and he would continue to feed the Soviets classified U.S. information for many years to come.
John A. Walker becomes a spy for the Soviets — and draws his family in
Following the sale of the radio cipher, Walker asked the Russians for a salary of $500 to $1000 per week, according to Crime Library. The KGB agreed, and Walker suddenly found himself in possession of enough wealth to move his family to a fancy complex in Norfolk.
From there, Walker's espionage escalated. He provided the Soviets with information about everything from authentication codes needed to launch nuclear weapons to information about the inner mechanics of American satellites, per the Los Angeles Times. He also sold codes that allowed Russians to unlock coded Navy messages, per CNN. According to the LA Times, officials estimated that he made more than $1 million during his tenure as a spy.
But he couldn't do it alone. He soon recruited his brother, a close friend, and his son, all of whom had security clearances, per Reuters, and his "family of spies" enabled him to bring his espionage operation to the next level, per USNI. However, the operation eventually proved unsustainable. 
In 1985, Walker was finally arrested, per the FBI. Early that year, per USNI, a tip from Walker's ex-wife Barbara Crowley helped the FBI learn that Walker was planning on leaving a boatload of U.S. military secrets in a public place for a Russian agent to pick up, and they immediately placed Walker under tight surveillance.
Per the FBI, on May 19, 1985, Walker drove to Maryland and left a package for the Soviets to pick up, which was quickly intercepted by the FBI. The next morning, Walker was arrested at his hotel.
John A. Walker's life of espionage finally catches up with him
Following his arrest, Walker would spend the rest of his life in prison, where he died in 2014 at age 77. During his time in prison, he penned an autobiography called "My Life As a Spy," in which he offered some intriguing defenses for his actions. "The fact of the matter is I did perfect work for both governments at the same time," he said to the Washington Post in 1989. "Neither of them have complaint. My work for the U.S. Navy was extraordinary, exemplary. My work for the Soviets was also exemplary." Elsewhere in the book, he said that he believed he was "reducing the prospect of war" by serving both sides, per the Los Angeles Times.
Regardless of why he did what he did, Walker's actions certainly made an impact. "Walker's information not only provided us with ongoing intelligence, but helped us over time to understand and study how your military actually thinks," said Soviet spy chief Boris Solomatin, per CNN.
While Walker's leaks were certainly compromising in their own rights, the damage he inflicted was nothing compared to what would have happened if the tension between the U.S. and the Soviet Union actually came to blows. According to Reuters, "Had the United States and Soviet Union gone to war, the leaks by Walker and his ring would have been devastating."