How Many Children Does Keith Richards Have?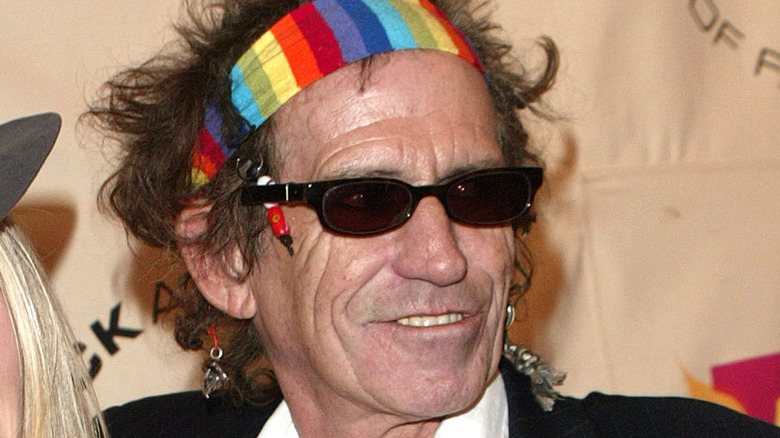 Evan Agostini/Getty Images
Perhaps no band personifies the saying, "sex, drugs, and rock 'n' roll," more than the Rolling Stones. According to Britannica, the London-based musicians took their musical cue from the Chicago blues music of the United States. By the middle of the 1960s, they and The Beatles were challenging one another for chart supremacy. While the Beatles were seen as a clean-cut and charming band, the Stones were seen as threatening and dangerous. By the beginning of the 1970s, with The Beatles broken up, the Rolling Stones sat alone on the top of the rock world.
And present throughout the band's history and a major reason for its "bad boy" image has been its guitarist and co-songwriter, Keith Richards. As told by Rolling Stone (the magazine), Richards' rebellious nature can be dated as far back as his teen years, when he snuck a whisky bottle into his Boy Scouts jamboree. His musical talents are almost secondary to his anecdotes while under the influence of alcohol or a variety of drugs. It would be difficult for any fan of the Stones to picture Keith Richards as a father. But even wild rock stars like Richards still found the time to be a father to six different children.
Keith Richards' children with Anita Pallenberg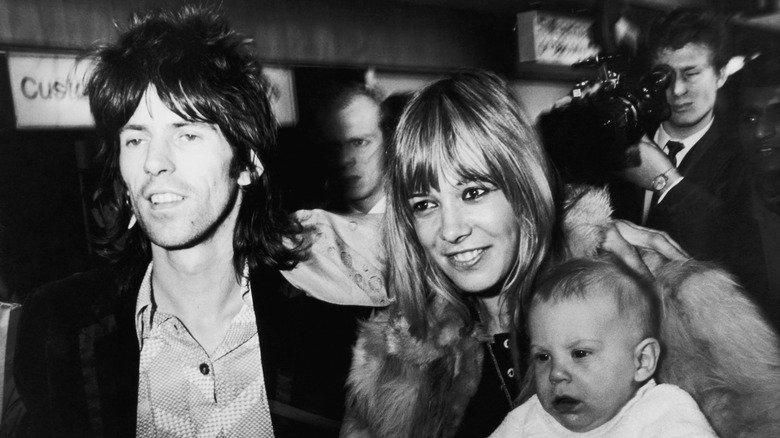 Express/Getty Images
According to The New York Times, Anita Pallenberg and Keith Richards began dating in 1967. Their relationship began after Richards rescued Pallenberg from being assaulted by her boyfriend at the time, fellow Rolling Stones guitarist Brian Jones. She and Jones had been a couple for two years and the relationship was marked with violence, though Pallenberg did not take the abuse lying down. In his memoir, "Life" (quoted by The Times), Richards recalled Pallenberg being tough enough to fight Jones, saying, "every time they had a fight, Brian would come out bandaged and bruised."
Pallenberg ran in circles with artists and writers such as Andy Warhol and Amiri Baraka (formerly known as LeRoi Jones) before meeting the Stones. She jokingly referred to herself as "a hanger on." Still, Richards saw her as a talented artist in her own right and the pair would have three children together. Cheat Sheet reports that their first child, a son named Marlon, was born in 1969, and three years later, they had a daughter, whom they named Angela. Unfortunately, in 1976, the couple's third child, another boy named Tara, would die two months after his birth from Sudden Infant Death Syndrome.
Pallenberg was addicted to drugs during their relationship. She said after co-starring in a 1970 film with the Rolling Stone's singer, Mick Jagger, that she became addicted to heroin. In 1977, she and Richards both entered rehab following his arrest for heroin possession in Toronto. Pallenberg would pass away in 2017 from complications of hepatitis C.
Richards' children with Patti Hansen and becoming a grandfather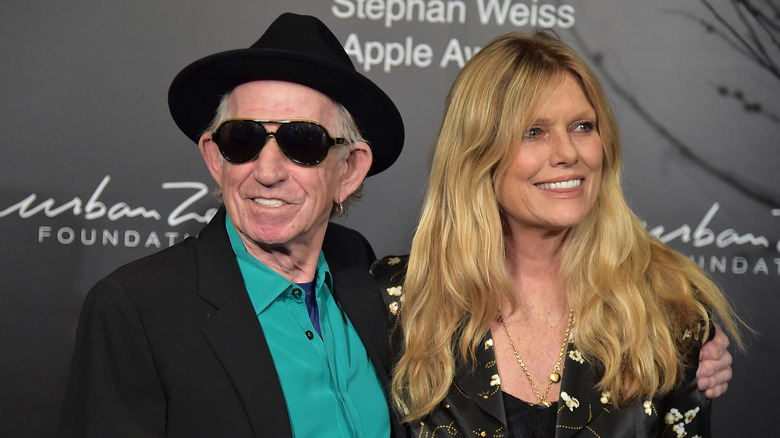 Theo Wargo/Getty Images
According to Cheat Sheet, not long after his relationship with Anita Pallenberg ended in 1979, Keith Richards met the woman who would become his wife, model Patti Hansen. Unlike his relationship with Pallenberg, Richards would marry Hansen. This would be surprising not only because of the reputation Richards had earned for being an out-of-control rock star, but also from the first time he met Hansen's family. In his autobiography, "Life," Richards recalled showing up to Hansen's family home drunk with an open bottle in his hand and smashing his guitar on the table as Patti cried on the stairs, Harper's Bazaar reports.
Still, the couple got past that episode and would tie the knot in 1983, Smooth Radio reports. The couple would have two daughters, Theodora and Alexandra. Both would follow their mother's footsteps and work in the modeling industry.
Richards today is the father to five children, as well as a grandfather. Both of his surviving children from his relationship with Anita Pallenberg are parents themselves. Marlon has three children of his own while Angela has two. In 2014, Richards wrote a children's book, titled "Gus and Me: The Story of My Granddad and My First Guitar," about the relationship he had with his grandfather.