Dolly Parton Thinks This Is Why Fans Love Her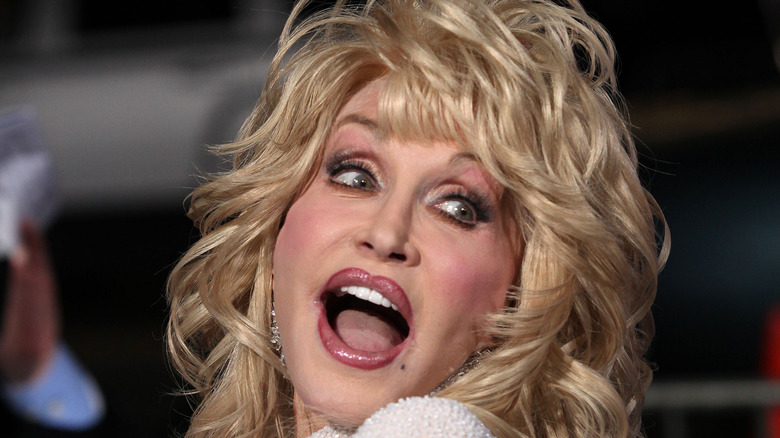 DFree/Shutterstock
There's a lot to like about pop culture juggernaut Dolly Parton. First and foremost, there's her monstrously successful music career, which few legends in the industry can rival. As the Grammy Awards website reminds us, Parton won the 2011 Lifetime Achievement Award — in addition to the seven Grammy awards from 45 nominations she had won by that year — and what a life she's had. 
A singer and songwriter of worldwide renown, Dolly is also well-known among fans for her sense of humor. As she wrote in "Dolly: My Life and Other Unfinished Business," per American Songwriter, "I tried every diet in the book. I tried some that weren't in the book. I tried eating the book. It tasted better than most of the diets."
Dolly's legions of fans would surely each give individual reasons for being so enamored with her — that homespun wisdom, her classic songs, her mega-hit albums, her modest nature, her self-deprecating wit — she has a lot of valuable virtues. Why does Dolly herself think she's so popular with the public? Here's the answer she once gave.
Dolly's charity work and resilience helped make her a star, she says
Carl Beust/Shutterstock
In her dealings with fans and journalists, as in her music, Dolly wears her heart on her sleeve. In August of 2020, she was featured in USA Today's "Women of the Century," and her interview was as frank and honest as ever. One particular question, however, went a long way to exploring Dolly's mindset and attitude. The subject turned to the wide and diverse nature of her fanbase, and the question became, "So many people love you. What's your secret?"
For Dolly, the primary reason is that she radiates that love right back to others. "I love people, and I think they feel that, they sense that," she said. 
These certainly weren't empty words. Dolly is a well-renowned philanthropist. One of her projects started in 1995 when she spearheaded Dolly Parton's Imagination Library, which has mailed millions of books to children 5 and under, at no cost. The Imagination Library started in her home state of Tennessee, then expanded nationwide. The organization continues to expand globally. 
Secondly, she can empathize with others' struggles. As she told USA Today, "I grew up with humble beginnings. I think that people know that I've worked hard to get where I'm at." As Britannica reports, Dolly's family was poor — they were a farming family raising 12 children of which Dolly was the fourth born. Her tale of triumph over adversity is just another reason to love Dolly Parton.