Lady Gaga's Career Is A Tribute To David Bowie. This Is How
DFree/Shutterstock
Lady Gaga's career more than illustrates that she is radically different from a one-dimensional, soulless mouthpiece for a mass-production record label. Gaga is a fully-immersed, head-to-toe, multi-talented performance artist who in 2019 became the first woman to win an Oscar, BAFTA, Grammy, Golden Globe, and Critic's Choice award in one year, per the National Post. You can grok her or not, just like any art. 
Since releasing her first album less than 15 years ago, the self-aware and prophetic "The Fame" (2008), Gaga's gone through more phases than most artists do their entire career: the queer-friendly queen of space and dance from "Born this Way" (2011) to "Artpop" (2013), the jazzy Tony Bennett duets of "Cheek to Cheek" (2011) and "Love for Sale" (2021), the pared-down and earthy "Joanne" (2016) phase, and many more. Each period coincides with distinct aesthetic and thematic elements. 
If all that sounds vaguely familiar, it's because there's one artist from who Lady Gaga takes obvious and plain inspiration — it's David Bowie. Bowie wore as many personas as Lady Gaga has outfits: Ziggy Stardust, Aladdin Sane, the Thin White Duke, his 80's dance reinvention and role as the Goblin King in Labyrinth (1986), all the way to his final, heartbreaking album "Blackstar" (2016) that some say acted as his own eulogy. Following his death, Gaga performed a David Bowie tribute at the 2016 Grammy's (watchable in full on Vimeo) where she spoke openly about the massive impact Bowie made on her and her career.
Artistic birth from the cover of Aladdin Sane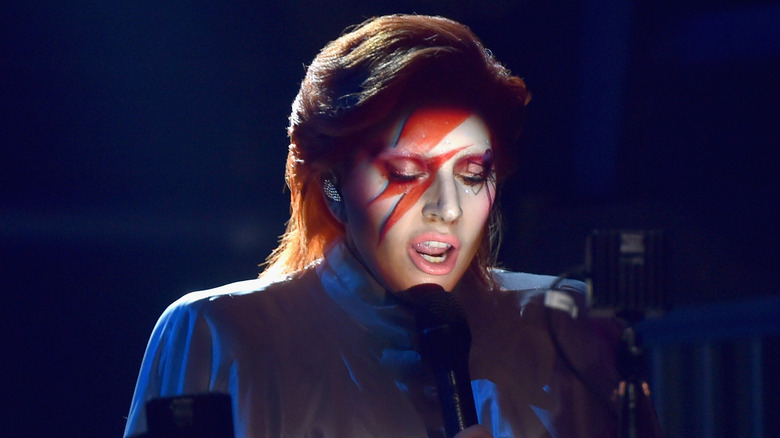 Larry Busacca/Getty Images
"I feel like my whole career is a tribute to David Bowie," Lady Gaga told NPR in 2016, continuing, "The moment that I saw the "Aladdin Sane" cover for the first time, I was 19 years old, and it just changed my perspective on everything, forever. It was an image that changed my life." Gaga said the album formed her "artistic birth" and moment of self-discovery, and set the course of her entire career and artistic outlook. She started hanging out at the library checking out art books, taking art classes, playing in a band, and dressing more "expressively." 
She continued, "My friends and I in New York, we've lived a lifestyle of total immersion in music, fashion, art and technology since we were kids — and this is because of [David Bowie] ... You meet or see a musician that has something that is of another planet, of another time, and it changes you forever."
At the time Gaga performed her tribute to David Bowie, his death was fresh. Bowie's former drummer Mick "Woody" Woodmansey didn't attend the performance, and called it "stupid" and "tacky," per Billboard. Bowie's son Duncan Jones said the performance was "overexcited, irrational and mentally confused," as NME says. Gaga was perplexed by these remarks, though, and just continued to praise Bowie for inspiring her, saying, "There will never be another David Bowie and I don't think anyone is comparable to him."