The Real Reason The Astroworld Documentary Was Pulled From Hulu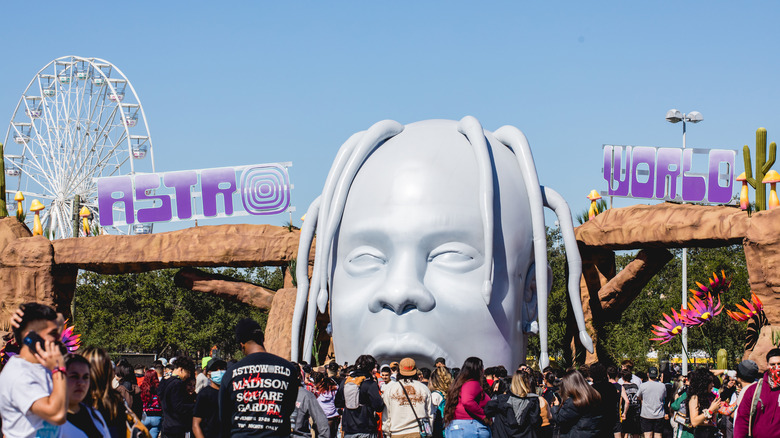 Rick Kern/Getty Images
A news special about the deadly crowd-crush event at Travis Scott's Astroworld concert in Houston was pulled from Hulu in December 2021, according to The Hollywood Reporter. The documentary about the tragedy, which left at least 10 people dead, was criticized for coming so soon after the early November music festival. "Astroworld: Concert From Hell" originally aired just 15 days after the mass casualty incident on a local news channel, according to Hulu.
"This was an investigative local news special from ABC13/KTRK-TV in Houston that originally aired on November 20th," a Hulu spokesperson said to THR. "This was not a Hulu documentary and has since been removed to avoid confusion." The spokesperson did not say if the documentary would be put back on the streaming platform after the "confusion" had been addressed. But the furor over the special that erupted on some corners of social media likely played a role.
A documentary in 'poor taste'
Rick Kern/Getty Images
The documentary claimed that it would take you "inside the festival," from "from chaos at the gates hours before the music started, to what went wrong in the crowd as the night went on, and the 10 victims who never made it home," according to promotion materials by KTRK-TV obtained by The New York Post. To some critics of the doc, this went too far.
"Hulu making a documentary about Astroworld is in poor taste all around," said one viral tweet (even though the person who posted later realized that it wasn't a Hulu-brand documentary). "People are still burying their loved ones. The legal cases haven't even started. Great documentaries are done when all the facts are laid out. Not enough time has passed to fully discuss this."
Since the tragedy, surviving victims and families have filed lawsuits against Scott and Live Nation, according to The Hollywood Reporter, which also reports that the venue did not have a plan for a crowd surge event.