Dan Aykroyd's Friendship With Jim Belushi Explained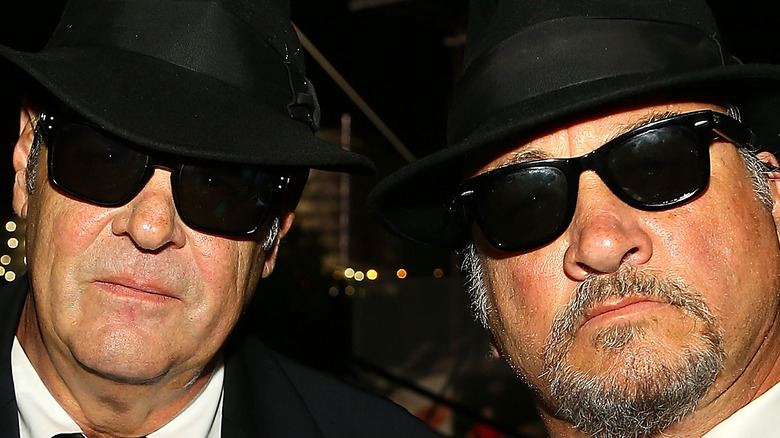 Paul Morigi/Getty Images
Even if you've never watched the 1980s comedy "Blues Brothers," you are probably familiar with actors Dan Aykroyd and John Belushi (via IMDb). The two men starred in the musical film that turned out to become a cult classic. But the duo was a comedy act that initially started out on "Saturday Night Live" (via History). For the act, the actors played two black-suited musicians who are also brothers named Jake (Belushi) and Elwood (Aykroyd) Blues.
The Blues Brothers are also known for wearing black shades, black shoes, and black fedora hats. This iconic dress style is well-recognized as their shtick and has been a popular costume of choice since the film came out. Sadly, when the follow-up sequel came out in 1998, Belushi was long gone, having died at 33 in 1982 (per The New York Times). His character Jake was replaced by actor John Goodman but as a new character with a different name. Then Belushi's younger brother Jim Belushi (pictured right) would also become his replacement — forming a new bond with his brother's former partner in crime, Aykroyd.
Friends and Blues Brothers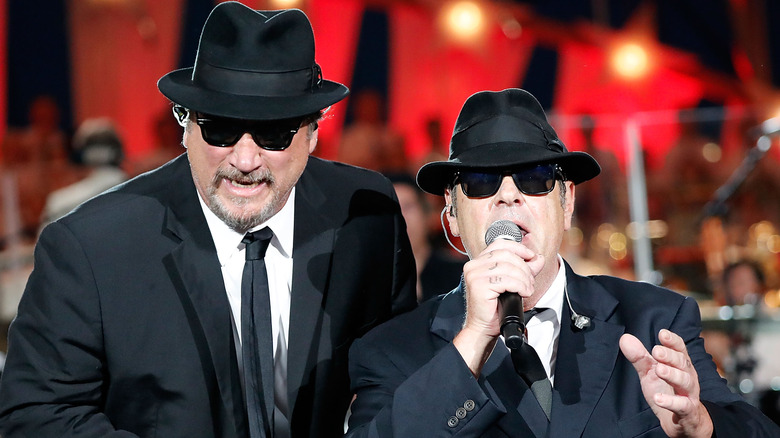 Paul Morigi/Getty Images
While the younger Belushi wasn't originally a Blues Brother, he is now, and has been for some time. In the act, he plays Zee Blues. 
After John Belushi's untimely death, the comedy act was seemingly done. But it was revived with the 1998 sequel. Since then, both John Goodman and Jim Belushi have joined Aykroyd to continue the famous music duo. But Belushi has been a mainstay. They perform as Blues Brothers from time to time now for appearances and for various types of events, mostly for charity, says The Hollywood Reporter. In 2017, they performed outside the U.S. Capitol for an Independence Day musical show (posted on YouTube), doing the famous hit "Soul Man." Then in 2019, they reunited again to pay tribute to John and to also raise money for Belushi's marijuana farm, per Yahoo News. The two men have remained very close friends even though they're not in the spotlight as often.