The Real Reason Desi Arnaz Was Cast In I Love Lucy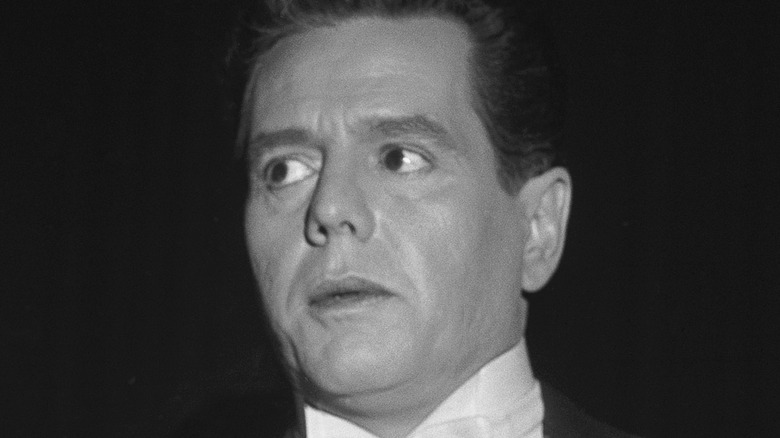 Michael Ochs Archives/Getty Images
"I Love Lucy" was a popular CBS sitcom that starred comedians and married couple, Lucille Ball and Desi Arnaz. On the show, they played housewife Lucy and club manager Ricky Ricardo, dealing with their day-to-day ordeals of married life in their New York City apartment, per Britannica. They essentially based their somewhat fictional couple on the realities of their own lives. When the show premiered in 1951, the couple had been married for a decade, and the final episode would air in 1957.
Ball and Arnaz tied the knot on November 30, 1940, per Today in CT History. They had met years earlier on the set of the 1940 musical comedy film "Too Many Girls," (via Hallmark Channel); Arnaz and Ball were co-stars in the movie, per IMDb. Shortly after, both of their careers would take off. While they seemed like a successful and happy couple on screen, it wasn't what it seemed, as there were marriage troubles behind closed doors. In 1944, Ball had filed for a divorce, but they remained together (via Entrepreneur). There were problems in the marriage, so much so that it was the main reason Arnaz was cast on "I Love Lucy."
The Hollywood solution for marriage woes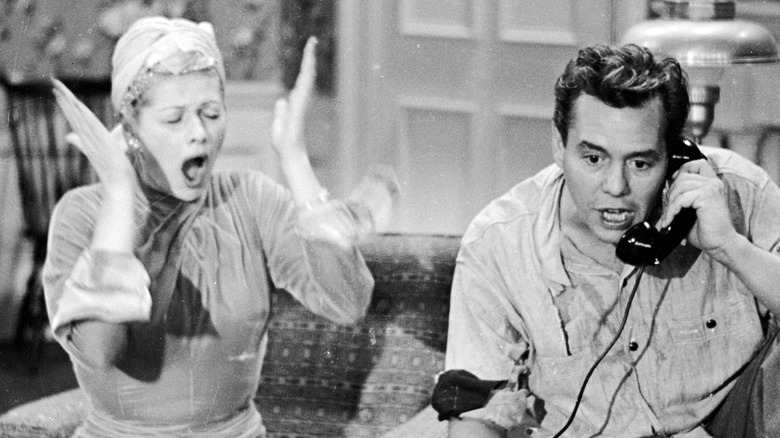 Michael Ochs Archives/Getty Images
The inspiration for "I Love Lucy" initially started out as a radio show under a different name. From 1947 to 1950, Lucille Ball performed on a radio show titled, "My Favourite Husband," per the Library of Congress. Ball had turned to radio after two production companies she worked for released her, says Vanity Fair. Luckily for Ball, the same year the show ended, CBS network approached her with a deal. They wanted to bring her radio show to television. She agreed but had one nonnegotiable request — her husband needed to be cast to play the role of her husband. She was adamant about having him on set with her because Desi Arnaz apparently had a wandering eye and Ball feared infidelity if she didn't have knowledge of his whereabouts at all times. So if he was cast on the show, they'd have no choice but to work with each other. 
Around the same time, the couple created Desilu Productions — a portmanteau of their first names, as a company to produce the show. According to Entrepreneur, they had to prove a lot to CBS to demonstrate that Arnaz was the right choice despite qualms about his accent, and even rallied to keep the show in Hollywood. They eventually won the network over, and "I Love Lucy" and the b-roll started rolling. After the show ended in 1957, Ball finally divorced Arnaz in 1960, says History.