Here's Why Bob Dole Was Always Seen Holding A Pen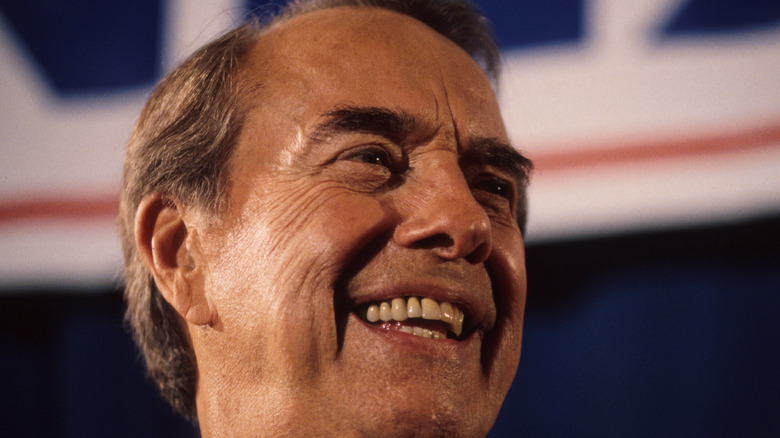 Porter Gifford/retired/Getty Images
We may receive a commission on purchases made from links.
Over the course of his 27 years in the Senate, Bob Dole embraced nearly every aspect of his job in politics. But one of the most common tasks — shaking hands — also happened to be one of the most difficult for him. Before his life on Capitol Hill, Dole served in the U.S. Army during World War II. On April 14, 1945, just weeks before the Nazi surrender, Dole's platoon came under attack in Italy. While they tried to take out Nazi machine gunners, Dole was struck in the back. "As the mortar round, exploding shell, or machine gun blast — whatever it was, I'll never know — ripped into my body, I recoiled, lifted off the ground a bit, twisted in the air, and fell face down in the dirt," he wrote in his 2005 memoir, One Soldier's Story.
Dole recalled not being able to get up or even knowing whether he was dead or alive. "Then the horror hit me — I can't feel anything below my neck! I didn't know it at the time, but whatever it was that hit me had ripped apart my shoulder, breaking my collarbone and my right arm, smashing down into my vertebrae, and damaging my spinal cord," he wrote. Dole was flat on the battlefield for nine hours before medics could safely evacuate him to a field hospital. For nearly three years, according to The Washington Post, Dole stayed at a military hospital in Michigan.
Bob Dole never fully recovered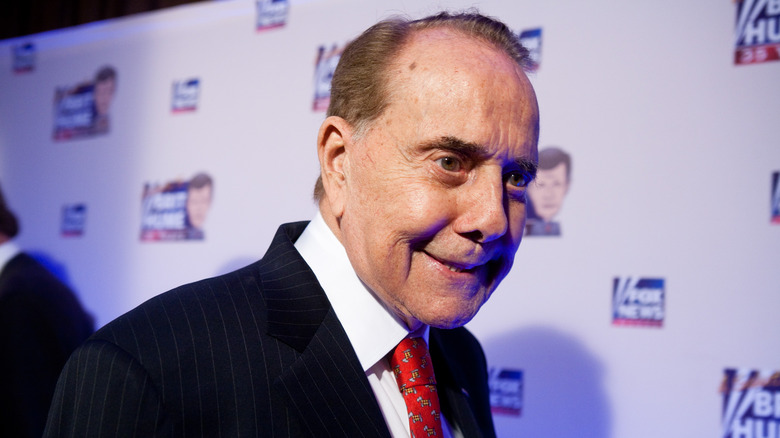 Brendan Hoffman/Getty Images
The result of his wounds were a lost kidney and the full use of his right arm. "For nearly a year, I couldn't feed myself. I had to learn to walk and dress myself all over again," Dole told The Topeka Capital-Journal (via USA Today). Dole received two Purple Hearts in recognition of his sacrifices, but despite seven surgeries and extensive physical therapy, he never regained the use of his right arm and hand.
Dole's inability to use his right hand became a sensitive point when he joined the world of politics. As a person running for office, the ubiquitous handshake was immensely painful for Dole. So, he began putting a pen in his right hand so people wouldn't reach for it. "I eventually discovered that by holding a pen in the hand, grasping it between my thumb and forefinger and wrapping the remaining three fingers around the shaft of the pen, I made the hand appear normal," Dole wrote in One Soldier's Story.
That meant Dole spent all those decades of handshaking with his left hand, which was also damaged in the war. According to Dole, he spent so much time using his left hand that most people assumed it was fine, but they were wrong. Dole wrote in his memoir that, "After shaking hands with a few too many folks, my left hand starts turning black and blue, much as it did 60 years ago."