Real Houses Straight Out Of Cartoons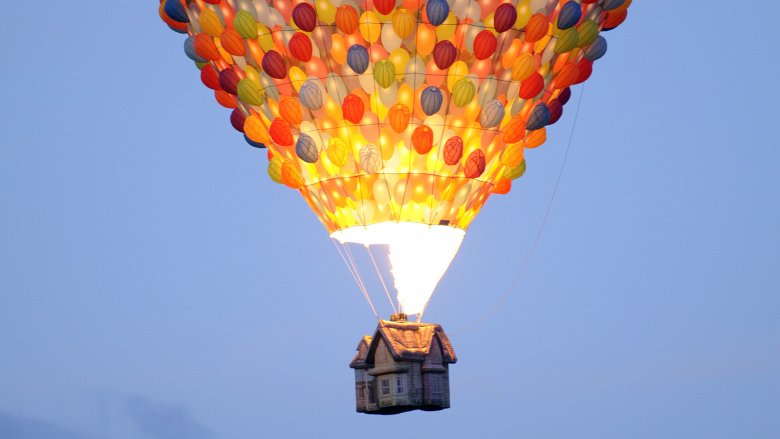 Getty Images
The cartoons of our youth, or extended adolescence, took place in enchanted locales that frequently found a way into our hearts. Some of these locales were directly inspired by — or directly inspired — real-world analogues you can actually visit. Whether you do so as a tourist or vicariously through this article just depends on your budget. Let's take a look at these cartoon fantasy homes and see what they inspire in us.
The Up house
Disregarding such tedious concepts as "common sense" that would make it seem impossible, a team from National Geographic's series How Hard Could It Be? decided to bring the house from the Pixar movie Up into the real world. They tethered 300 eight foot diameter balloons to a 16'x16' lightweight "house" and managed to pilot it with people inside for a flight. The stunt set a record for the "largest balloon cluster flight ever attempted." Take that, intangible poignant metaphor for closure in the wake of love lost!
There's also the "Edith Macefield House" in Seattle. A local landmark, the quaint little home and its stubborn elderly owner refused to relocate as taller, more modern buildings were eventually erected around it. While Pixar claims the house in the film wasn't directly inspired by any real-life home, it bears an uncanny resemblance, and locals have been calling it "The Up House" ever since the film's release. Visitors frequently tie balloons to the fence in the movie's honor. Inspiration or not, the house has captured the imagination of so many visitors it may wind up with a film of its own.
The Simpsons house
In 1997, building company Kaufman and Broad painstakingly went over 100 episodes of reference material to create as accurate a replica of The Simpsons' 742 Evergreen Terrace home as possible. Constructed in Henderson, Nevada, the house stood out — even after it lost its cartoon color scheme, graffiti by Matt Groening, and custom furniture. Tourists can easily point it out as being the only one in the neighborhood with a chimney (which doesn't actually work) and a shingled roof, rather than the Spanish tile that tops the other houses in the area.
Unfortunately for The Simpsons fans, the house was repainted to boring normal house colors and the custom furnishings and decorations auctioned off. Since the house was built for a contest, the winner declined ownership of the home in favor of a cash prize. But for a couple glorious weeks, it was open to the public.
Jetsons-like architecture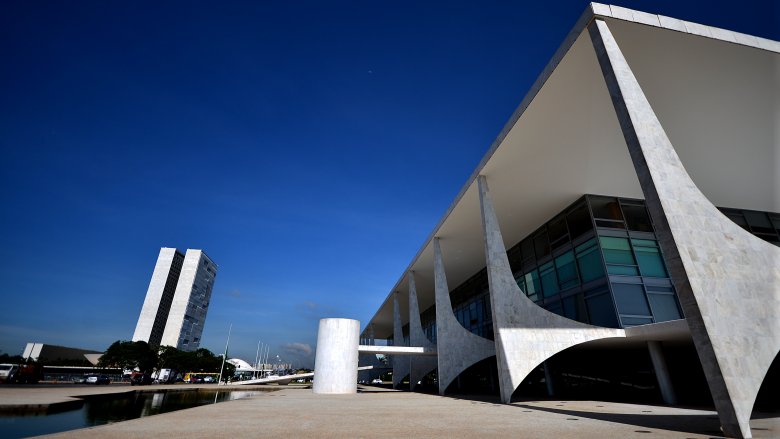 Getty Images
The Flintstones house
With Dick Clark's passing in 2012, a home appeared on the market that was literally a page right out of history. Structured like a rock formation to blend in with the mountains of the nearby national park, the Malibu home carries all the primitive curvilinear rock-hewn aesthetics of homes in The Flintstones, but with a modern touch. It's an amazing looking place with a breathtaking view, and if you're the kind of person that can spare three million plus for a one bedroom house, it might be a perfect fit. For the rest of us... well those are some pretty entertaining photos.
That's not the only place, that looks like it's straight out of Bedrock, however. There's an actual rock-carved home in Portugal which has become a popular tourist attraction because of its cartoonish look. Unfortunately, all that attention has also brought burglary attempts, which has led the house's owners to increase its security with a steel door and bullet-proof windows.
Barbie Malibu dream home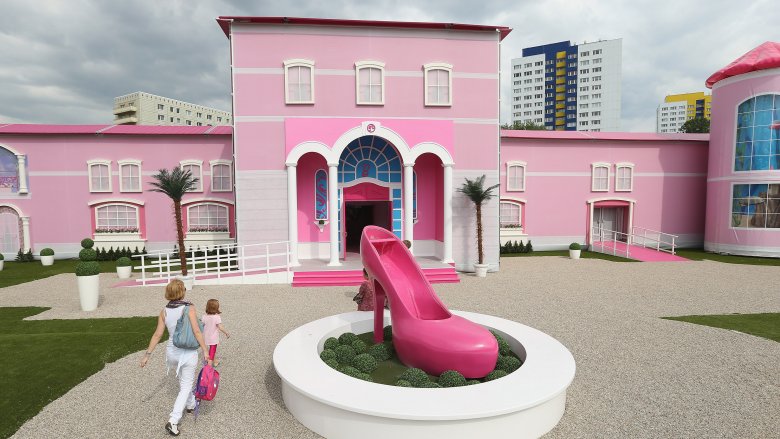 Getty Images
You can't really get much more extravagant than a full-size Barbie dream home. Berlin, Germany hosted an enormous 25,000 square foot life-size replica of Barbie's dream house that was so lavish it had pink dolphins swimming in the toilets. Apparently Germans have some weird ideas about what counts as "lavish." Computer terminals throughout allowed visitors to bake virtual cupcakes and other activities, there was an indoor salon and wardrobes for trying on fashionable clothes, and a giant pink piano was available to play.
In Sawgrass Mall in Sunrise, Florida they have a smaller but no less impressive 10,000 square foot real life Barbie house you can explore. Visitors can get a glam up Barbie-style makeover experience from staff, explore life size versions of classic Barbie rooms and furniture, play with many interactive features and view displays of hundreds of dolls. Both versions have a collectible commemorative Barbie, because we all know fans can't resist buying the same doll with one new signifying feature over and over again.
There's an awful lot of real-life Batcaves
Batcave? Or Batman-themed mancave? Often it's a fine line these men choose to walk. 
For instance, an extremely wealthy Australian man had architectural firm Molecule create a startlingly accurate version of the underground garage from The Dark Knight. Another Bat-fan, this one living in Delaware, actually factored whether he could fit the Batcave of his dreams into the choice of home he bought. The finished product is hidden behind a secret door that opens with a hidden button and houses a full home theater.
For those of us without personal Batcave money, dedicated fans might be interested to know that the actual cave used in the 1960s Batman television series is a place you can actually visit. For free.
Of course, if your Batman fetish gets a bit... fetishy, the Eden Motel in Taiwan has a special Batman suite. It also rents by the hour. Maybe some folks can get a little too much into their favorite childhood cartoons.
Mickey and Minnie Mouse's house
From 1988 to 2011, Disney's Toontown Fair in Disney World allowed tours of full-size replicas of the houses of both Mickey Mouse and Minnie Mouse. Both held a similarly quaint but wacky decor, allowing visitors to pretend to raid cheese-filled fridges, watch cakes rise in the oven, and take pictures sitting on the furniture. While these were discontinued after an expansion of Fantasyland closed Toontown Fair, there still remains a similar tour at Disneyland. However, it's not quite the same, as visitors have noted the structure of the house and nearby Movie Barn are basically an extended queue for families looking to take a picture with Mickey Mouse, rather than an exhibit itself. 
Snow White cottages
The houses in the film Snow White were very likely inspired by these early 1930s homes in Los Feliz, California, considering they stand a few blocks from Disney's original animation studio. Built during a short period of time when "storybook style" homes were in vogue, the deliberately dilapidated-looking houses proved difficult to insure by later owners. The houses are still available to rent, however.
On the opposite end of the West Coast, tucked away in Ollala, Washington, is a quirky fairy tale bungalow. An ongoing DIY construction project from the 1970s until its sale to the current owner in 2005, the interior is precisely what you would expect from the outside. Round doors, a tree house, plaster icicles in the kitchen, and a fireplace in every bedroom makes the layout cozy, but also a little confusing. Rounding out its fairy-tale feel, you can only access the kitchen through a hollow tree trunk, nothing is built to standard size and shape, and there's not a square corner in the place.