The Tragic Death Of Freddie Prinze
It would be a fair assumption to say that when most people hear the name Freddie Prinze, they're likely adding Junior at the end of it, to reference Freddie Prinze Jr. The latter is the actor best known for his roles in "She's All That" and "I Know What You Did Last Summer," and playing Fred in the live-action "Scoob-Doo" films (via IMDb). But his suffix came as a result of being named after his father.
Prinze Sr. was born Frederick Karl Pruetzel on June 22, 1954 in New York City. He attended the famed LaGuardia performing arts high school ,where he discovered his love for comedy. He changed his name to Prinze — a slight spin on Prince, because he wanted to be known as the prince of comedy, says Walk of Fame. By the mid-'70s his career was taking off. Prinze did comedic routines on a variety of talk shows, and in 1974, he landed himself his own show, a sitcom titled "Chico and the Man" (also via IMDb).The show would run for four seasons, but in its third season Prinze suddenly died.
The sudden death of Freddie Prinze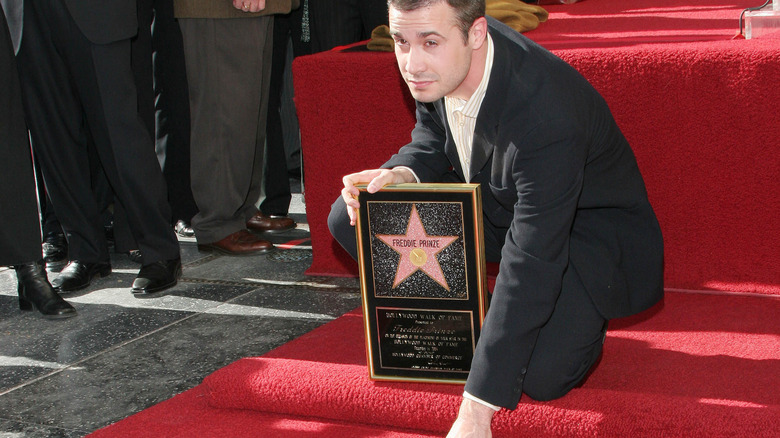 Joe Seer/Shutterstock
At the height of his rising career, Freddie Prinze married Katherine Cochran in 1975. Shortly after, they welcomed their only child together on March 8, 1976, a boy they named Freddie Prinze Jr. But the marriage wasn't paradise. After a little over a year of being married, his wife wanted to call it quits (via New York Daily News).
Prinze also had personal troubles. He had several run-ins with the law and was caught with drugs a few times. And he was allegedly suicidal, and had threatened to take his own life in the company of guests, per The New York Times. But one day he decided to go through with his threat. On January 29, 1977 in Los Angeles, Prinze called all his close relatives and told them that he was going to end his life. That night he put a gun to his head and shot himself. He was taken to a hospital before being pronounced dead. He was just 22 years old. When "Chico and the Man" returned for its fourth and final season a year after his death, Prinze was replaced by another character, named Raul, per TV Tropes.
Prinze never got to know the son that he named after himself, though Freddie Jr. would become a famous actor in his own right. In 2004, the son would attend a ceremony for his late father's star (pictured) on the Hollywood Walk of Fame (via UPI).
If you or anyone you know is having suicidal thoughts, please call the National Suicide Prevention Lifeline​ at​ 1-800-273-TALK (8255)​.