Does Mick Jagger Really Have A Preschooler?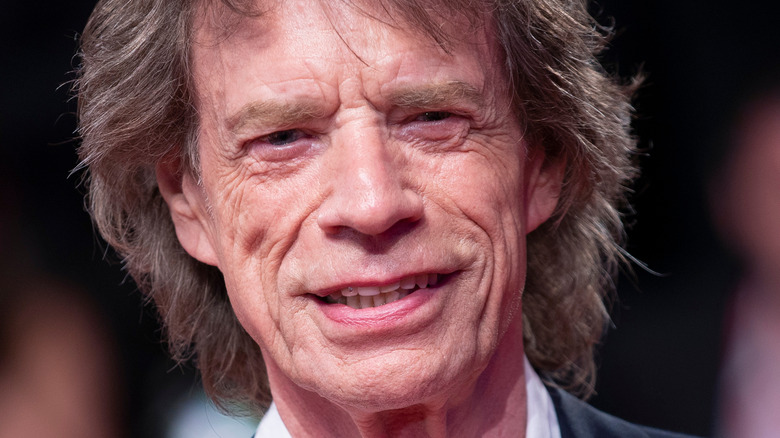 Denis Makarenko/Shutterstock
We all knew Mick Jagger has got moves (especially after Maroon 5 told us so), and he also has a lot of kids — eight, to be exact. The youngest one's age might surprise you, though.
The famous rocker and frontman of The Rolling Stones has been dating his current partner, Melanie Hamrick, for the past seven years. Hamrick also has some moves, as a former dancer with the American Ballet Theatre, according to Ultimate Classic Rock. She met Jagger — an infamous sex symbol and ladies' man — in 2014 while he was still with his then-partner of 13 years, fashion designer L'Wren Scott, who tragically died by suicide at age 49 in March of that year (via USA Today). Jagger and Hamrick quickly entered a relationship and were seen together by June 2014. Hamrick is 44 years Jagger's junior.
In 2016, Hamrick gave birth to Jagger's eighth child, a boy named Deveraux Octavian Basil Jagger. Basil is in memory of Mick's father, according to The Guardian, and Octavian means "born eighth" in Latin. Yep, young Devi, as he's called, has seven half brothers and sisters from Jagger's many previous relationships, ranging in age from 17 to 46 years old — some even older than Devi's mom.
So while you may have known that Mick Jagger has a lot of kids, you might not know the septuagenarian does indeed have a preschool-aged child. Not only that, he looks just like his dear old dad.
Over the years, Hamrick has shared precious snaps of young Devi, and the resemblance to his famous father is uncanny.
If you or anyone you know is having suicidal thoughts, please call the National Suicide Prevention Lifeline​ at​ 1-800-273-TALK (8255)​.
Deveraux Jagger has his father's famous pout
Melanie Hamrick previously shared a snap of her young son, Deveraux Octavian Basil Jagger, on her Instagram in September. One thing is totally clear: as Devi gets older, he looks even more like the famous Mick Jagger than before. Hamrick's previous photo of young Devi, was a stark black and white closeup of his face that also resembled Mick, with his full lips, sleepy eyes, and tousled hair. The captionless photo racked up a bevy of supportive comments, with one commenter saying what everyone was thinking: "Spitting image of his dad!!" 
That wasn't the only time Hamrick shared Devi with the world. In December, she shared a post from her blond boy's birthday. "HAPPY BIRTHDAY to our Wonderful Beautiful Boy Devi!!!!!!!!!!," the young mom posted, with several heart and party emojis. "The big 5." Accompanying the post are two photos of the young boy. The first shows off his "moves like Jagger," as he lands from a jump in a lunge with arms outstretched and smiling broadly — though perhaps he got those particular moves from his ballet dancer mom. In the second, he's wearing a suit with a white rose in the lapel and fanning himself with a white fan. He's also pursing his full lips, like his dad often did. The family seems very happy together, as evidenced by a July photo Hamrick posted of mother, father, and child. "Feeling all the love today," Hamrick wrote. "Thank you everyone for the wonderful messages."