What Stevie Nicks Says 'Gypsy' Is Really About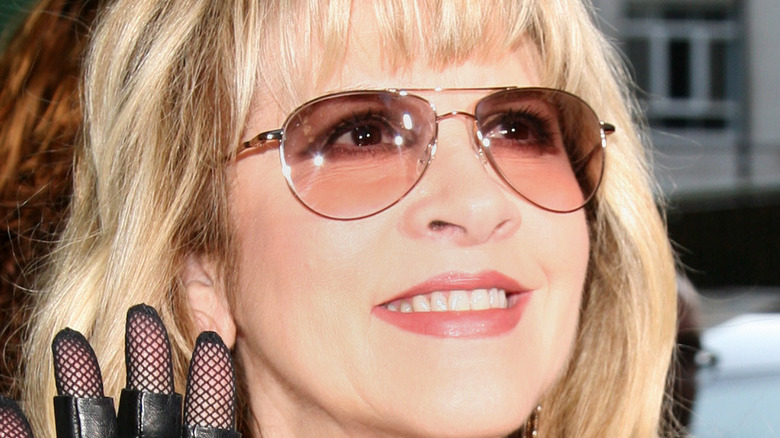 Featureflash Photo Agency/Shutterstock
Rock 'n' roll legend Stevie Nicks is not only a member of the supergroup Fleetwood Mac, she's also an extremely successful solo artist, still creating new music and performing shows around the world after first bursting onto the music scene in the mid-1970s. Though Nicks was already in bands and playing music in the late 1960s, it wasn't until she and her musical and romantic partner, Lindsey Buckingham, signed with Fleetwood Mac in 1975 that her star really started to rise. She's had a string of solo hit songs and is still a member of what many consider to be one of the greatest rock bands of all time, but she told CBS Sunday Morning (via YouTube) in a 2007 interview, that at the heart of it all, she's really just a storyteller — and there's no doubt about that. 
Her many songs, including "Bella Donna," "Edge of Seventeen," "After the Glitter Fades," "Leather and Lace" to "Sara," "Stand Back," "Silver Springs," "Dreams," "Landslide," and "Rhiannon" clearly illustrate that Nicks is a master of musical storytelling.
Inspiration Starts Small For Superstar Stevie Nicks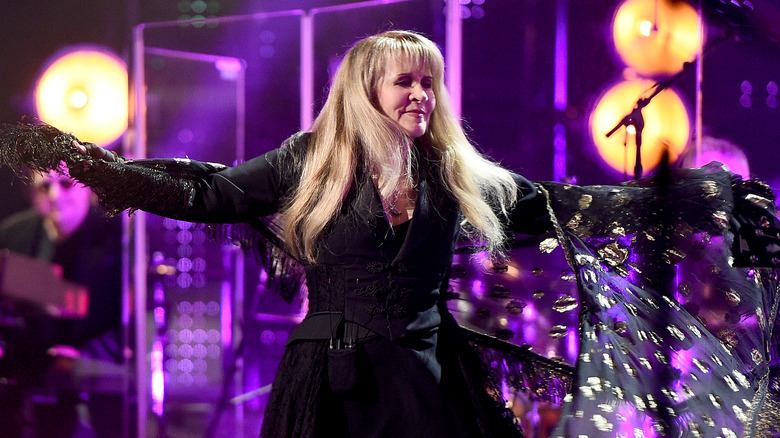 Theo Wargo/Getty Images
"It just starts with a little inspiration," Nicks explained to CBS (via YouTube). "Something will happen to me, whether it's something that happens to me, whether a man walks by me and just smiles at me in a certain way that just makes me go what a beautiful smile that was, and then I just might go and write, 'This smile is the only thing I saw...,' and there I'm off then. There my poem has begun." 
Which brings us to Nicks' popular Fleetwood Mac song "Gypsy," the definitive hit from the group's 1982 album "Mirage." It's one of the band's most famous songs of the 1980s, reaching No. 12 on the Billboard Hot 100 and remaining on the charts for 14 weeks (via Showbiz Cheatsheet). Many fans thought the song was simply a mirror of Nicks' mystical, gypsy-like style with her flowing hair and clothing, shawls, cloaks, and boots. But she has talked about the meaning of the song over the years. "Gypsy is about um ... going back to the gypsy that I was prior to Fleetwood Mac," she told Rock's Family Tree, according to the website, In Her Own Words.
Stevie Nicks says 'Gypsy' Is Really About A Simpler Life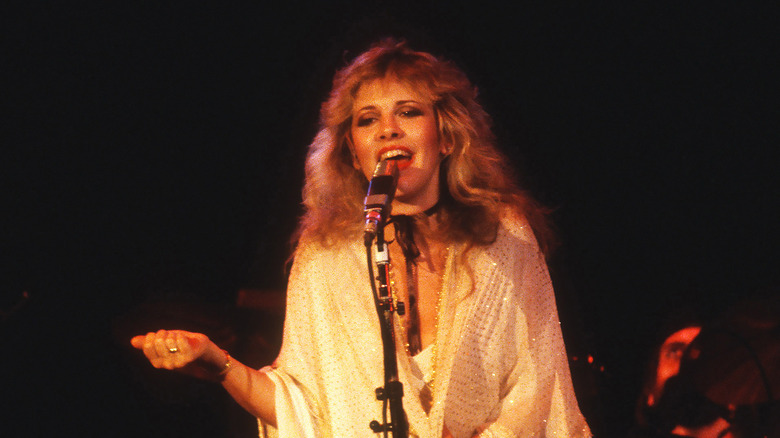 Larry Hulst/Getty Images
In the song, Stevie Nicks describes trying to get back to her "roots." She said the song was written after she moved from a large home into a really small house, trying to find a simpler way of life. "I put my bed on the floor and decorated totally gypsy-esque, and really funky, because I really wanted to get away from the big time-like this, very sophisticated house. I just wanted to go back to my roots," the singer said (via Showbiz Cheatsheet).
Nicks wrote and sang the lyrics, "So I'm back to the Velvet Underground. Back to the floor that I love. To a room with some lace and paper flowers. Back to the gypsy that I was."
She's talked about the song over the years because she's been asked about it quite a bit. In a 1983 interview with Jim Ladd, she boiled it all down.
"For me to be a gypsy, for me to write about the gypsy –- and for me to live the life of a gypsy that I love -– I sort of almost have to be almost cold and insensitive to be able to remain that gypsy. It's not easy to be a hippie-gypsy when you're rich and you're a rock 'n' roll star."