The Truth About Stevie Nicks' Spider Woman Persona
Mark Sagliocco/Getty Images
Singer, songwriter, and producer Stevie Nicks is known for her mystical, gypsy-like image — some would even say "witchy" — as both a solo artist and as a member of the legendary rock band Fleetwood Mac. She's been inducted into the Rock & Roll Hall of Fame twice, first as a member of Fleetwood Mac then as a solo performer. She's had best-selling albums solo and with the group (via Biography). She's a superstar and a legendary rock musician in her own right. While many fans would not be surprised by any number of Nicks revelations from her famous relationships with Lindsey Buckingham and Mick Fleetwood — both in Fleetwood Mac — as well as her drug addictions, comments about her spider woman persona have raised a few eyebrows.
What exactly is this persona? Nicks brought it up in a newspaper interview decades ago in 1987, according to the website In Her Words.
Stevie Nicks Says She Calls Herself The 'Spider Woman'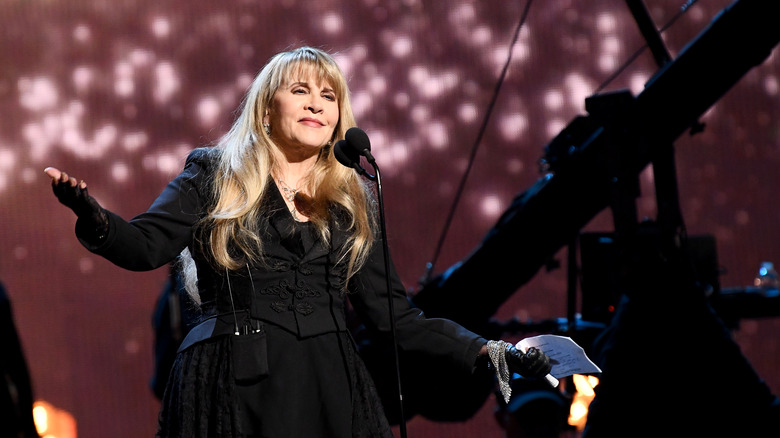 Dimitrios Kambouris/Getty Images
Per In Her Words, Steve Nicks explained:" "In Fleetwood Mac, I have a persona, I call myself the 'spider woman.' I try to imagine myself putting on a spider mask. I become very subdued and quieter, I don't move so fast. I'm in a state of suspended animation."
The "Bella Donna" singer said she's a different person in Fleetwood Mac than she is as a solo artist. "The only time you see that other girl from Red Rocks is in 'Stand Back.' I could never be like that in Fleetwood Mac, that's why I have two careers," she said. Nicks said when she's performing with the group, "I make up this character every night, and she's interesting, but she never gets crazy and keeps all her emotions very much within herself." Whether "spider woman" or the "other girl from Red Rocks," after 50-plus years in the music industry, Stevie Nicks has a lot more to say and is still going strong, creating music, singing, and dancing across the world's stages.