This Harvard Ritual Is One Of The Weirdest College Traditions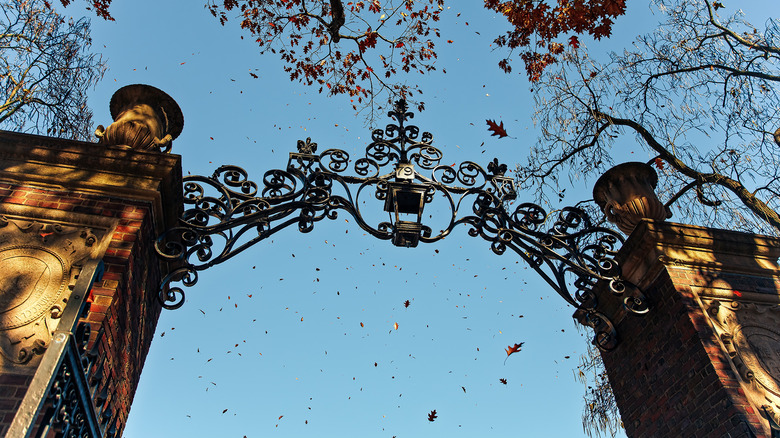 EvgeniiAnd/Shutterstock
Harvard University is nestled just outside of Boston, which means a winter night can be chilly, even below freezing. In most places, that kind of weather drives people inside, for a warm drink and a thick sweater. At Harvard, it drives them outside, completely naked, to run around in a circle.
The Harvard Crimson that the ritual of the Primal Scream, held at midnight just before final exams, relieves stress in an otherwise intense period. Participants have run one lap around the Harvard Yard, naked or almost naked, for decades. The university band (in blazers and underwear, although one young man featured in a Crimson photo seems to make do with a well-placed Santa hat) hypes up the toweled, shivering crowd. Then, when the clock strikes 12, they sprint. After their lap, the students retire to their dorms, presumably to get dressed and study.
It's a little like the running of the bulls in Pamplona, but on two legs, and with people in banana suits chanting "Free the d***!" and the bass line from "Seven Nation Army."
Tradition calls the pantsless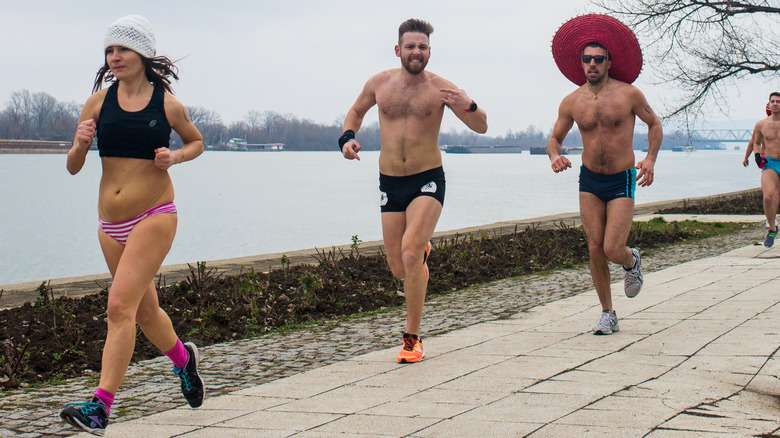 Marko Rupena/Shutterstock
Harvard graduates have been dangling their academic qualifications in front of everyone since the college was founded, but it's not clear when literal pantslessness became common practice.
The Crimson reports that Harvard students have been racing in the buff since about 1995. Before that, the event was more like what it sounds like: students, under the stress of their final exam preparations, would all stick their heads through the window and scream at the stroke of midnight. 
But streaking has a long tradition in the Ivy League schools. Forget the 1970s images of grinning, mustachioed idiots crashing the Oscars or invading a football pitch: In 1785, as a 15-year-old undergraduate, Charles Adams, son of the second American president, was disciplined for running naked across the Harvard Yard with a group of his intoxicated friends (via PBS).
Well, kids will be kids and Harvard will be Harvard. In 2014, when Black Lives Matter protesters camped in Harvard Yard, the nude mob ran counterclockwise rather than cancel the run, apparently for the first time in 20 years. And while the COVID-19 pandemic forced a brief halt in the custom, have no fear — as of midnight on December 10, 2021, the runners are back and nuder than ever, ready to answer tradition's call.