Diaries From Famous People Published After They Died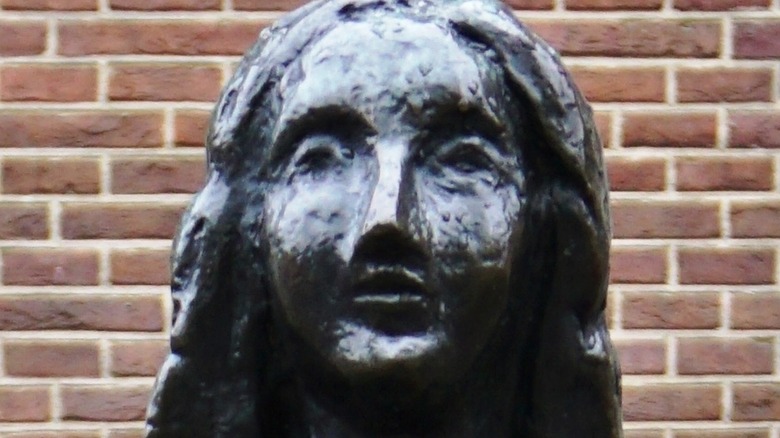 EQRoy/Shutterstock
Diaries are personal journals, a way to write down one's inner most thoughts and opinions on everything from romance to politics. Plenty of famous people kept personal diaries, too, and some of those that have been published after the well-known celebrity's death, which begs the question: Should we read someone's personal musings without their consent? For better or worse, though, the diaries are out there now, and it has even become somewhat of a norm to find out about the titillating diaries of the rich and famous after they've passed on.
One of the most famous diaries ever written, though, was by a young Jewish girl hiding out with her family from the Nazis during World War II. It's now read by schoolchildren around the world. Anne Frank (above) wrote her famous journal during the two years she and seven others were living in a secret attic in Amsterdam between 1942 and 1944. The last entry by Anne in "The Diary of a Young Girl" when she was 15 was about how others see her, describing herself as "a bundle of contradictions" (via History). Her father, the only one of his family to survive the concentration camps, was later given her diary, and published it in 1947. It went on to become an international bestseller.
Marilyn Monroe's diaries reveal her insecurity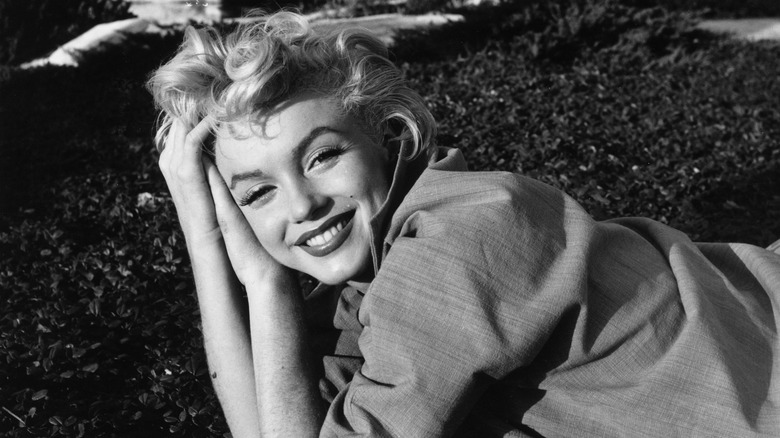 Baron/Getty Images
Marilyn Monroe is one of the most recognizable sex symbols of all time. The actress died of an overdose of sleeping pills when she was just 36, according to The New York Times, and while she was one of the most photographed women in the world and her battle with depression was just as public at times, her inner thoughts and feelings remained mysterious. Her public persona was that of a ditsy, blond bombshell in all but two of her movies. But a collection of her diaries published in 2017, titled "Fragments," sheds light on the real Norma Jean Baker.
In a review, the Daily Beast described the book's themes as "loneliness, sadness and disappointment," yet it also "provides an intimate look at a complex woman, brimming with intelligence and awareness," who might have been able to fight off her demons, had she lived. The book reveals Monroe's fears that she'll skewer her lines or that the director won't like her, showing an underlying insecurity that she was never able to overcome in her short life.
Tupac Shakur was a sensitive soul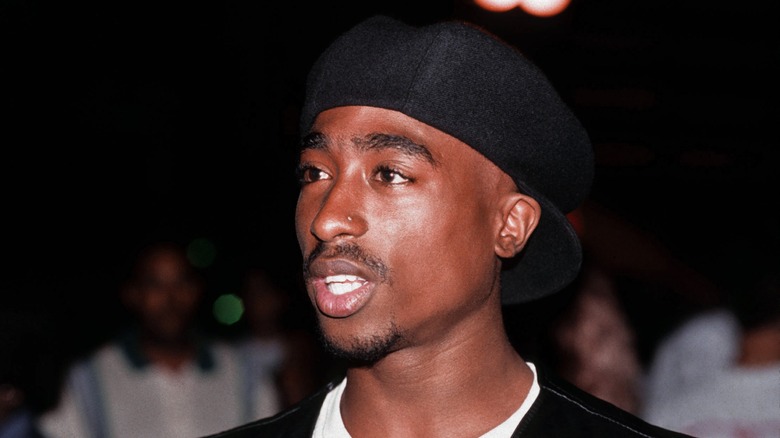 Al Pereira/Getty Images
Rapper Tupac Shakur's diary was released three years after his death at the age of 25 (via Britannica). "The Rose that Grew from Concrete" is a collection of the musician's poetry which he started writing at the age of 19 and which offers readers insight into his world and its contradictions. "The world moves fast and it would rather pass u by / than 2 stop and c what makes you cry," Shakur wrote in an emotional line that also mirrored the rapper's mindset in his early years before fame took him by storm into a world that would eventually see his death.
He was, at heart a sensitive soul, yet he was seen as a rebel at the start of his career, rapping about the injustices African Americans endured in the U.S. He got caught up in a feud between East and West Coast gangsta rappers that would end in his murder in a drive-by shooting in Las Vegas in 1996 (via Biography). Shakur's murder remains unsolved to this day, but his influential music and films live on.
Kurt Cobain's widow sold his writings for $4 million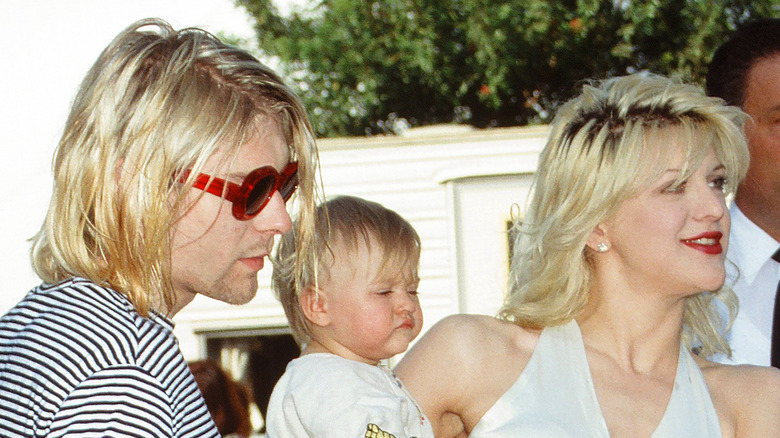 Kathy Hutchins/Shutterstock
Courtney Love, the widow of pioneering grunge music icon and Nirvana frontman Kurt Cobain and a rocker in her own right, sold her late husband's diaries and writings in 2000, six years after his death, for $4 million. Cobain's writings included dozens of notebooks containing lyrics, drawings, plans for his band, and his musings on the music industry (via NPR). "Journals" was published in 2002 by Riverhead Books and opened at No. 1 on the New York Times bestseller list for non-fiction.
The front cover of the book is a replica of Cobain's Mead notebook, which includes the words "If you read you'll judge" scrawled across the front. Cobain killed himself with a shotgun in 1994 in his Seattle home. His body was found dead several days later, as well as a suicide note in red ink addressed to Courtney Love and his daughter, Frances Bean. The singer and guitarist had battled a heroin addiction and committed suicide after leaving a rehab center in Los Angeles (via IMDb).
Excerpts from Nina Simone's diaries have been published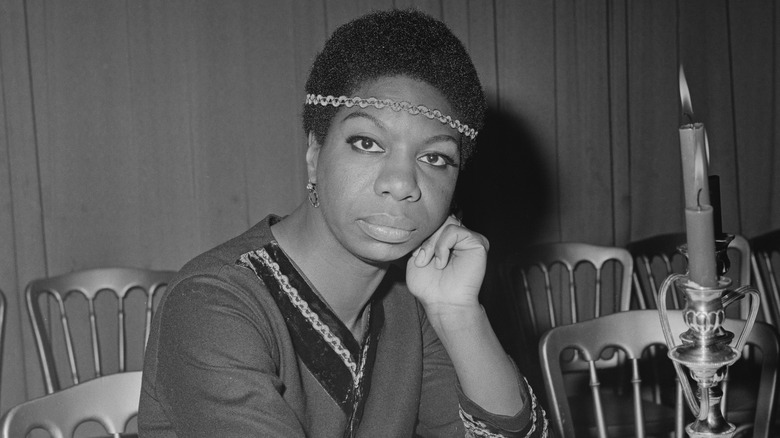 Ian Showell/Getty Images
The enigmatic, talented musician and civil rights activist Nina Simone left secret diaries that only her husband knew about, until writer Joe Hagan had a chance to review them seven years after Simone's death at age 70 in 2000. The diaries covered a period in the early 1960s; Hagan published an article about them in 2010 in The Believer.
Known for hits such as "I Put a Spell On You" and "Don't Let Me Be Misunderstood," Simone's personal diaries have yet to be published, but Hagan wrote that they reveal the true performer. "By turns luridly raw and heartbreaking, Simone's diary and letters illuminate her defining years as an artist." Hagan said her diaries reveal her struggle with fame and performing as a Black woman, and her relationship with her abusive husband, Andrew Stroud. Simone also struggled with mental illness, specifically bipolar disorder, which wasn't diagnosed until later in life.
St. Faustina's diary reveals visions of Jesus Christ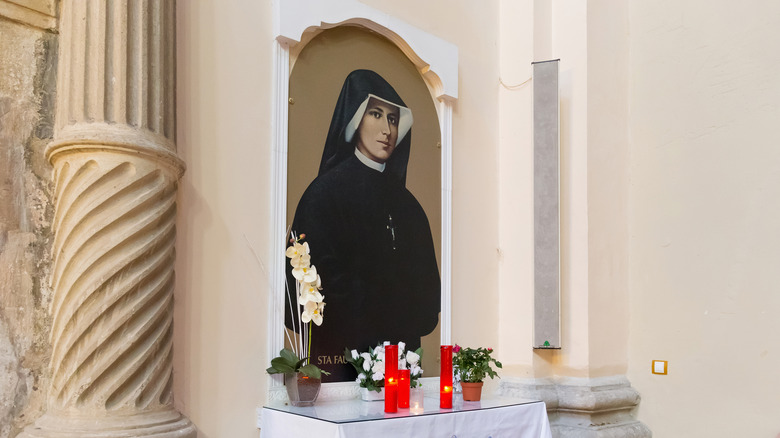 Alexey Pevnev/Shutterstock
By some accounts, one of the most interesting diaries of the 20th century is a book by Faustina Kowalska, who is now a Catholic saint. St. Maria Faustina was a mystic. The book, "Diary: Divine Mercy in My Soul," published in 1981, is based on the Polish nun's writings between 1934-1938, before World War II. She died in 1938 at the age of 33.
Baptized as Helena, she took the name Faustina when she joined the Congregation of the Sisters of Our Lady of Mercy in Warsaw in 1925. She had many visions of Jesus Christ and wrote them down in her diaries (via Krakow-Travel). Although not in chronological order, her diaries tell the story of messages or revelations she received from Jesus, focusing on the mercy of Christ. Her writings also inspired a movement culminating in a new Catholic feast day of the Divine Mercy. She was canonized by St. John Paul II, who was pope at the time in 2000. She became the first saint of the new millennium (via The Divine Mercy).