Creedence Clearwater Revival Holds This Surprising Record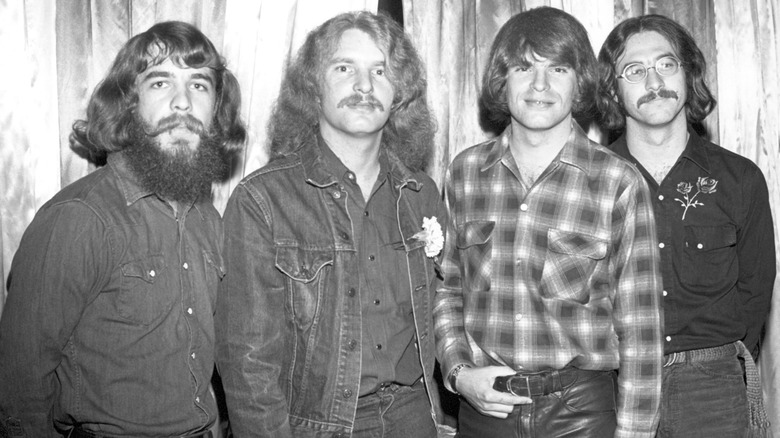 Donaldson Collection/Getty Images
With the landscape of music swiftly changing all around in the late 1960s, Creedence Clearwater Revival emerged from the San Francisco Bay Area to become one of the era's most recognizable and iconic bands. Unlike most bands from the region, CCR wasn't all about psychedelic trips or gentle, peaceful balladry; they drew many of their lyrical and musical influences from the bayou, with vocalist-guitarist John Fogerty sounding more like a lifelong resident of Louisiana than a kid from El Cerrito, California, who was finally making it big with his older brother and two school friends backing him up.
The end came rather unceremoniously for CCR, as they disbanded in 1972 amid growing conflicts between Fogerty and said school friends, bassist Stu Cook and drummer Doug Clifford — John's big brother, rhythm guitarist Tom Fogerty, quit the band almost two years prior. However, they left behind quite the legacy, as songs such as "Proud Mary," "Fortunate Son," and "Have You Ever Seen the Rain" are still staples of classic rock radio and remain recognizable even to younger listeners. The band also has an interesting distinction that sets them apart from all the other acts who've appeared at least once on the Billboard singles charts.
CCR: Always the bridesmaid, never the bride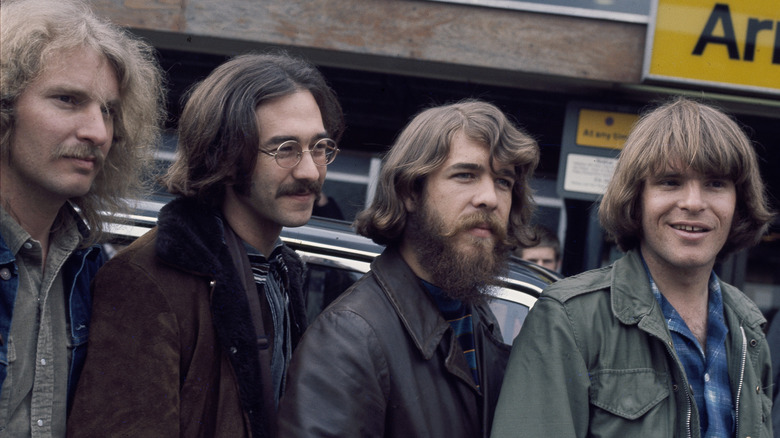 Michael Putland/Getty Images
Despite their unquestioned ability to crank out hits, Creedence Clearwater Revival never topped the Billboard Hot 100. That may not sound too unique until you realize how frequently they were just one spot away from claiming the No. 1 position. To be specific, CCR holds the record of having the most No. 2 singles on the Hot 100 without ever reaching the top spot. Per RuleFortyTwo.com, the only other acts that come close to that record are '90s R&B trio En Vogue and CCR's late '60s/early '70s contemporaries Blood, Sweat & Tears, both of which have three No. 2 singles and zero No. 1s.
Just who was keeping CCR away from the top? For "Proud Mary" in 1969, it was two songs — Sly and the Family Stone's pro-equality anthem "Everyday People" and Tommy Roe's bubblegum pop ditty "Dizzy," according to Far Out Magazine. That song about a bathroom on the right, or should we say, "Bad Moon Rising" was blocked by Henry Mancini's "Love Theme from Romeo & Juliet," a song that also happened to displace the Beatles' "Get Back" when it first rose to No. 1. Bubblegum pop then struck again when the Archies' "Sugar, Sugar" prevented "Green River" from topping the Hot 100.
Moving forward from 1969 to 1970, the double A-side "Travelin' Band"/"Who'll Stop the Rain" played second fiddle to an absolute classic of a ballad — Simon & Garfunkel's "Bridge Over Troubled Water." Keeping with the same strategy, CCR released "Lookin' Out My Back Door" and "Long As I Can See the Light" as a double A-side that same year ... only to fail to displace Diana Ross' version of Marvin Gaye and Tammi Terrell's "Ain't No Mountain High."