Here's Who Inherited Ruth Bader Ginsburg's Money After She Died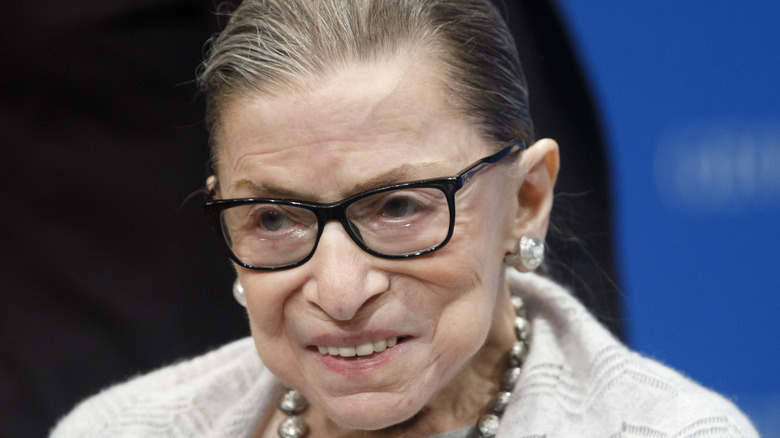 Tom Brenner/Getty Images
The late associate justice of the U.S. Supreme Court, Ruth Bader Ginsburg, advocated for many causes before she died on September 18, 2020, from pancreatic cancer at the age of 87. In her 27 years on the high court, she often championed women's rights, same-sex marriage, and more through the cases she judged and the opinions she wrote (per USA Today). Before becoming a justice, she argued six pivotal gender equality cases in front of the Supreme Court, according to Biography. 
The co-founder of the Women's Rights Project at the ACLU believed that "Women's rights are an essential part of the overall human rights agenda, trained on the equal dignity and ability to live in freedom all people should enjoy" (via ACLU). Part of that included financial autonomy. Some of the legal cases she worked on showed this, such as the Equal Credit Opportunity Act of 1974, when Ginsburg endorsed allowing women access to financial accounts such as credit cards, mortgages, and bank accounts without requiring a male to co-sign (per CNBC). 
Per Town and Country, Ginsburg preferred to be remembered as "someone who used whatever talent she had to do her work to the very best of her ability. And to help repair tears in her society, to make things a little better through the use of whatever ability she has." Still, RGB did leave behind a financial legacy as well, with an estate estimated at $5.5 million, according to Wealth Management. Who inherited it?
The next generation of Ginsburgs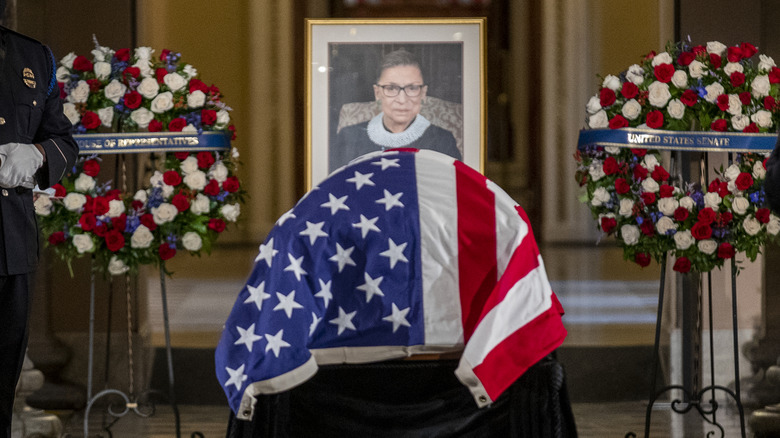 Pool/Getty Images
Ruth Bader Ginsburg's children, Jane and James Ginsburg, received the bulk of her estate, reported Wealth Management. She also gave $40,000 to her housekeeper, Elizabeth Salas, who was also a good friend. Salas also attended Ginsburg's memorial ceremony, along with President Joe Biden, when the justice became the first woman to lay in state in the U.S. Capitol, according to The New York Times. TMZ said that her will included about $250,000 worth of personal property, such as cars, furniture, books, art, sculptures, paintings, photographs, silver, porcelain, jewelry, and clothes.
Both Jane and James are also executors of the will. Jane followed in her mother's footsteps and became a lawyer, said Distractify. She is currently a professor at Columbia Law School, and also oversees its Kernochan Center for Law, Media, and the Arts as faculty director. She has two children with lawyer George T. Spera. James is a musician married to another musician, Patrice Michaels. In 2018, the husband and wife team paid honor to their famous relative when they made an album, "Notorious RBG in Song," that tells Ginsburg's life story. The record includes a nod to James' childhood with the song, "The Elevator Thief." The tune tells the tale of how when the headmaster calls to complain about her son's joyriding on the school elevator, Ginsburg rebukes him, "I remind you that this child has got two parents!" (via Chicago Tribune). Even as a parent, Ginsburg made strong proclamations.