The Real Reason New Order Broke Up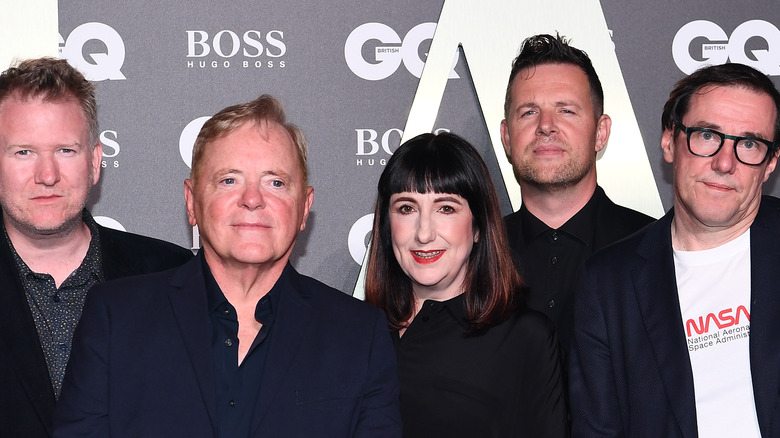 Jeff Spicer/Getty Images
New Order was a highly influential British rock band who played a defining role in the '80s music scene and left an indelible impact on rock 'n' roll and electronic music. However, from the beginning to the end of their decades-long journey as a band, New Order was plagued by internal drama, tragedy, and chaos.
The story of New Order begins with the collapse of another band — Joy Division. That group was on the cusp of their first American tour when lead singer Ian Curtis died on May 18, 1980, at the age of 23, per Spin. Curtis and Joy Division left behind a mythical legacy that continues to define Joy Division today.
Following Curtis' death, the three remaining members of the band — Bernard Sumner, Stephen Morris, and Peter Hook — decided to drop the group's name. With the help of keyboardist Gillian Gilbert, they would eventually rebrand as New Order, according to The Guardian. Their time as a band would last far longer than Joy Division had, and they would achieve global renown, but the road wouldn't be smooth.
New Order's success culminates in a slow-burning band breakup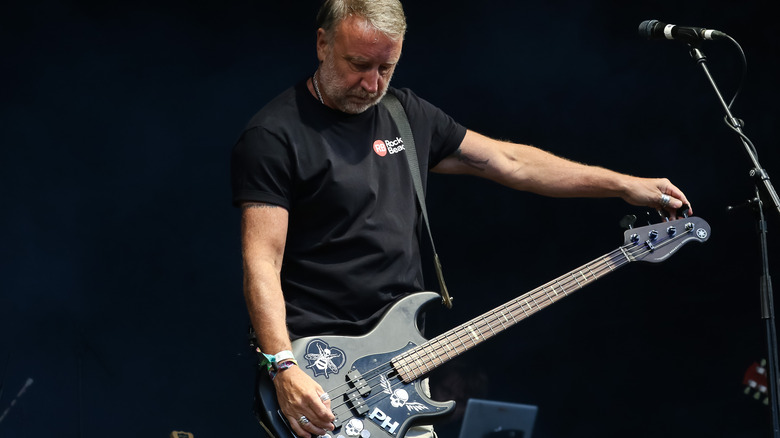 Carla Speight/Getty Images
New Order officially broke up for the first time in 2007, but troubles began to plague the band as far back as 1991, when Bernard Sumner started a side project with electronic musician Johnny Marr. "In my mind, Bernard split us up in 1991 when he went off with Johnny Marr [to form Electronic]," said Hook, per NME. Tensions continued to grow when Peter Hook bought the rights to the music the band had recorded at Hacienda, a nightclub co-owned by New Order, and subsequently sold "Hacienda Classics" compilation albums, angering his bandmates, per NME.
Later on, in 2006, Hook announced that the band might be splitting up. "This might be our last concert ever," he told Argentinian newspaper Página/12. However, he had neglected to mention this news to the rest of his bandmates, and the callously delivered statement fractured the band. Later, in 2007, Hook solidified the breakup by posting a strange statement on the band's MySpace page, per Wired.
By 2009, Hook was telling NME, "There is no current situation [with New Order] ... We split up two years ago. For a while Bernard seemed to be a bit confused about that but now, from what I gather, he's accepted it."
New Order re-forms without Peter Hook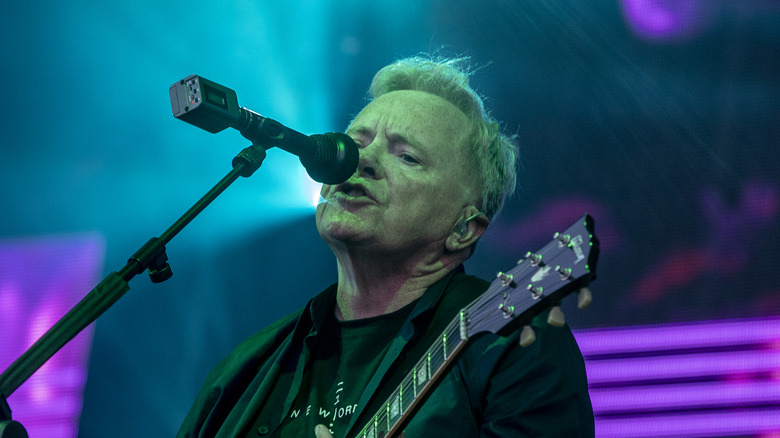 Yuliya Christensen/Getty Images
In 2011, New Order came back together for a benefit show without inviting Peter Hook, and in classic 2009 fashion, he responded by angrily posting on MySpace. "I first heard about this on Monday, and it has taken me completely by surprise!" wrote Hook, per NME. Apparently, the band had failed to tell Hook they were reuniting. "It's like being divorced and getting shown the door without even being told why," Hook told CNN.
Since then, tensions have continued to fester between Hook and his bandmates, with members frequently insulting each other in interviews. In 2015, Hook sued his bandmates for millions of pounds in royalties, according to The Guardian.
As of 2020, though, Hook seems to want some form of reconciliation with his bandmates. "We should stop the feud before one of us dies," he told Express. "A mate told me recently, 'One of you is going to take this to the grave.' It just needs one of them to pick up the phone, or have their lawyer say, 'Let's have a meeting.'"