What Katharine Hepburn's On-Set Behavior Was Really Like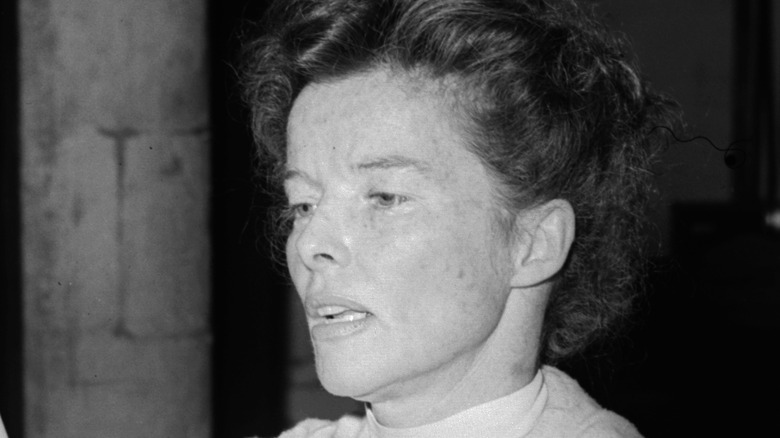 Nixon/Getty Images
For more than six decades, actress Katharine Hepburn enchanted audiences with her performances in movies and on the stage. She won four Academy Awards playing feisty, independent characters (from Entertainment Weekly) such as Ethel Thayer in 1981's "On Golden Pond," in which Hepburn did her own stunts at age 74 (via Jane Fonda).
Hepburn started acting while at Bryn Mawr College, and after she graduated she performed on and off Broadway, according to Biography. After an RKO Radio Pictures talent scout saw one of her stage performances, Hepburn got an audition for the 1932 film "A Bill of Divorcement," with acting legend John Barrymore. She won the part and the movie did well. RKO offered Hepburn a contract and just a year later she won an Oscar for her role in "Morning Glory," opposite Douglas Fairbanks Jr. Other lauded performances followed, with Hepburn playing Jo in "Little Women," based on the Louisa May Alcott book; Tracy Lord in "The Philadelphia Story," opposite Jimmy Stewart; and nine films with Spencer Tracy, who had a 27-year relationship with the actress. Hepburn won another Academy Award when the two paired for "Guess Who's Coming to Dinner," according to the Smithsonian. 
Despite the acting accolades, Hepburn wasn't always well-liked on movie sets. She refused to adhere to preconceived notions of how women should behave and preferred wearing pants and no make-up, said History. Plus, she often turned down requests for photos, autographs, and interviews. These attitudes made her seem disagreeable, arrogant, and self-centered — but was she? 
An actress who valued comfort over fashion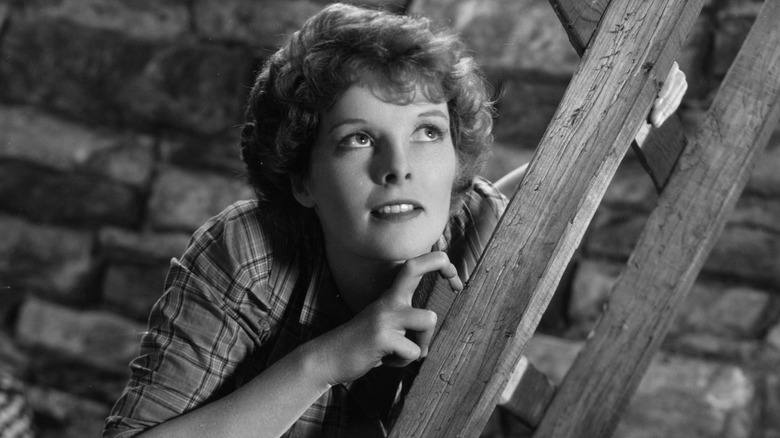 General Photographic Agency/Getty Images
Hepburn liked speaking her mind, and that sometimes polluted her reputation. While filming "A Bill of Divorcement" at RKO the costume department took away her preferred clothing — trousers — since they found them boyish and sloppy. Hepburn (above in the movie "Spitfire") never gave in to their demands that she wear something else. Instead, she strode around in her underwear until her pants were returned, according to Biography. "If you obey all the rules," the publication quoted the star, "you miss all the fun."
She never wholly embraced fans as some stars do, and often sought a way out of the limelight. "Once a crowd chased me for an autograph," Biography quoted. "'Beat it,' I said, 'Go sit on a tack!' 'We made you,' they said. 'Like hell you did,' I told them." The actress was even proclaimed "box-office poison" in 1938 after she acted in several unsuccessful films. RKO and she parted, but instead of giving up, Hepburn continued acting. She appeared in the Broadway play "The Philadelphia Story," later reprising her role as Tracy Lord in the film adaptation (from Legacy). Playwright Philip Barry wrote the role specifically for Hepburn, said the Santa Barbara International Film Festival.
Unconventional love affairs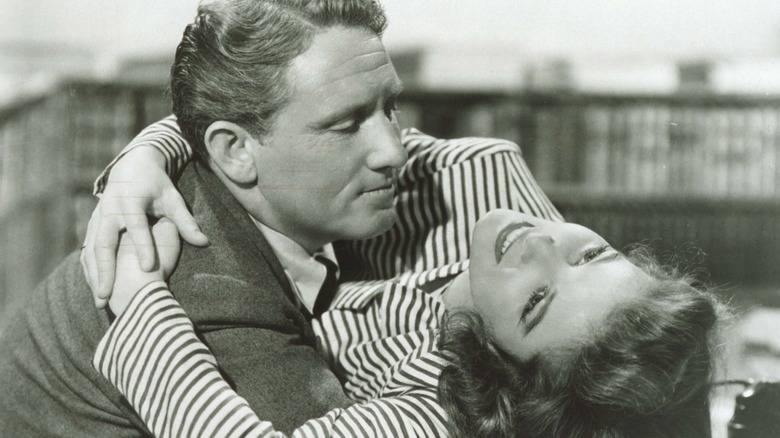 Getty Images/Getty Images
Some of Hepburn's most important relationships were rather scandalous, since they involved married men. In an excerpt from the biography "Katharine Hepburn," by Barbara Leaming, printed in Vanity Fair, the author wrote about how when Hepburn worked with director John Ford on 1936's "Mary of Scotland," he told her, "You're a hell of a fine girl. If you'd just learn to shut up and knuckle under, you'd probably make somebody a nice wife." Still, he liked her intelligence, her opinionated ways, and her willingness to try things. The two entered into a relationship of sorts; Ford was married and he considered divorcing his wife, Mary, for her, but never did.
Her long-term love affair with actor Spencer Tracy (with Hepburn, above) also occurred while he was married to his wife. Tracy and Hepburn met in 1942 to film "Woman of the Year," said History. Tracy, a Catholic, refused to divorce his wife, but often lived with Hepburn, even though they had separate homes. Still, many quietly accepted their pairing as the studio tried to keep the romance quiet, afraid of a negative response from audiences. Biography quoted Gene Kelly as saying that the two would meet at lunchtime, "they'd just meet and sit on a bench on the lot. They'd hold hands and talk — and everybody left them alone in their little private world." 
Hepburn died on June 29, 2003. She was 96. "Life is hard," she joked in her autobiography ("Me: Stories of My Life"). "After all, it kills you" (from Good Reads).