What Montana In 1883 Was Really Like
In "1883," the Paramount+ prequel series to the popular show "Yellowstone," the fictional Dutton family's 19th century rise to power is chronicled as their ancestors make their way from poverty in Texas to the promise of new beginnings in the Territory of Montana. The show depicts an unforgiving journey full of hazards as Sam Elliot's Shea Brennan (above) vows to keep his caravan of migrants safe (via Vanity Fair). What was Montana in 1883 really like, though? Was it truly perilous and difficult to thrive, and what history was made there? 
There was in fact a great deal going on in the region, particularly in regard to the rail industry. Great Falls, one of modern Montana's largest and most important cities, was founded in August of 1883 by railroad developer and future U.S. Senator Paris Gibson in order to help expand the territory's rail network (via Library of Congress). The following month, however, an even more important event came to Montana that forever shaped travel in the United States: the completion of the Northern Pacific Railway (via Ocean Thermal Energy Corporation).
Montana was full of change and hardship in 1883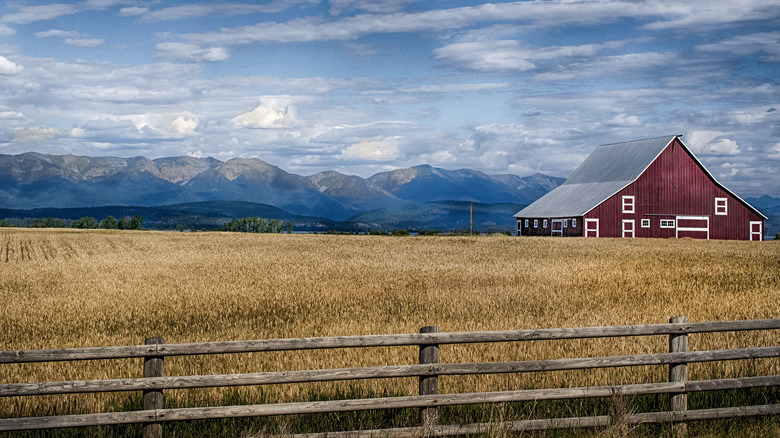 Benjamin Scherliss/Shutterstock
As former president Ulysses S. Grant personally traveled to Montana in order to participate in the final "Golden Spike" ceremony, elsewhere in the territory exceptionally negative change had come as well. Montana is within the natural range of buffalo, and by 1883 was one of the many places where it became clear industrial-scale hunting was one of the causes of the animals' near extinction (via All About Bison). This snowballed into negatively affecting both the ecosystem and the lifestyles of local tribes, who to this day are working to restore the animals' populations (via CBS).
Life for the incoming homesteaders was often not much better, something that was highlighted in the short-lived PBS series "Frontier House." The premise of this series was to have modern contestants try to succeed as though they were living on the 1883 Montana frontier. While not 100% accurate to the period or experience (i.e. comparatively minimal risk of severe injury, attack by thieves or Native people, or disease such as smallpox), it still proved to be a very difficult experience for all involved (via PBS).