The Poem Snoop Dogg Wrote For Tookie Williams' Funeral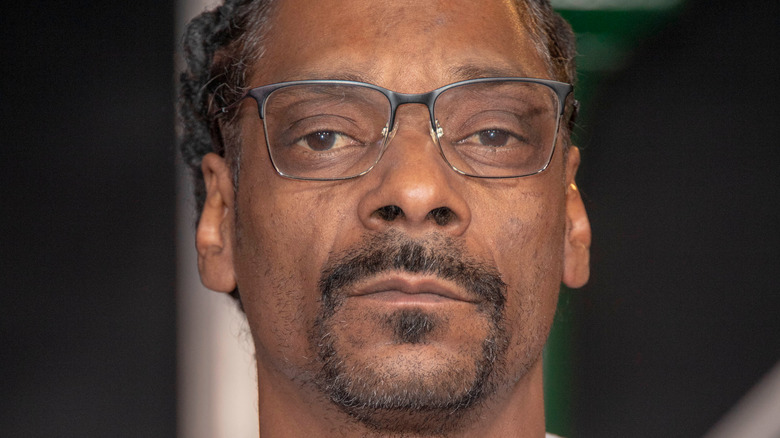 Eugene Powers/Shutterstock
Rapper Snoop Dogg rose to fame in the early '90s. The Long-Beach-raised artist had a seemingly normal upbringing during his childhood before he entered the limelight in 1993 as a featured artist on Dr. Dre's first solo song, "Deep Cover." In the following years, Snoop became one of leading gangsta rap artists, and likely based a lot of his early music on his personal experiences with street life. When Snoop Dogg was in his late teens, the rapper had a few run-ins with police that led to him doing some jail time (via Britannica).
Though reports differ, it is said that Snoop Dogg was associated with the Rollin 20's Crips — a Long Beach faction of the notorious Crips gang, says Biography. Snoop, however, has denied any ties to the street gang, per New Musical Express, despite leading or being featured on countless songs titled after the gang, such as "Super Crip," "Crip or Die," and "Crip Hop," (via Genius).
Whether he was actually a member of the Crips, Snoop Dogg did have some connection to the gang's co-founder, Stanley "Tookie" Williams — one strong enough that the rapper delivered a eulogy during Williams' funeral.
Snoop Dogg's final words for Stanley 'Tookie' Williams
David Mcnew/Getty Images
Stanley "Tookie" Williams was convicted for several murders in 1981 and sentenced to death. He would spend more than 24 years behind bars before beingexecuted by lethal injection on December 13, 2005. During his time on death row, Williams turned his life around, advocating against violence, and appealed to have his sentence commuted — but the state of California never budged and his execution proceeded that year.
Despite the conviction and death sentence, many people were supporters of Williams being granted clemency. One of them was Snoop Dogg. A week before the former gang leader's execution, the rapper paid him a visit (via WTSP). He credited Williams for having a huge impact on his life and discussed how that influenced his own work to promote peace (via San Francisco Chronicle).
At the funeral service on December 20, Snoop Dogg had some final words for Williams when he read his poem titled "Until We Meet Again." In the 5-minute-long poem (via LA Indy Media), Snoop Dogg spoke about continuing Williams' work to advocate against gang life, the harshness of the criminal justice system, and how societal views on race impact judicial decisions. Snoop also spoke on California's then-governor Schwarzenegger and his decision to not grant Williams clemency. The rapper was also seen crying at the service.
Though he maintains never having any gang ties, Snoop Dogg's music has demonstrated some kind of connection to the Crips gang, and by extension, his own relationship and reverence of the gang's co-founder, Tookie Williams.