The Surprising Connection Between Ronald Reagan And The Beach Boys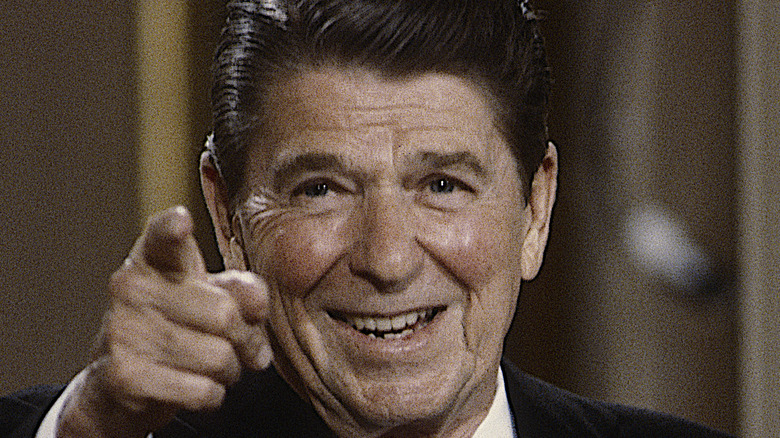 mark reinstein/Shutterstock
Former Secretary of the Interior James Watt certainly had what both contemporary and subsequent onlookers would consider a narrow view of music considered appropriate for public consumption. To be specific, the entire rock genre was banned from Washington D.C.'s National Mall for the July 4th celebration in 1983, as Watt believed there were more "wholesome" options that did not encourage the use of drugs and alcohol (via Smithsonian Magazine). 
Once his position became public, the public outcry was practically universal. The Beach Boys — one of the bands Watts believed embodied this inappropriate messaging — made their displeasure known, as did longtime fans Ronald and Nancy Reagan, who proceeded to invite the band to perform at the 1983 Special Olympics (via First Coast News). After the Watt affair, President Reagan even reportedly told the group he would help them however he could should they ask, an offer he was taken up on when tragedy struck months later.
Ronald Reagan broke protocol so as to not break his promise to the Beach Boys
Beach Boys co-founder Dennis Wilson was plagued by many demons. Like his siblings he was subjected to horrific abuse growing up, and was ridden with guilt after he lived alongside Charles Manson just prior to the Manson Family murders. Wilson drifted away as he became addicted to drugs and alcohol, but was set to enter rehab not long after the band's performance in Washington D.C. (via Far Out Magazine). Sadly on December 28, 1983, he drowned in a harbor while drunk, attempting to retrieve items belonging to his ex-wife that he had once discarded there.
According to The Guardian, Wilson's family requested that the avid beachgoer be buried at sea by the Coast Guard without being cremated, but such a burial was only permissible for service members. Despite this rule, and protest from some officers, Ronald Reagan ensured that Wilson received the honor (via The New York Times). The surviving Beach Boys played for the Reagans again at the 1985 Presidential Inaugural Gala per The Washington Post, and in 2016 they were playing a concert just hours after news broke of Nancy Reagan's death. To honor the late First Lady, they paid special tribute to her during the show (via Rolling Stone).