Rolling Stone Originally Slammed AC/DC's First Album. Here's What The Magazine Said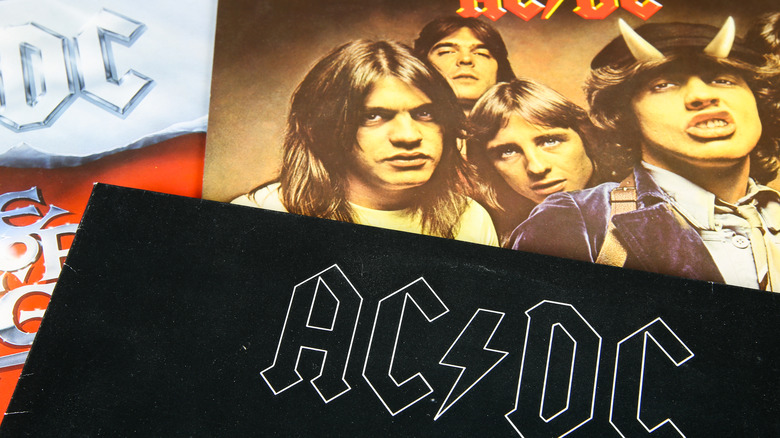 Ralf Liebhold/Shutterstock
The rock world is a contentious one, but many would agree that AC/DC's first album, "High Voltage," was a powerful and influential record. As All Music's Stephen Thomas Erlewine reports, it was released in 1976, and boasted "every single one of AC/DC's archetypes," making it "the blueprint they've followed all their career."
With all the mighty riffs and questionable lyrics the band later personified, there's no denying that "High Voltage" was crucial to AC/DC's development from obscure Australian rockers to a global powerhouse. Nevertheless, as Rolling Stone readily admitted in 2016, their initial review of the album was truly scathing.
On December 16, 1976, Billy Altman of Rolling Stone wrote that "High Voltage" wasn't just a disappointing example of its genre, it marked "its all-time low." The band would later go on to win a litany of industry awards (including the 2009 Grammy Award for Best Hard Rock Performance for "War Machine," per the official website for the Grammy Awards), but Altman didn't have the benefit of in-depth knowledge of the future. Instead, the review dismissed AC/DC as "Australian gross-out champions."
Altman went on to say that the lyrics of "High Voltage" were simplistic and shallow, and that vocalist Bon Scott "spits out his vocals with a truly annoying aggression." The instruments apparently didn't contribute much either, with scorn heaped on the "mindless three-chord formations" that made up the sound of the record. All in all, Altman dubbed "High Voltage" mere "calculated stupidity."
AC/DC's "High Voltage" went on to be hugely important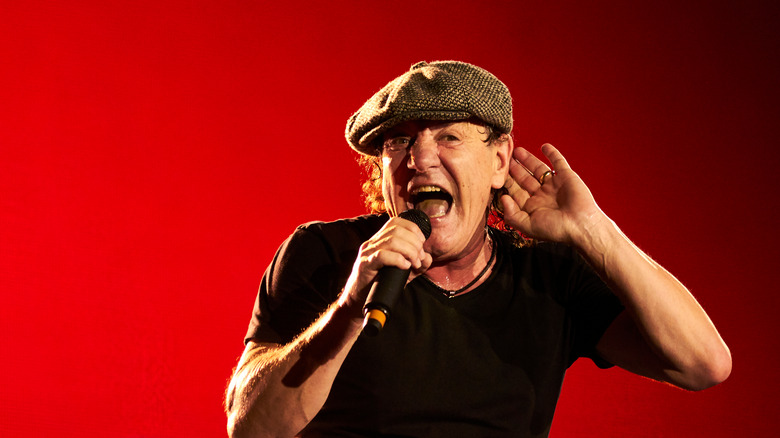 Photography Stock Ruiz/Shutterstock
Of course, the fascinating AC/DC has never been an outfit dedicated to sophistication and precision. Co-founder, Angus Young, elaborated a little on the creation of "High Voltage" in a 1997 interview, per Far Out Magazine: "Malcolm and George said, 'You know, it would be cool if we had a song that had the chords A,C,D,C in it ... We more or less throw them together and I had a little chant, this 'high voltage' thing that I was singing ... it paid the rent!"
Despite this, there's an accessibility and relentless energy about their music — a sense that they nailed everything they were about very early in their careers and absolutely ran with it all. In that 2016 retrospective piece, Rolling Stone conceded that sometimes their "takes didn't quite line up with history," and this review was one of those cases. Later, in 1983's "Rolling Stone Record Guide," David Fricke wrote that such negative reviews weren't exactly a rarity for the band, but "what the critics don't know, the heavy-metal kids understand." Fricke went on to deem the band and their landmark album "rock & roll party thunder, 110-decibel escapism fired up by panzer division riffs 'n' rhythms."