The Tragic Murder Of Young Dolph Explained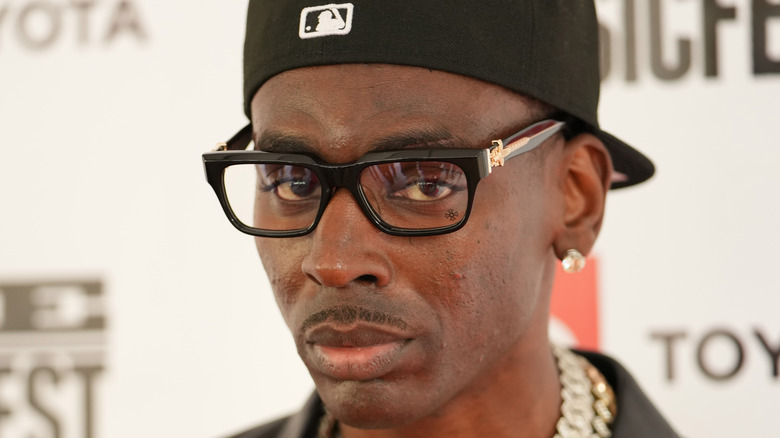 Paras Griffin/Getty Images
On Wednesday, November 17, 2021, popular rap musician Adolph Robert Thornton Jr., who performed as Young Dolph, was shot and killed in Memphis, Tennessee, as reported by Fox 13 Memphis. He was visiting the area for the Thanksgiving holiday from his home in Atlanta. Young Dolph is known for a number of hit singles, including "1 Scale (feat. G Herbo)," "Major (feat. Key Glock)," and "On the River (feat. Wiz Khalifa)," among others (via Discotech). A funeral was held for the musician on November 30, 2021.
Immediately following the shooting, hundreds of Young Dolph fans gathered in the area where the star was killed, calling for peace in a demonstration that itself turned violent at points, per Fox 13 Memphis. Questions remain about what might have motivated the killing, as well as the identities of the two suspects who were captured on security camera with their faces obscured by masks as they fired on the rapper. An investigation is underway but this is what we know so far about the tragic murder.
He was visiting his aunt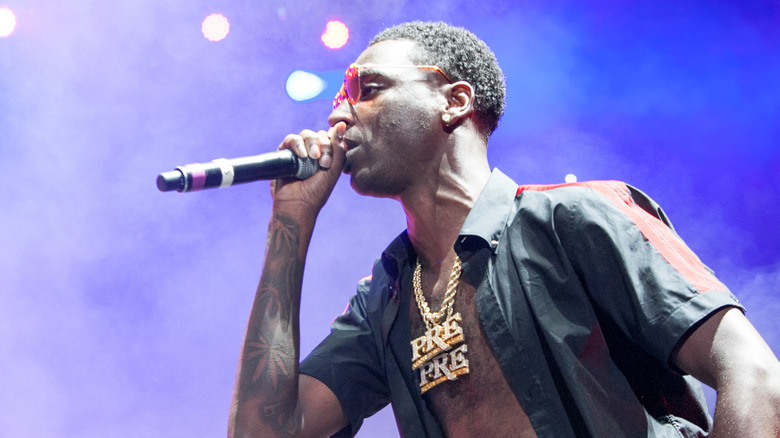 Jamie Lamor Thompson/Shutterstock
This was not the first time Young Dolph had been a target of violence. In 2017, Young Dolph was shot repeatedly in Hollywood but survived and in 2021, his SUV was shot multiple times in Charlotte, North Carolina. Police issued an arrest warrant related to that shooting for rapper Blac Youngsta, who later turned himself in. In the lead-up to his murder — and given the many close calls — Young Dolph had taken significant precautions to protect himself, per TMZ.
According to Sky News, Young Dolph was only in Memphis for the Thanksgiving holiday to visit an aunt who was battling cancer. He stepped inside a cookie store when a car pulled up outside the establishment and two men got out, one firing a semi-automatic rifle and the other a pistol into the store, killing Young Dolph, per Fox 13 Memphis. Following his visit, Young Dolph had been planning on handing out turkeys in his old neighborhood as a special event for the holidays, per TMZ. Also reported by TMZ, Memphis police said, "this shooting is another example of the senseless gun violence we are experiencing locally and nationwide. Our hearts go out to the Thornton family and all who are affected by this horrific act of violence."