Why The Eagles Sued The Real Hotel California
C Flanigan/Getty Images
The song "Hotel California" has become arguably the Eagles' most famous single, but it's been something of a headache for the band itself. The recording process on the album that shares the song's name led to the band's breakup for more than a decade (via BBC). Don Henley, the band's drummer and co-lead vocalist, has snipped at people who don't understand the song's cryptic meanings (see this supercilious Genius annotation). The band even sued a Mexican hotel called the "Hotel California" — in this case, the "California" is Baja California Sur in Mexico — over trademark infringement, according to Rolling Stone.
"Defendants lead U.S. consumers to believe that the Todos Santos Hotel is associated with the Eagles and, among other things, served as the inspiration for the lyrics in 'Hotel California,' which is false," the lawsuit said, according to the Hollywood Reporter. The lawsuit attempted to get the hotel to change its name and hand over its related profits.
The only problem? The hotel operated under the name "Hotel California" 26 years before the Eagles wrote their chart-topping song. So on what grounds could the Eagles possibly sue?
Such a lovely place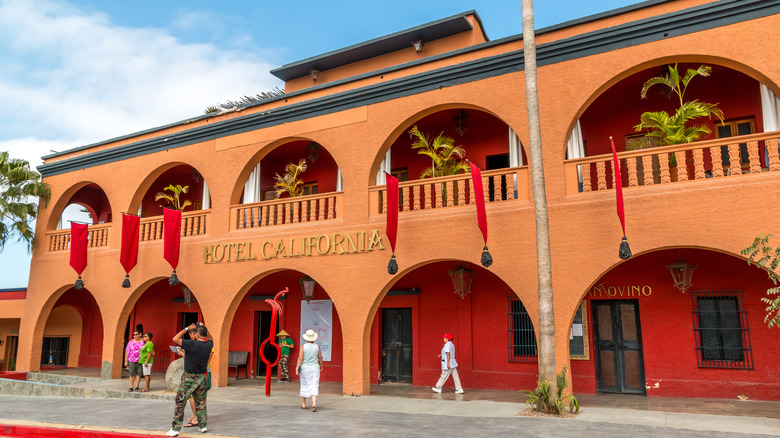 rhfletcher/Shutterstock
In the hotel's counterclaim, the owners said that the facility had been using the name "Hotel California" for years, including in trademark applications for its goods and services. "The hotel and its affiliates ... claim no association with the Eagles, with their song 'Hotel California' or with their record album of the same name released in 1976," their filing states, according to Rolling Stone.
"Although for the past four decades Eagles, Ltd. appears to have taken no action whatsoever to protect Hotel California as a trademark, Eagles suddenly contended for the first time in 2017 that Hotel California Baja has been infringing Eagles' purported 'common law' trademark rights," the counterclaim continues.
According to the lawsuit by the Eagles, however, the hotel — which has operated under a variety of names over the years, and only recently went back to "Hotel California" — had been purposefully playing up the name's connection with the boomer group, by playing Eagles music and selling merchandise calling itself the "Legendary Hotel California." The Eagles claim they're only "legendary" because of an imagined connection with the song, which was not based on a real hotel. The hotel on the album's cover is, in fact, the Beverly Hills Hotel, which nearly got the Eagles into legal trouble themselves back in the day.
The band and the hotel eventually settled the suit in 2018 (via The San Diego Union-Tribune). The hotel still operates under the name Hotel California, but otherwise, the terms of the settlement weren't disclosed.