The Truth About Keith Richards' Relationship With Ed Sheeran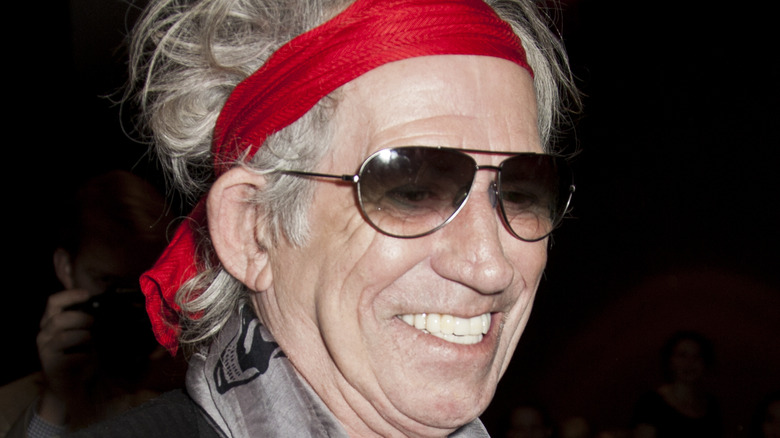 lev radin/Shutterstock
Over the course of his decades-long career, Keith Richards, the lead guitarist for The Rolling Stones, has seen many pop stars come and go: some he likely respected; others, maybe not so much. Few musicians, after all, can maintain the kind of long and productive career that Richards and the boys in his band have managed to pull off. With his gentle tenor and tween-ager appeal, it may seem surprising at first that Keith Richards and the English pop star Ed Sheeran would have a relationship. The truth of the matter is, though, that Richards relationship with the pop singer proves that the legendary guitarist's taste in the music of the younger generation is not what you'd expect.
According to Time Is On Our Side, an authoritative Rolling Stones fansite, a number of artists have had the unique honor of supporting the Stones on tour, from Little Richard in the '60s, to ZZ Top in the '70s, and Blues Traveler in the '90s, as well as many others whose names have faded from the public consciousness. In 2015 Ed Sheeran earned his chance to open for the band, and it would be the first time he met the members of the Rolling Stones, including Keith Richards. Based on these experiences, Richards, nearly half a century older than Sheeran, would form an opinion about the young musician.
Keith Richards is a fan
Ed Sheeran had his own reaction when in 2015 at the young age of 24 he opened for The Rolling Stones at Arrowhead Stadium in Kansas City and was invited on-stage to perform a rendition of the popular Stones classic "Beast of Burden" with the band, per People Magazine. Sheeran posted about his experiences with the Stones on Instagram, and later recalled his thoughts and feelings about meeting Keith Richards specifically, with whom he had a friendly relationship. 
He told Rolling Stone, "He's definitely a kind and humble person, but he's definitely Keith Richards," Sheeran said, "He can handle his drink and drugs. The best thing he said to me was when I was talking to him about getting arrested, and he said, "I've never had a problem with drugs — I had a problem with the police." 
For his part, Richards was also impressed with the young singer based on his experience at Arrowhead and from subsequent appearances Sheeran made with the band, even if he couldn't get his name quite right. 
As reported by the BBC, Richards said, "There are many good young players out there that do search and look and know that there is something more than what is being pumped out at them at the moment. For instance a young cat Ed Sheenan [sic] I found very interesting, he worked with us at Atlanta and Dallas ... a one-man little band! Great voice." If Mick Jagger ever decides to leave The Stones, Keith Richards may have found his replacement.