The Surprising Origin Of As Tears Go By By The Rolling Stones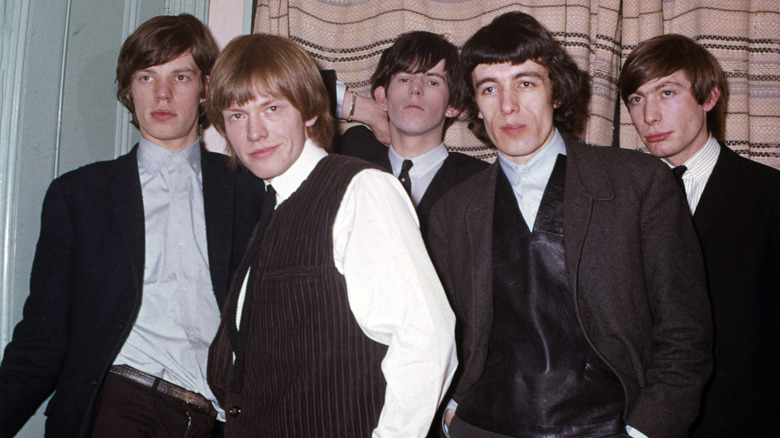 Icon And Image/Getty Images
Circa-1964 parents had a hard enough time as it is dealing with the Beatles' emergence as the next big thing in popular music. When the Rolling Stones first made their presence felt outside of the U.K. later that year, they were, by and large, horrified by the idea of a band that wore their hair even longer, played their music even louder, and further defied convention by not wearing matching outfits on stage. At least the Fab Four were ostensibly wholesome. The Stones, on the other hand, made little to no effort to hide their rebellious image.
Despite carrying a well-earned reputation as rock 'n' roll bad boys, the Stones had some early success with slower songs — "Tell Me (You're Coming Back)" reached No. 24 on the Billboard Hot 100 in 1964. However, "As Tears Go By," which was recorded just a year later, was the band's most radical departure from their trademark sound to date. As detailed by Songfacts, Mick Jagger (vocals) and Keith Richards (acoustic guitar) were the only Stones who performed on the track; the rest of the instrumentation came from a string section, which, just about a year prior, would have been unthinkable for the London-based act. "As Tears Go By" was indeed an outlier in the truest sense — and one that has quite an interesting origin story of its own.
Jagger and Richards composed the song while locked in a kitchen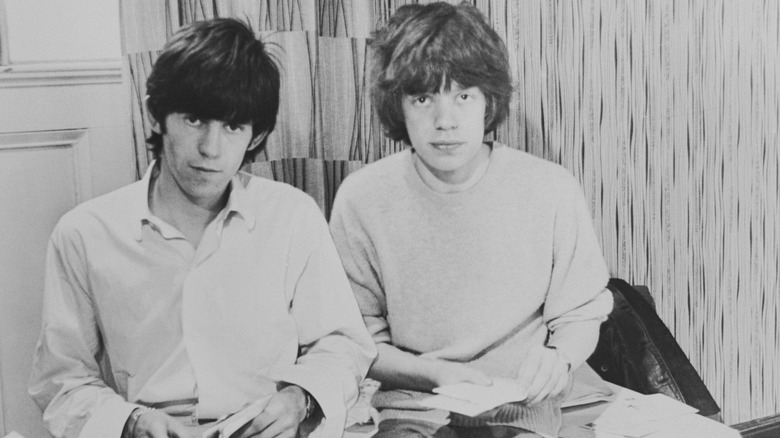 Keystone Features/Getty Images
Similar to the Beatles when they were just beginning to break out internationally, the Rolling Stones relied very heavily on covers of songs from American blues, rock 'n' roll, and R&B artists. A look at the tracklist of their self-titled debut album is all the proof you need, as it features harder-edged versions of Buddy Holly's "Not Fade Away," Chuck Berry's "Carol," and many others. Manager Andrew Loog Oldham wanted to nip this tendency at the bud, hence why he apparently locked Mick Jagger and Keith Richards in a kitchen until they came up with their own composition — which turned out to be "As Tears Go By."
Richards recalled the genesis of the tune in a 1992 interview with Guitar Player, as quoted by Songfacts. "Andrew locked Mick and myself into a kitchen in this horrible little apartment we had," the guitarist explained. "He said, 'You ain't comin' out,' and there was no way out. We were in the kitchen with some food and a couple of guitars, but we couldn't get to the john, so we had to come out with a song."
Originally, the title of the song was "As Time Goes By," but as Richards wrote in his 2010 autobiography, "Life," Oldham made the decision to change "time" to "tears," given how the tune in its earlier form shared a title with the famous song performed in "Casablanca." As such, the manager shares a writing credit with Jagger and Richards for that seemingly small, yet important contribution. But what was the deal with the unusually introspective lyrics from a band otherwise known for its gritty, oftentimes raunchy energy?
As Tears Go By is 'like a metaphor for being old,' according to Mick Jagger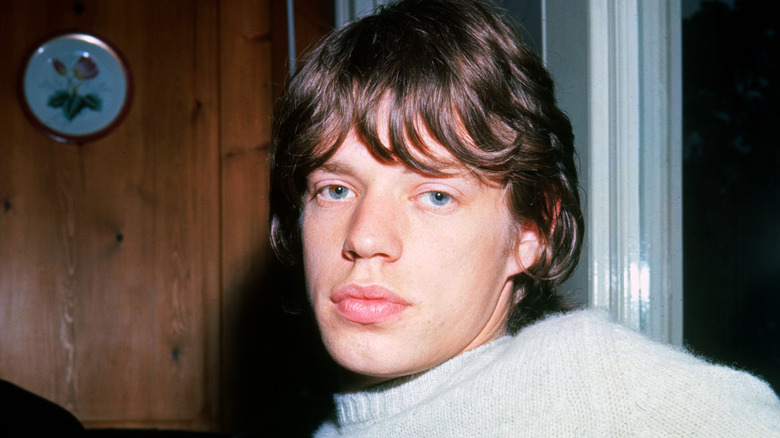 Icon And Image/Getty Images
With their figurative backs to the wall, Mick Jagger and Keith Richards needed some big-time inspiration to write that one song that would convince Andrew Loog Oldham to let them out of the kitchen. As it turned out, that inspiration came from Jagger's realization that he was a young adult who could no longer engage in the activities he used to enjoy in his childhood. "It's a very melancholy song for a 21-year-old to write," the frontman told Rolling Stone in 1995. "'The evening of the day, watching children play ....' It's very dumb and naive, but it's got a very sad sort of thing about it, almost like an older person might write. You know, it's like a metaphor for being old: You're watching children playing and realizing you're not a child."
When everything was said and done, Jagger had the lyrics and Richards the melody for what would be an atypically "mature" song compared to the rest of the Rolling Stones' material. According to Jagger, that was why the Stones didn't plan on releasing "As Tears Go By" at first — instead, they gave it to Marianne Faithfull, who took the song to No. 22 on the Billboard Hot 100 in January 1965. The Stones' version came out later that year on their album "December's Children (And Everybody's)," and it was an even bigger hit when released as a single, peaking at No. 6 in January 1966.