How Queen Latifah Got Her Stage Name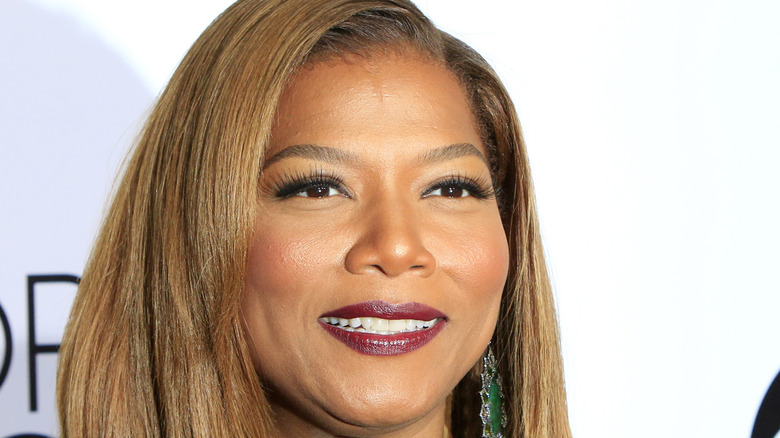 Joe Seer/Shutterstock
Before Queen Latifah dubbed herself royalty, she was just Dana Elaine Owens, a simple girl from Newark, New Jersey. The future rapper-actor-producer-entrepreneur and hip-hop star started singing as a youngster in the local Shiloh Baptist Church's choir, according to Biography. She also played Dorothy in a version of "The Wizard of Oz" at St. Anne's parochial school. As a high school freshman, Queen Latifah sang and rapped in the restrooms and locker rooms before forming her own group, Ladies Fresh, with two friends, Tangy B and Landy D. 
They performed locally, and her mother, Rita Owens, supported Dana's musical pursuits and even invited a local disc jockey, Mark James, to spin at a school dance. James, also known as D.J. Mark the 45 King, became important to Queen Latifah's gang, who would hang out in James' parents' basement and use their electronic and recording equipment, said Biography.
James, a fledgling producer at the time, gave a demo of Queen Latifah's "Princess of the Posse" to MTV host Fred "Fab 5 Freddy" Braithwaite and it ended up at Tommy Boy Music. The label liked her music and released "Wrath of My Madness," Queen Latifah's first single, in 1988. When audiences responded positively, other opportunities quickly followed, including a European tour, an appearance at Harlem's Apollo Theater and the production of Queen Latifah's first album, "All Hail to the Queen," which generated sales of over 1 million. By then, of course, she had already adopted her stage name.
What's in a name?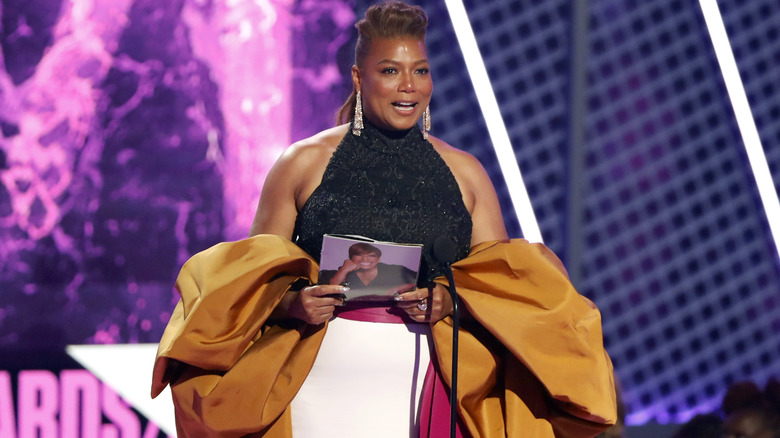 Johnny Nunez/Getty Images
So where did the name Queen Latifah come from? The first part honors her late mother's philosophy that every female is a queen, according to a Rachael Ray show episode. The second half, Latifah, is a word that Queen Latifah felt was resonant because it means, delicate, sensitive, kind and nice. She found the name after browsing through a book, according to Showbiz CheatSheet, though Biography reports that it was given to her by a Muslim cousin.
No matter the roots, her family took time warming to it. Her mother admonished her when she first heard it: "She was like, 'Queen? I ain't calling you Queen,'" she said in a TV interview quoted by People magazine. Queen Latifah thought the name bridged aspects of her personality: the intrepidness and the gentleness. "That's the story of my life," Latifah explained in the NBC interview that People quoted. "I think that's the wonderful thing about a woman. We can be strong but then we can be soft and kind and sensitive."
Her personal philosophy and work ethic has led to several awards, including a Grammy (Best Rap Solo Performance/"U.N.I.T.Y." ) and an Emmy for her work on HBO's "Bessie" (which she co-produced as well as starred), according to CBS Watch. She's also won a BET Lifetime achievement Award in 2021 (see photo above), reported Deadline.
A long, varied career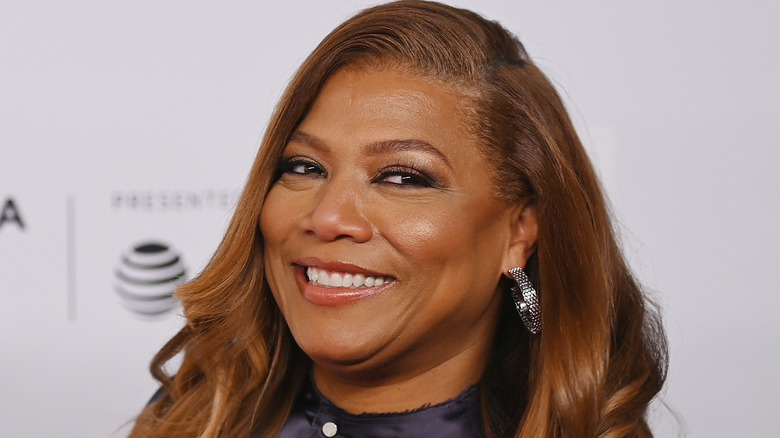 Nicholas Hunt/Getty Images
After her first album, Queen Latifah made "Nature of a Sista" in 1991 that featured the singles "Fly Girl," "How Do I Love Thee" and "Latifah's Had It Up 2 Here." She invested her earnings into business interests such as a delicatessen and a video store. She also began producing records herself as the chief executive officer of the Flavor Unit Records and Management Company. Within a few years, the company fronted 17 rap groups, including Naughty by Nature (via Biography). 
Besides her success in music, she's starred on the silver screen in movies such as "Chicago," where she played Matron "Mama" Morton (Oscar nomination for best supporting actress); "Hairspray"; and "Girls Trip." She also appeared on television in ABC's "The Little Mermaid Live," the sitcom "Living Single," "The Queen Latifah Show" and "The Equalizer." She also became a spokesperson for CoverGirl cosmetics, where she has her own line, called The Queen Collection, of course.