Tragic Details Found In Miss Elizabeth's Autopsy Report
Better known to fans as Miss Elizabeth, the longtime on-screen manager and real-life wife of "Macho Man" Randy Savage, Elizabeth Ann Hulette was a rarity among women in the pro wrestling scene during her heyday. In a business then dominated by large men with even larger personalities, Elizabeth somehow managed to stand out by being an important part of Savage's storylines. Wrestling fans of a certain age will certainly remember how Savage and Hulk Hogan, aka the Mega Powers, fell out in kayfabe because the former suspected the latter of having designs on Elizabeth, and how later on, the Macho Man and Liz got married at the 1991 edition of SummerSlam. (They actually were married in real life long before the on-screen ceremony, though they would sadly split soon after.)
After leaving WWE and taking some time off from the business, Elizabeth signed with WCW in the mid-'90s, joining her now-ex-husband and again becoming an integral part of the rival company's programming. However, she would no longer be seen in a major wrestling promotion after WCW folded in 2001, and on May 1, 2003, she was found dead at the home she shared with her boyfriend, former WWE and WCW star Lex Luger. She was only 42 years old at the time of her death, and when her autopsy was released a few months later, several disturbing details were revealed about her untimely passing.
Miss Elizabeth was allegedly drinking and taking pills just hours before her death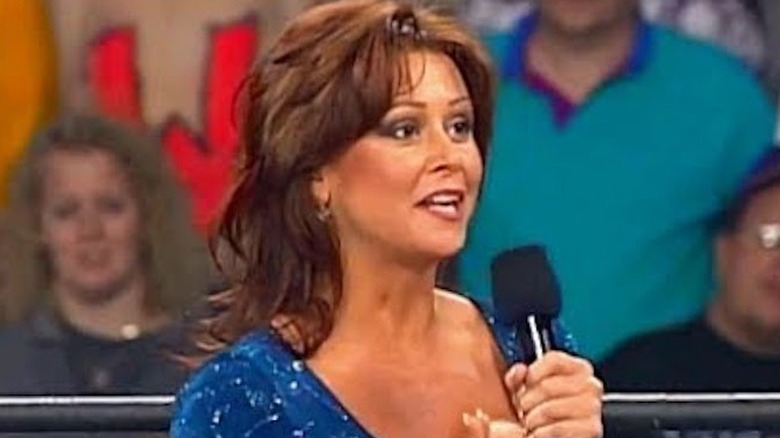 WCW/YouTube
As seen on a supplemental report that came with Miss Elizabeth's autopsy (via Autopsy FIles), the ex-WWE and WCW personality was pronounced dead on arrival at the emergency room of the WellStar Kennestone Hospital in Marietta, Georgia. Citing a conversation with the hospital's ER supervisor, forensic investigator Hal Bennett wrote that Miss Elizabeth "had arrived in full [cardiac] arrest," and that she was already in such a state when EMTs arrived at her home and performed CPR. "Emergency Medical Services personnel had intubated the victim at the scene, started an IV line and transported her to the emergency room where advanced medical intervention was started but proved unsuccessful," the report continued.
Bennett also cited Mike O'Connell, a detective at the Cobb County Police Department, who told him that Elizabeth "had been observed drinking Vodka and taking Soma and Loritabs [sic]" mere hours before she went into cardiac arrest. He added that at the time he spoke to O'Connell, detectives were on their way to Elizabeth's residence to "verify circumstances" with her boyfriend, Lex Luger. 
As explained by Drugs.com, Soma is a popular brand name for carisoprodol, a muscle relaxant that is primarily given to individuals dealing with pain, injuries, and other skeletal muscle conditions or symptoms. Lortab, meanwhile, is also used as a pain reliever for those with "moderate to severe" symptoms and is a combination of acetaminophen (Tylenol and other similar brands) and hydrocodone, the latter being an opioid pain medication. Both substances, the site warns, are known to cause addiction, overdose, or death if not used carefully.
The autopsy revealed 'bruising around the right eye' and other minor physical injuries
Less than two weeks before Miss Elizabeth's death, on April 19, 2003, police were called to her residence where they found her with two bruised eyes, a bump on her head, and a cut on her lip (via 1Wrestling). Apparently, she and Luger had an argument that had turned physical, and Luger was arrested and charged with one count of misdemeanor battery; he was later released on bond. Per Autopsy Files, Elizabeth's autopsy showed signs that some of the minor injuries she suffered were still present, as she had "bruising around the right eye." The supplemental report went on to add that the bruise was "aged," as suggested by its color.
According to the autopsy, Elizabeth also had a "purple bruise ... over the left lateral forehead," as well as a "small granulating abrasion to the upper lip," both of which appear consistent with the injuries she sustained during her alleged altercation with Luger.
In the years since his girlfriend's death, Lex Luger has repeatedly denied the accusations that he was physically abusive toward Elizabeth (via Pro Wrestling Stories). In one interview, he suggested that Elizabeth sustained the injuries in a freak accident while she was walking their dogs. Elsewhere, he maintained that he wouldn't even think of attacking a much smaller woman like Elizabeth because he'd "be afraid [he'd] kill her" in the process. "That's the stupidest, most ridiculous rumor that I could ever imagine being portrayed!" the wrestler added.
If you or someone you know is dealing with domestic abuse, you can call the National Domestic Violence Hotline at 1−800−799−7233. You can also find more information, resources, and support at their website.