The Tragic Murder Of Pop Smoke Explained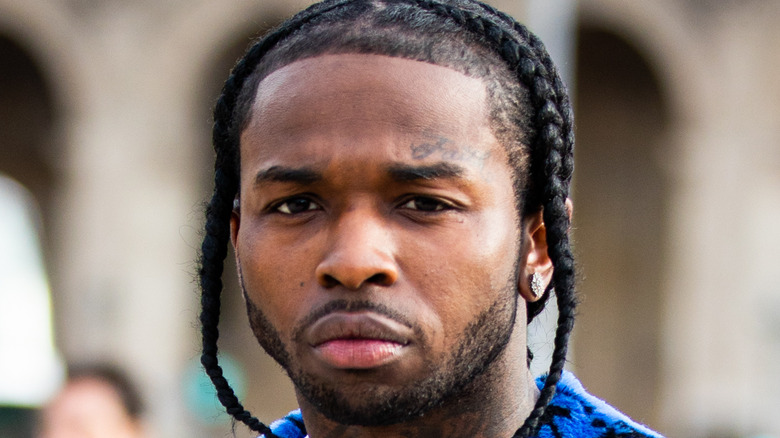 Claudio Lavenia/Getty Images
Brooklyn rapper Pop Smoke was on the rise as a newcomer, but most importantly, as a leading artist of the New York drill music scene. Sadly, his short run in the music industry came to a tragic end in February 2020, when the rapper was murdered at the young age of 20 (via TMZ). His unexpected and disturbing death shocked fans and other entertainers.
Pop Smoke was born in Brooklyn, New York, as Bashar Jackson on July 20, 1999 (per Revolt). He began his rap career in 2018, apparently, by chance, says All Music. Taking influence from the drill music of Chicago and London, Pop Smoke was geared up to be one of the most well-known Brooklyn-based artists of the gritty rap style. While his first single was "MPR," when he released his song "Welcome to the Party," Pop Smoke became an overnight sensation. The song quickly earned the rapper a lot of attention from music listeners and other artists. He was signed to Victor Victor and Republic Records afterward (via Discogs). Then his popular song was followed up with "Dior," which further solidified him as a mainstay of drill music. He would release two mixtapes, "Meet the Woo" and "Meet the Woo, Vol. 2," the latter was released just a few weeks before his untimely death.
A sudden end of Pop Smoke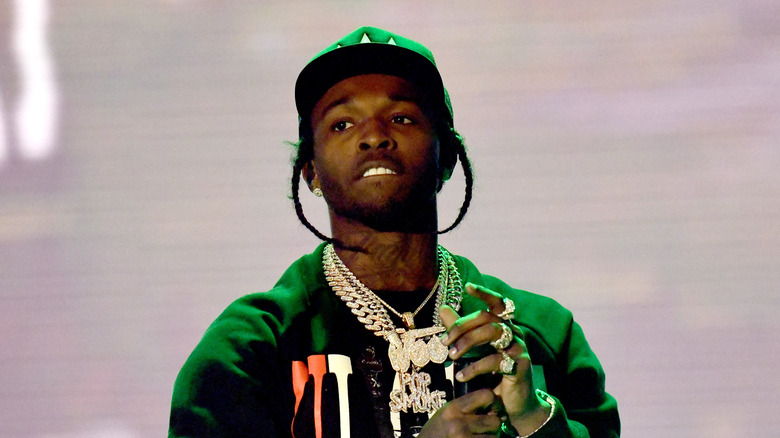 Scott Dudelson/Getty Images
On February 19, 2020, Pop Smoke was in a Hollywood Hills, California, home when he was ambushed by a gang of armed intruders. Turns out it was a violent home invasion, and the crooks purportedly targeted the rapper, per TMZ. After gaining access to the house, the armed men opened fire and Pop Smoke was tragically shot and killed.
What made the story of his death all the more sad was how the rapper was killed. In the earlier hours of the day, Pop Smoke apparently posted a gift he received from the fashion brand, Amiri. Unfortunately, his show of proof also included the address of his exact location in California. The rapper was unknowingly and unaware that he had just shared his whereabouts to millions of people who follow his social media. In addition to that, a friend of Pop Smoke also shared an image that day that showed part of the house's address (via Vulture). In just a few hours after the posts, Pop Smoke was dead. The brief slip up cost the rapper his life.
Nearly a year after his death, police arrested five people in connection to Pop Smoke's murder — two of whom were just teens, per The New York Times. Then more details came out about the rapper's final moments before he was murdered.
Tragic details of Pop Smoke's death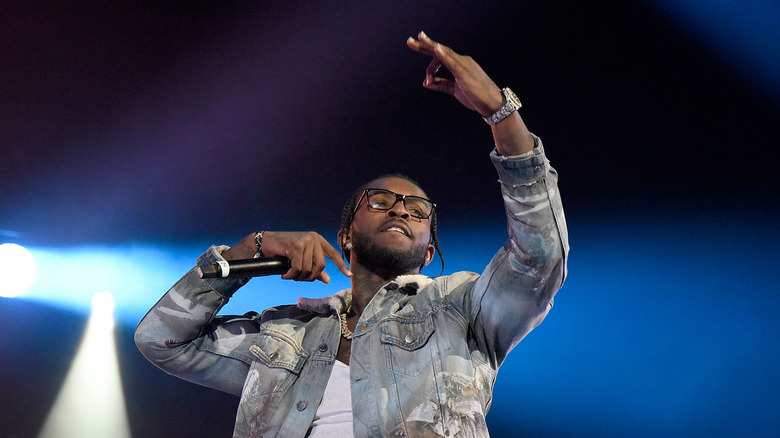 Arik Mcarthur/Getty Images
During the ambush, Pop Smoke was in the house with several people, which included his childhood friend and a woman (via Vulture) — both would provide vital clues to authorities about the home invasion. It was reported that a get-together was happening at the property some hours before his death (per TMZ), and when events were done, the doors were locked, but no alarms were activated.
In the early morning hours of February 19, about four men, all wearing masks, reportedly gained entry to the house from the second floor and robbed the rapper and his associates. They were apparently there to steal some jewelry. Upon confronting Pop Smoke, the rapper refused to give up the jewels and a fight ensued. He allegedly fought back against his attackers. Then he was pistol-whipped. After firing at him, his shooters also reportedly kicked him, and they fled with only a watch. Police and emergency serviced were called immediately after. Pop Smoke was taken to a hospital, but he was pronounced dead.
Since his death, two posthumous albums have been released (via Billboard). Pop Smoke never got to see the release of his debut studio project.
Even after death, tragedy continues to follow Pop Smoke. This past September, his grave site was discovered vandalized, per People Magazine. The investigation is ongoing.