Details Found In Hugh Hefner's Death Certificate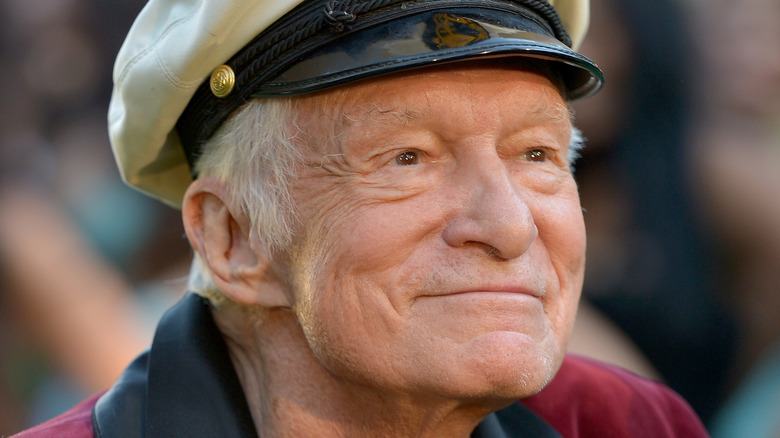 Charley Gallay/Getty Images
Playboy founder Hugh Hefner reveled in being the paragon of society's definition of a dirty old man. Although the post-war era's guru of sexual gratification was a bit of a late bloomer (The New York Times reports that he didn't lose his virginity until the age of 22), he definitely made up for lost time after that. "Over a thousand, I'm sure," he told Esquire when asked how many women he had slept with in his life. Always clad in his red velvet smoking jacket and captain's hat, he lounged his life away with a constantly updated harem of surgically enhanced bunnies and let the good times roll like they'd never come to a stop.
But the good times don't roll on forever. As TMZ reported in September 2017, the nudie magazine magnate died at the ripe old age of 91. Remaining young at heart may have helped him stay spirited and randy as he neared a full century of life, but Mother Nature doesn't care how spry you feel on the inside. Her cold hand will curl its bony-fingered grip of death around the sprightliest among us, no matter how youthful we may tell ourselves we are.
Such was the case with Hugh Hefner. According to his death certificate, his primary cause of death was cardiac arrest, but the document revealed that Hef was suffering from several other odd health conditions that surely contributed to his death. Let's take a look into the surprising details found in Hugh Hefner's death certificate.
The mysterious medical conditions that contributed to Hugh Hefner's death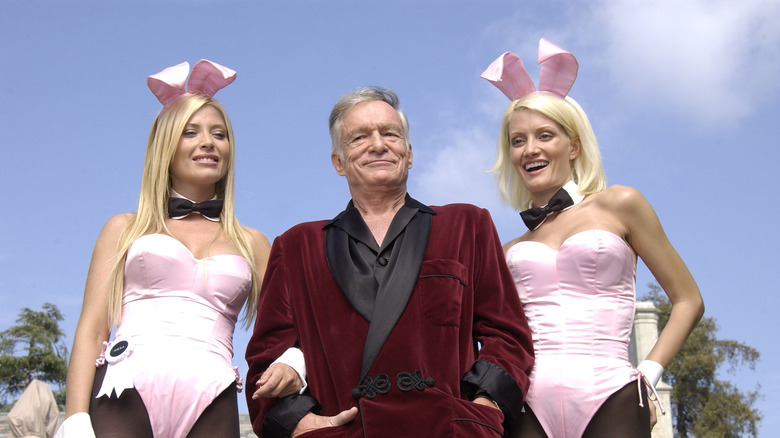 Robert Mora/Getty Images
The autopsy performed on Hugh Hefner's body revealed a pair of strange factors that contributed to his death. According to TMZ, the cardiac arrest and respiratory failure that stopped his heart were caused, at least in part, by a condition called septicemia, which causes extreme inflammation of the body tissues as a result of an infection circulating in the blood stream. That infection may have been the E. coli that was also detected in his system. According to Johns Hopkins Medicine, E. coli is one of the three bacteria that most commonly cause septicemia, which, without prompt treatment, can rapidly result in tissue damage, organ failure, and, in worst-case scenarios, death. The death certificate said that the strain of E. coli found in Hefner's body was "highly resistant to antibiotics" and that it was of "undetermined etiology," meaning the medical examiner was unable to ascertain where he had contracted the deadly bacteria.
One possible source of the germs may have been Hef's very own home. Once the world capital of devil-may-care hedonism, the Playboy Mansion had notoriously fallen into ruin toward the end of Hefner's life. According to The Sun, a 2011 investigation by the Los Angeles County Department of Public Health found that the swimming pools contained the bacteria that causes Legionnaire's disease after over 120 people got sick at a party there. It appears that Hefner's youthful spirit was likely no match for his bad hygiene.
A former lover's last memory of Hugh Hefner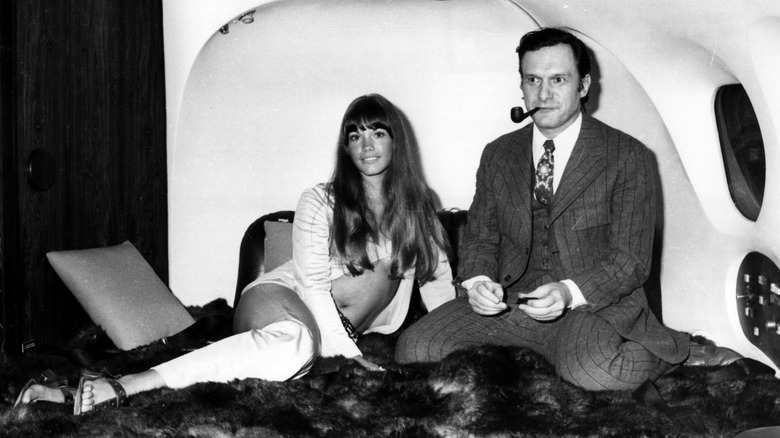 Keystone/Getty Images
Although the details in Hefner's death certificate make it sound like the old guy was riddled with deadly ailments at the end of his life, one of his former girlfriends who spoke with him just six months before his death said he looked like he still had a lot of living to do. "He didn't think he was going to die anytime in the immediate future," ex-girlfriend Barbi Benton told People just days after his death. "He was upset [with reports] that said he didn't have much time left. He said, 'I have plenty of time left! I'm not going anywhere just yet.'"
Benton met Hef in 1968 as a vivacious 18-year-old on the set of his TV program Playboy After Dark. Despite her initial misgivings due to their age difference (Hef was 42 at the time), she and the Playboy founder ended up dating over the next eight years. The four-time Playboy cover girl traveled the world with Hefner and even lived in the Playboy Mansion with him for a time. 
Although they broke up in 1976, and Benton married a Los Angeles entrepreneur a few years later, the two remained fairly close over the decades. She said that Hef was usually too busy entertaining partygoers to sit down and chat with her, but that last time they saw each other, the old guy was in the mood to reminisce. "When he died, he took a big piece of me with him," said Benton. "I'll miss him immensely."