How Eminem Got His Iconic Stage Name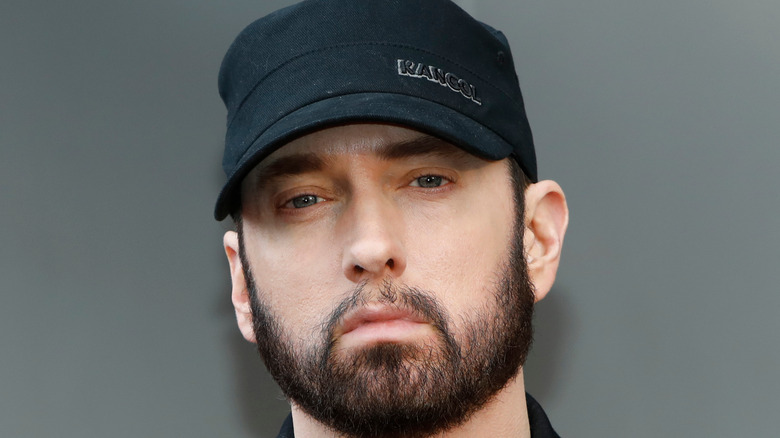 Kathy Hutchins/Shutterstock
Self-proclaimed Rap God Eminem has never really made a secret of his troubled life, especially his past. Many of his songs contain bitter lyrics that provide insight into his childhood, and while he hasn't delved too deeply into details in interviews, he has provided harrowing glimpses. "I would change schools two to three times a year... that was probably the roughest part," he stated on "60 Minutes" (via YouTube). It would be these experiences, however, that hardened him, and ultimately helped shape the Eminem the world knows today.
His birth name, Marshall Mathers III, has also cropped up several times in his work (most prominently with 2000's "The Marshall Mathers LP" and "The Marshall Mathers LP 2" in 2013). As, of course, has the name Slim Shady. For most people, however, the rapper is will be forever known as Eminem. But how did this stage name come about?
As Biography reports, hip-hop was an up-and-coming musical genre during Eminem's teenage years. As a student, Mathers had a proficiency for English but did not apply himself to his studies, dropping out of school at the age of 17. He would chart the course of the rest of his life when he decided to use his skill with words as a musical outlet. To make it as a rapper, though, he would first need a rap name. This, Biography goes on, he found ready-made, using his initials: M&M.
Eminem's stage name went through some refinement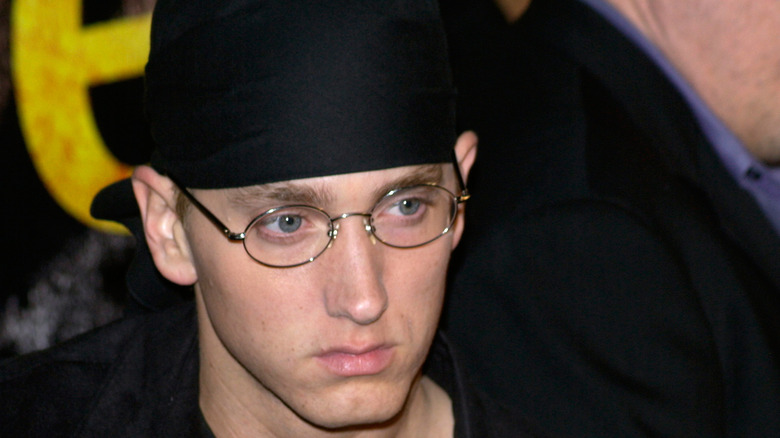 Featureflash Photo Agency/Shutterstock
According to AllMusic, Mathers began rapping as "M&M" at the age of 14, alongside a friend from school who called himself "Manix." During the formative years of his career, Eminem also went by MC Double M (Celeb Answers) — a name he used during the formation of The New Jacks, alongside DJ Butter Fingers. The latter's real name is Matt Ruby, Mike Ruby (Manix)'s twin brother. Other groups were formed as Mathers encountered new artists, per Celeb Answers, with Bassmint Productions later giving way to the iconic D12.
Perhaps quickly realizing that he shared his most prominent new name with a popular chocolate treat, the moniker "M&M" went through another period of refinement. It seems that Mathers preferred the look of the name when it was written phonetically, and so "Eminem" was born. Through the course of the 1990s, this was the name under which he would take the music world by storm, attracting fame, success and controversy in equal measure along the way. It's all just another part of the rapper's surprising story.