How Dr. Dre Got His Stage Name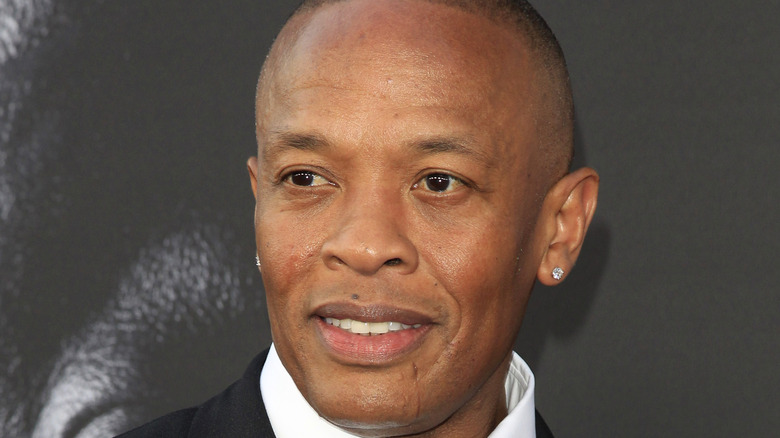 Kathy Hutchins/Shutterstock
"And I still got love for the streets. It's the..." Who? It's the D-R-E, of course. That's right: Whether producing his own tracks, fostering upcoming talent like Snoop Dogg and Eminem, or selling Beats headphones to Apple for $3.2 billion (per Forbes), Dre has always been one of rap's most ingenious trend setters and entrepreneurs. From his early days working the turntables at the L.A. nightclub Eve After Dark, to co-founding legendary rap outfit N.W.A. and creating Aftermath and Death Row Records, everything Dre touches seemingly turns to gold.
It's true that branding has been a big part of Dre's success. Authentically hip-hop, Compton-born DJ? Check. Unmistakable intonation and "hell yeah" baritone? Check. Plenty of tracks that reference his own name and role in rap history? Check. And his name itself: catchy, easy to remember, alliterative, and a bit refined? Check.
So how did Dre get his iconic name? The second part is easy, as People and Power tell us: his first name is Andre. Somewhere along the line, perhaps when he was bouncing around schools as a kid, someone must have dropped the "An" and just called him "Dre." The first part is a little less obvious, and has nothing to do with medicine or PhDs. When Dre started DJing he idolized basketball king Julius "Dr. J." Erving. He just borrowed the "doctor" part and made it his own, as Hip Hop Scriptures explains.
Still got love for the streets
Andre Romelle Young, aka Dr. Dre, was born into a musical family. His father was a member of the Romells, a rhythm and blues singing group, which is where Dre got his middle name (per People and Power). His mother was a part of a musical group, too, The Four Aces, and left to raise her son (per Hip Hop Scriptures). Naturally, Dre took to music from an early age, even at the cost of schoolwork. His production chops were visible even then, as he would take samples from various tracks and mix them to make his own music. Bear in mind this is all on tape, pre-digital. As Biography says, he received a mixer for Christmas in 1984.
As soon as Dre started hanging around in nightclubs around L.A., he joined his first group, World Class Wreckin' Cru. This is when he took to the turntables and adopted the title that implied his virtuosity, "Dr. Dre, the Master of Mixology." By the time he met up with Eazy-E, Ice Cube, and the rest of N.W.A., he dropped the "Master of Mixology" part and kept the rest. Starting in 1985, N.W.A. went on to inaugurate the modern era of real, in-your-face hip-hop stories, which segued nicely to Dre's solo, West Coast, g-funk persona in the early 1990s. Dre's first album, 1992's "The Chronic," remains an era-defining album that encapsulated Dre's history, character, attitude, musicianship, and stage name all in one succinct bundle.