Franklin D. Roosevelt's Final Words Explained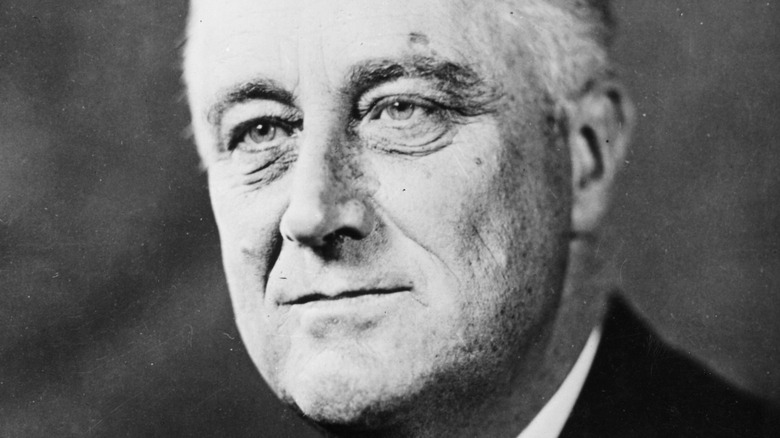 Topical Press Agency/Getty Images
Franklin Delano Roosevelt has a unique place in United States history. Inspired by fifth cousin Theodore Roosevelt, per The White House, he pursued a successful career in politics that would eventually see him embark on a record four terms as president. He led the country through some of the greatest hardships it has ever faced.
Roosevelt's hardships were not just national and global, but personal. The White House states that he contracted poliomyelitis at the age of 39. He overcame it and embarked on a great political rise (he became New York's governor seven years later), but he was dogged by ill health throughout the rest of his life.
He died on April 12, 1945, per History, shortly after proclaiming, "I have a terrific headache," according to NBC New York. It's certainly no surprise that he did when the shocking and sudden nature of his death is considered.
According to PBS, Roosevelt's hypertension (a condition that was trickier to manage in the 1940s) had a profound effect on him in the run-up to his death. It has been suggested that the president's health may have been worse than the people knew in his last months, as he struggled through parts of what would be his final speech to Congress (March 1, 1945). He spoke from a wheelchair and expressed his hope that listeners would excuse "this unusual posture of sitting down."
FDR's last words were a window into his health issues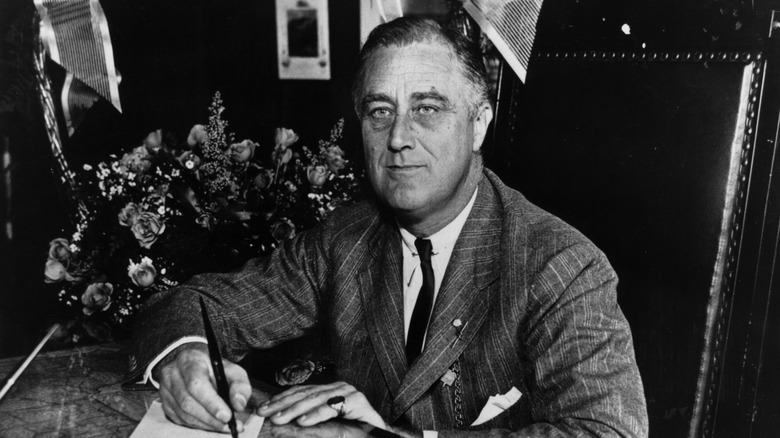 Keystone Features/Getty Images
Just weeks later, according to History, Roosevelt was staying at his beloved Warm Springs, Georgia home with two cousins and his lover, Lucy Mercer. Elizabeth Shoumatoff was painting a portrait of the president. Earlier that day, per PBS, he had complained of pain in his head and neck, but it was a minor complaint that seemed to have eased. It was at 1 p.m. that the president suddenly said, "we have about 15 minutes more to work." Soon afterward, his head fell, and his alarmed cousin Daisy rushed to ask him what was the matter. This was when he weakly stated he had a "terrific" headache, before losing consciousness.
Per History, this terrific pain was deemed by a doctor who was hurried to the scene to have been a cerebral hemorrhage on a catastrophic scale. By 3:30 p.m., Roosevelt's death was confirmed. Harry S. Truman, who became the next president later that very same day, said that the news of Roosevelt's death hit him "like the moon, the stars, and all the planets had fallen on me"(per The White House). As his final words revealed, Roosevelt surely felt a terrible force of just such great strength.