The Tragic Death Of Kenny Rogers Explained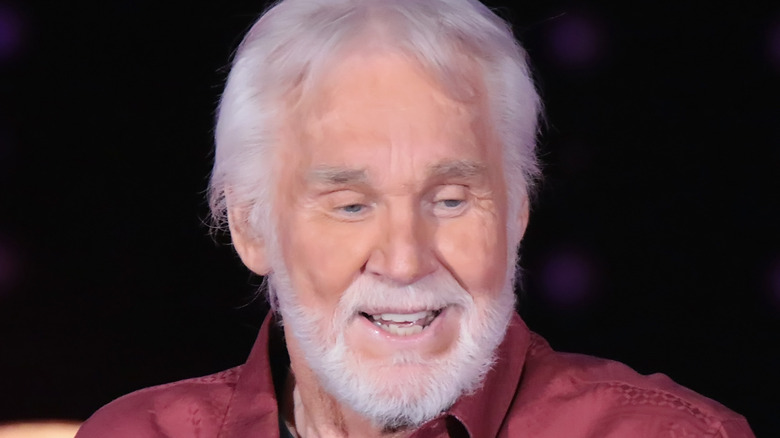 Donald Kravitz/Getty Images
Country music icon Kenny Rogers died last year at the age of 81, per TMZ. He was best known for being one of the genre's hitmakers, particularly for his famous duet with Dolly Parton, "Islands In the Stream" and his own song, "Lady," both of which were No.1 tracks, per Billboard. He would see 21 No. 1 hit songs throughout his career, according to a press release by Capitol Records/UMe, posted at PR Newswire.
Rogers was born Kenneth Donald Rogers in Houston, Texas, on August 21, 1938 (via Britannica). It was during his high school years in the early '50s that a young Rogers learned he loved music. He started a band he called The Scholars, per his website. But he wouldn't stay with his first musical group and would go on to discover his own solo talent. However, he wound up playing and singing for several bands in the years before he got his record deal in the mid-'70s. In 1976, Rogers released his first solo album, "Love Lifted Me." He'd release dozens more studio and collaborative albums for the next 40 years, his last in 2015, per Discogs. He was widely acknowledged for his talent as a singer. He won three Grammys and was nominated over a dozen times throughout his career.
Rogers' sudden health issues and subsequent death
Terry Wyatt/Getty Images
Rogers enjoyed a long and thriving career that lasted more than half a century. But near the end, he had some health issues that forced him to retire from the stage in 2018, per The New York Times.
At that point, the famed country singer was likely ready to retire because he had been on his final farewell tour, and was actually in his second and final year of the tour when health issues arose, says Britannica. He was forced to close it out early as a result.
The following year Rogers went to a hospital for care and it was during that time a lot of people speculated what might've led to his medical emergency (per "Today"). The frenzy caused Rogers' team to put out a statement to dispel the misinformation and mention that he went to a Georgia hospital for dehydration. One particular message in the statement showed that the singer was very optimistic about his health, and was confident in his health recovery, "... he plans on sticking around through the years to come," the statement read.
Sadly, just 10 months after his message of assurance to fans and media, Rogers died on March 20, 2020. He was survived by his wife, Wanda Miller, and his five children (via Wide Open Country).